***A "GAME CHANGE" MINISERIES BASED ON HALPERIN"S BOOK HAS ALSO BEEN CANCELLED BY HBO.****
AND HIS BOOK ON THE TRUMP ELECTION HAS BEEN CANCELLED BY THE PUBLISHER.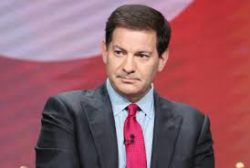 .
Mark Halperin, the NBC and MSNBC analyst who co-authored the bestselling 2008 election postmortem "Game Change," is leaving both networks after five women accused him of sexual harassment in a CNN report published Wednesday.
"We find the story and the allegations very troubling. Mark Halperin is leaving his role as a contributor until the questions around his past conduct are fully understood," MSNBC told Fox News in a statement.
.
The powerful journalist's alleged behavior occured while he was at ABC News, according to CNN, which said the five women's complaints were corroborated by others who did not personally experience the harassment.
Halperin allegedly grabbed a woman's breasts without consent and pressed his clothed, erect penis against three of his co-workers. The "Morning Joe" regular denied those allegations, according to CNN, but did not specifically deny the women's accusations that he had propositioned them for sex.
.
Halperin admited to CNN Wednesday night that his conduct was inappropriate, and he said he would take time away from his role as a senior political analyst at NBC and MSNBC.
"During this period, I did pursue relationships with women that I worked with, including some junior to me," Halperin told CNN. "I now understand from these accounts that my behavior was inappropriate and caused others pain. For that, I am deeply sorry and I apologize. Under the circumstances, I'm going to take a step back from my day-to-day work while I properly deal with this situation."
Condemnation was swift across social media.
"The percentage of men who will leap to this jackass' defense will be about .001," tweeted journalist Keith Olbermann, who formerly worked for MSNBC.
Fox News' Sasha Savitsky contributed to this report.
READ MUCH MORE NEWS  HERE  AT FoxNews.com