Actually, radio station websites have never been very good, going all the way back to the '90s when broadcasters first started scarfing up domain names.  In the early years, radio sites resembled minor league ballparks, loaded with annoying banner ads.  Then WordPress came along, and the quality improved – a bit.
But here we are, two decades later, and stations still struggle with their websites.  Part of the problem is that talent has gravitated to social media, preferring the instant, real-time feedback they get on Facebook, Instagram, and Twitter.  And sales departments have traditionally struggled to monetize station sites.  The end result is often a neglected digital asset that underperforms, despite listeners regularly showing up to stream and access information (concerts, station events, etc.).
This year's Techsurvey13 reveals a majority of radio listeners rarely (monthly or less) navigate to their favorite station's website.  And of those who do, fans of spoken word, urban, and rock/classic formats are more likely to check out their favorite stations' websites weekly or more often.  As the chart below shows, this includes News/Talk, Sports, Urban AC, Rhythmic CHR, Classic Hits, Classic Rock, and Rock.   On the other end of the spectrum, partisans of Alternative and Triple A are among the formats least likely to visit station sites.
Why the disconnect?  Why don't more fans visit radio websites?
First, stations simply don't put the effort or strategic thinking into their websites.  They'll test their music, their personalities, and desirable prizes.  But it's a rare station that actually invests the time, energy, and brain cells into ascertaining the good, the bad, and the ugly of their website.  Our Digital Dot Connector, Seth Resler, has been all over this issue for years, performing "usability tests" for Jacobs clients.
In an article he wrote this summer, Seth outlined the basic steps any station can take to debug and its improve its website – for under $100.  Combined with our Techsurveys, stations can use this data to improve their sites, strengthen their brands, and ultimately amp up website monetization efforts.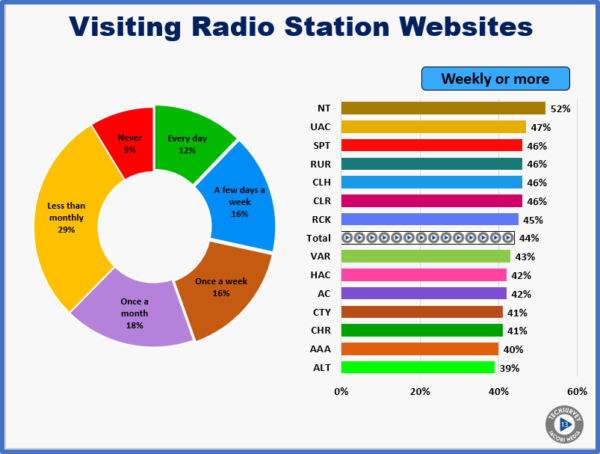 READ THE REST OF THIS ARTICLE  HERE  AT THE ALL ACCESS MUSIC GROUP WEBSITE