ON THIS DAY in 1903,
writer Fran Striker was born in Buffalo New York. He was best known for creating the Lone Ranger, Green Hornet, and Sgt. Preston of the Yukon characters for young listeners with half-hour melodramas aired from the studios of George W. Trendle's WXYZ Detroit, from the early 1930's into the TV era.  At his peak Striker was writing 156 Lone Ranger scripts a year. He died in a car crash while moving with his family Sept. 4th 1962 at age 59.
In 1906, TV pioneer Philo T. Farnsworth was born in Beaver Utah.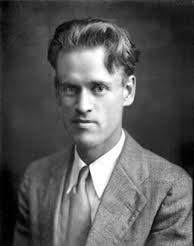 He perfected the first working electronic TV system which he demonstrated to reporters Sept. 1 1928. He died of pneumonia March 11 1971 at age 64.
In 1916, comedic actress Marie Wilson, who starred in the radio/TV/movie versions of My Friend Irma, was born in Anaheim Calif. She has three stars on the Hollywood Walk of Fame, one for her `dumb blonde' portrayal of Irma in each of the media. She died of cancer Nov. 23 1972 at age 56.
In 1921, the writer & executive director of the Star Trek series Gene Roddenberry was born in El Paso Texas.


After flying combat missions as a pilot in WW II, he served 7 years on the LAPD, rising to the rank of Sgt. before turning fulltime to screenwriting.  This led to his best-known creation, the Star Trek TV series which ultimately became a lucrative big screen franchise.  He died of heart failure October 24, 1991, at the age of 70.
In 1927, radio station CJGX Yorkton, Saskatchewan, signed on for the first time, with 250 watts on 1430 KHz. The "GX" in the call letters stood for Grain Exchange, as the station was owned by the Winnipeg Grain Exchange.
In 1929, "Amos 'n' Andy," the 15 minute nightly radio comedy starring Freeman Gosden and Charles Correll, made its network debut on the NBC Blue chain. It quickly became a national sensation, and remained on network radio in a variety of formats until 1960.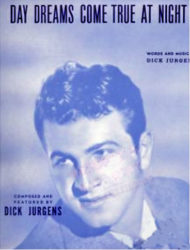 In 1939, Dick Jurgens and his orchestra recorded Day Dreams Come True at Night on Okeh Records. Eddy Howard was the vocalist on the piece. It became Jurgens' theme song.
In 1942, the infamous failed Canadian raid on Dieppe set the stage for Gordon Sinclair's biggest break. The next day, he was asked by CFRB Toronto for bios of leaders of the raid, and they were so good that five of them were fed to a network. And Gordon instantly had a mid-day personality series called Let's Be Personal on CFRB, which were aired daily until his death in 1984.
Also in 1942, actor/politician Fred Thompson was born in rural Alabama.  Best known for his role as the DA on NBC-TV's Law & Order, and later as real life US senator from Tennessee, he was entitled to list politician, attorney, lobbyist, columnist, film and television actor, presidential candidate, commercial spokesman, sub for Paul Harvey and talk radio host on his lengthy resume.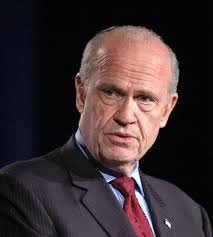 On Nov. 1 2015 he succumbed to non-Hodgkins lymphona at age 73.
In 1954, The Platters, B.B. King and Johnny Otis performed before a capacity crowd of 2,400 at the Savoy Ballroom in Hollywood.  It was one of the first rock 'n' roll concerts.
Also in 1954, Elvis Presley was in the Sun Records studios in Memphis to record the Rodgers & Hart standard "Blue Moon."
In 1955, WINS radio in New York City announced it would no longer play white artist cover versions of R&B hits. For example, the DJs were instructed to play Fats Domino's "Ain't It A Shame," not Pat Boone's.

In 1957, "Tammy" by Debbie Reynolds topped the charts and stayed there for 5 weeks.
Also in 1957, RCA Victor released Don Gibson's second #1 Country hit single, "Blue Blue Day," his followup to "Oh Lonesome Me."  Both also crossed over to the Top 40 pop charts.
In 1963, Peter, Paul and Mary performed "Blowin' In The Wind" for civil rights marchers in Washington DC who had gathered to hear Martin Luther King Jr. speak.
Also in 1963, Buck Owens released what would be his second straight #1 country hit single "Love's Gonna Live Here." ("Act Naturally" earlier that year was the first.)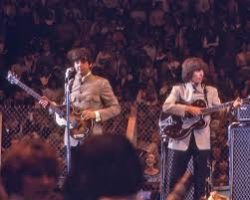 In 1964, The Beatles opened their first North American tour before a sold out crowd of 17,130 at the Cow Palace in San Francisco. Other acts on the bill included the Righteous Brothers, the Bill Black Combo, and Jackie DeShannon.
In 1965, Edmonton radio station CHQT signed on for the first time, with 10,000 watts at 1110 KHz.
In 1966, The Beatles flew to Memphis for two shows at Mid-South Coliseum.  In the aftermath of John Lennon's 'we're bigger than Jesus' remark days earlier, a firecracker was thrown onstage at the evening show.  Hearts stopped as the explosion sounded like a gunshot.
In 1967, The Beatles scored their 14th US No.1 single with 'All You Need Is Love.' Mick Jagger, Keith Richards, Eric Clapton, Keith Moon, Graham Nash, Marianne Faithfull and Walker Brother Gary Leeds all sang backing vocals on the track.

In 1968, directed by Micky Dolenz, the 58th and final episode of "The Monkees" aired on NBC-TV. The last song the group performed was "Zor And Zam."
In 1969, Joni Mitchell, David Crosby, Stephen Stills and Jefferson Airplane appeared on ABC TV's Dick Cavett late night show from New York, to reflect on the just concluded Woodstock festival.
Also in 1969, The Beatles finished recording "Here Comes The Sun."
In 1970, The Carpenters released their 2nd album Close to You, which would go on to sell more than 2 million copies.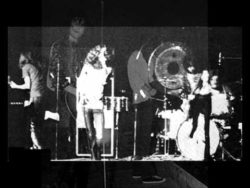 In 1971, Led Zeppelin kicked off a North American tour at the Pacific Coliseum in Vancouver. The band played to a sold out crowd of over 17,000 fans; another 3,000 fans outside the venue who didn't have tickets started a battle with Vancouver police.
In 1972, NBC-TV presented "The Midnight Special" as a Friday one-shot. John Denver was the host of the late night music showcase, Wolfman Jack was the announcer. The following February "The Midnight Special" became a weekly series which ran for eight years.
Also in 1972, Chicago started a nine-week run at No.1 on the Billboard album chart with 'Chicago V'.


In 1973, Kris Kristofferson married Rita Coolidge in a ceremony presided over by his minister father. The union was dissolved in 1980.
In 1977, comedian Groucho Marx, who starred on both radio & TV as the wisecracking quizmaster host of You Bet Your Life, died of complications from pneumonia at age 86.
In 1978, The Commodores had the top R&B hit for a second week with "Three Times a Lady," which also topped the Adult Contemporary chart.
In 1979, composer/conductor Morris Surdin, who for years supplied the music for Toronto-based CBC radio and TV productions, died at age 65.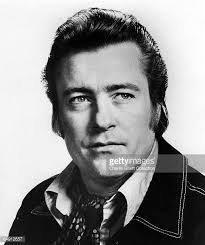 Also in 1979, rockabilly singer Dorsey Burnette suffered a fatal heart attack at his home in Canoga Park, California. He was just 46. In the early 60's he had two middling hits in Tall Oak Tree and Hey Little One.  He also wrote 'It's Late', a 1959 hit for Ricky Nelson and for Shakin' Stevens in 1983.
Still in 1979 "My Sharona" by the Knack hit #1 on the charts.
In 1980, rocker Alice Cooper fell ill and cancelled his concert at Toronto's Canadian National Exhibition at the last minute, touching off a riot. Police arrested 31 after fans hurled debris at the stage. $25,000 damage was done to the stadium.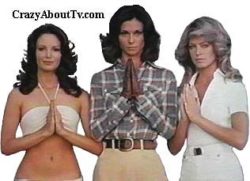 In 1981, Charlie's Angels, starring Farrah Fawcett, Kate Jackson, Jaclyn Smith and the voice of John Forsythe as Charlie, was seen for the last time on ABC-TV. The show went into syndication and may still be seen on the nostalgia channels of cable TV.
In 1985, John Mellencamp released his eighth album Scarecrow.
In 1987, consumer reporter David Horowitz was held at gunpoint on camera during a KNBC-TV newscast in Burbank.  Horowitz was forced to read the assailant's rambling note … The news director took the program off the air until police could get the gunman off the set some hours later. Horowitz was unharmed.
In 1988, 'Hound Dog' by Elvis Presley and Patsy Cline's 'Crazy' were named the most played records of all time on US juke boxes.

In 1989, authorities from four European countries boarded the offshore rock stationRadio Caroline (on the ship "Ross Revenge") in international waters in the North Sea and forced it to shut down. Disc jockeys relayed a blow-by-blow account of events to the astonished listeners right up to the end.
In 1993, the iconic sitcom "Cheers" ended an 11-year run on NBC-TV.
Also in 1993, actress Kim Basinger wed actor Alec Baldwin. They had a daughter before a bitter divorce that was finalized in 2002.
In 1997, Fleetwood Mac released their reunion album, "The Dance." It was their first work together in 10 years.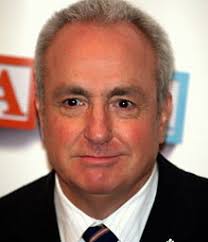 In 1999, Toronto-born "Saturday Night Live" producer Lorne Michaels helped to unveil his new star on the Hollywood Walk of Fame.
Also in 1999, Lauryn Hill won New Artist Of The Year and Album Of The Year at the 'Source Hip Hop Music Awards' in Los Angeles. R. Kelly won R&B Artist of The Year; DMX won Artist Of The Year and solo and live performer Of The Year.
In 2000, actresses Ellen DeGeneres and Anne Heche announced they were breaking up. Mere hours later, Heche was hospitalized after she wandered disoriented into a stranger's home in Fresno County, Calif.

In 2001, American soul singer Betty Everett died after a heart attack at age 61. She had a 1964 US No.6 single with 'The Shoop Shoop Song (It's In His Kiss').
In 2005, Courtney Love was ordered to enter a 28-day drug-treatment program after admitting to being under the influence of an unidentified controlled substance, violating the terms of three probations. "I think that you need to hit rock bottom before you make a decision about what you're going to do," said Judge Rand Rubin.
In 2007, Elvis Presley was back at No.1 on the UK album chart with 'The King.'
In 2008, sax player Leroi Moore, a founding member of the Dave Matthews Band, died of complications from an all-terrain vehicle accident on his Virginia farm two months earlier. He was 46.
Also in 2008, Lady Gaga released her first album & a future Billboard Top 5 entry 'The Fame.'
In 2009, creator and longtime producer of the CBS-TV newsmagazine "60 Minutes," Don Hewitt died of pancreatic cancer at age 86.

In 2010, Ottawa singer and radio personality Dick Maloney died at age 77 from spinal injuries sustained in a fall four years earlier.  He had been left a quadriplegic, but continued to host his weekly 'Sentimental Journey' show on Oldies 1310 from his hospital bed.
In 2012, UK-born filmmaker/TV producer Tony Scott, whose TV credits include The Good Wife, Numb3rs, The Pillars of the Earth and Killing Lincoln, committed suicide by jumping from a Los Angeles bridge at age 68.
In 2013, actor Lee Thompson Young (below), who had been co-starring in the TV series 'Rizzoli & Isles,' committed suicide with a gunshot to the head at age 29.  He had been taking medication for depression and a bipolar condition.
.
In 2014, original KISS guitarist Ace Frehley released his first solo album in five years, "Space Invader."
In 2016, actor Jack Riley, who played counseling client Eliot Carlin on CBS-TV's "The Bob Newhart Show" in the 1970s and also voiced the father Stu Pickles on Nickelodeon's animated "Rugrats," died at age 80, due to pneumonia.
Today's Birthdays:
Actor L.Q. Jones (The Yellow Rose, The Virginian) is 90.
Actor/writer/filmmaker Melvin Van Peebles (The Shining, Sonny Spoon) is 85.
Actress Diana Muldaur (LA Law, Star Trek: The Next Generation) is 79.
Drummer Ginger Baker (Cream, Blind Faith) is 78.
Singer Johnny Nash is 77.
Actress Jill St. John (Emerald Point N.A.S.) is 77.
Singer Billy J. Kramer is 75.
Country singer-songwriter Eddy Raven is 73.
Singer Ian Gillan of Deep Purple is 72.
Actor Gerald McRaney (House of Cards, Longmire, Deadwood, Jericho, Major Dad) is 70.
Saskatchewan-born singer Susan Jacks (The Poppy Family) is 69.
Actor Ian McElhinney (Game of Thrones, The Fall, Titanic: Blood & Steel) is 69. 
Actress/model Randi Oakes (CHiPs) is 66.
Bassist John Deacon of Queen is 66.
Actor Jonathan Frakes (Star Trek: The Next Generation) is 65.
Conservative US commentator Mary Matalin (wife of Liberal James Carville) is 64.
Actor Peter Gallagher (Covert Affairs, The OC, Law & Order:SVU) is 62.
Actor Adam Arkin (Sons of Anarchy, Life, Baby Bob, Chicago Hope) is 61.
Singer-songwriter Gary Chapman is 60.
Actor Martin Donovan (Weeds, Pasadena) is 60.
Actor Darby Hinton (Daniel Boone) is 60.
Singer Ivan Neville is 58.
Actor Eric Lutes (Caroline In The City) is 55.
Actor John Stamos (Scream Queens, Grandfathered, Necessary Roughness, E/R, Full House) is 54.
Actor Matthew Glave (Girlfriends' Guide to Divorce, Army Wives, ER, Life on a Stick) is 54.
Actress Kyra Sedgwick (Ten Days in the Valley, The Closer, Brooklyn Nine-Nine) is 52.
Actor Kevin Dillon (Entourage) is 52.
Country singer Lee Ann Womack is 51.
Former MTV reporter Tabitha Soren is 50.
Rapper Nate Dogg is 48.
Country singer Clay Walker is 48.
Ottawa-raised actor Matthew Perry (The Odd Couple, Go On, Studio 60, Friends) is 48.
Actress Paula Jai Parker (True Blood, The Parkers) is 48.
Rapper Fat Joe is 47.
Actor Ahmed Best (Star Wars: the Clone Wars) is 44.
Actress Tracie Thoms (Cold Case, Bandwagon: The Series) is 42.
Actor Callum Blue (Proof, Smallville, The Tudors, Dead Like Me) is 40.
Actress Michelle Borth (Hawaii Five-0) is 39.
Actor/former NFL player Thomas Q. Jones (Addicted to You, Being Mary Jane) is 39.
Actor Adam Campbell (Unbreakable Kimmy Schmidt. Mixology, Harper's Island) is 37.
Actress Aimee-Lynn Chadwick (Tinsel's Town) is 37.
Actress Erika Christensen (Parenthood) is 35.
Actress Melissa Fumero (Brooklyn Nine-Nine, One Life to Live) is 35.
Winnipeg-born actor Peter Mooney (Rookie Blue, Falcon Beach 2005) is 34.
Actress Tammin Sursok (Pretty Little Liars, The Young and the Restless) is 34.
Actress Briana Venskus (Supergirl, Agents of S.H.I.E.L.D., Nashville) is 33.
Singer Karli Osborn (SHeDaisy) is 33.
Actor J. Evan Bonifant (One Life to Live, General Hospital) is 32.
Singer/writer/actress Christina Perri (So You Think You Can Dance, Dancing With the Stars, Big Morning Buzz Live) is 31.
Actor Travis Tedford (Recess, The Amanda Show) is 29.
Rapper Romeo (formerly Lil' Romeo) is 28.
Actor Ethan Cutkosky (Shameless) is 18.
Chart Toppers – Aug. 19
1946
The Gypsy – The Ink Spots
They Say It's Wonderful – Frank Sinatra
I Don't Know Enough About You – The Mills Brothers
New Spanish Two Step – Bob Wills
1954
Sh-Boom – The Crewcuts
The Little Shoemaker – The Gaylords
Hey There – Rosemary Clooney
I Don't Hurt Anymore – Hank Snow
1962
Breaking Up is Hard to Do – Neil Sedaka
The Loco-Motion – Little Eva
You Don't Know Me – Ray Charles
Wolverton Mountain – Claude King
1970
(They Long to Be) Close to You – Carpenters
Make It with You – Bread
Spill the Wine – Eric Burdon & War
Don't Keep Me Hangin' On – Sonny James
1978
Three Times a Lady – Commodores
Grease – Frankie Valli
Miss You – The Rolling Stones
Talking in Your Sleep – Crystal Gayle
1986
Papa Don't Preach – Madonna
Higher Love – Steve Winwood
Venus – Bananarama
Your the Last Thing I Needed Tonight – John Schneider
1994
Stay (I Missed You) – Lisa Loeb & Nine Stories
Wild Night – John Mellencamp  Me'Shell NdegeOcello
Funkdafied – Da Brat
Be My Baby Tonight – John Michael Montgomery
2003
Where Is the Love – Black Eyed Peas featuring Justin Timberlake
Crazy in Love – Beyoncé Knowles featuring Jay-Z
Rock Wit U – Ashanti
It's Five O'Clock Somewhere – Alan Jackson (with Jimmy Buffett)