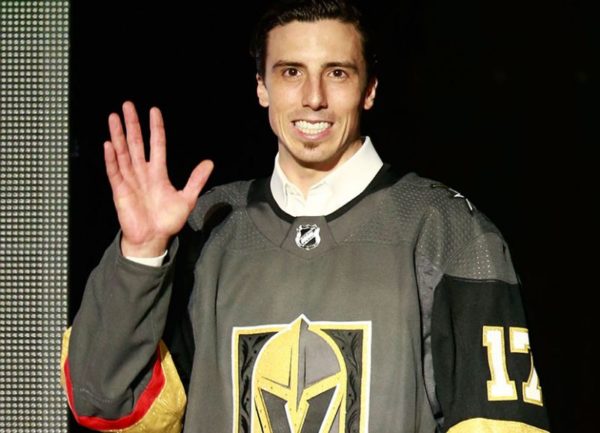 The Vegas Golden Knights announced in April that Lotus Broadcasting would be "the official radio broadcast partner and radio home" of the NHL expansion team for the next few seasons.
This meant they opted not to go with CBS Radio Las Vegas, home to six highly-rated stations including CBS Sports 1140am. Which did not set well with Tony Perlongo, senior vice president and market manager for CBS Radio in Vegas, who instructed everyone on air not to ever mention the hockey team, going forward.
From Perlongo, in an email published by Ron Futrell:
"A decision has been made that effective immediately, there are to be no further mentions of the Las Vegas Golden Knights hockey team on any CBS/LV radio stations or any of our social media platforms. This includes, but not limited to, on sale ticket mentions, player/coaches interviews, plugging locals to sing national anthem, TV broadcast schedule, etc. It is now the responsibility of the Golden Knights' chosen radio partner to help accomplish their goals, not ours."
Now, you may ask yourself how a Las Vegas sports radio station intended to ignore the inaugural season of the first major professional team to play in the city, and honestly we don't have a clue. Other than that it's hockey, which means it's probably not being discussed on an American sports talk radio station to begin with.
Anyway, Futrell reached out to Perlongo to find out if this giant crybaby act-as-professional guidelines thing was in fact accurate, and he confirmed that it was.
"We have a lot of other things to cover, the Knights don't work into our coverage," said Perlongo. "We support their (the Golden Knights) success in the marketplace, but that will depend on their partnership that they've already developed."
This censorship – let's call it what it is – went more viral than an off-the-strip motel pool, and the backlash was harsh. So Perlongo informed the Washington Post on Wednesday evening that the Golden Knights will in fact be mentioned and discussed on his sacred airwaves:
"With six radio stations in Las Vegas we have always prided ourselves on informing, educating and entertaining listeners and supporting the local communities we serve. However, we missed the mark in an internal email that instructed our stations to no longer report on certain aspects of the Golden Knights, the city's first and only major league sports team," Tony Perlongo, CBS Radio Las Vegas senior vice president and market manager, said in a statement provided to The Post. "This was an error in judgement on our part and we deeply regret it. We will of course cover the team, first and foremost on Sports Radio 1140 and on our music and news/talk stations as it makes sense for those formats and audiences. We apologize to the Golden Knights, their fans and our listeners and look forward to rooting the team on when the puck drops in a few weeks."
And an apology to boot!
SEE MORE  HERE  AT YAHOO SPORTS WEBSITE