Courtesy of

August 17, 2017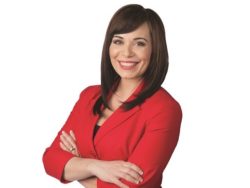 Maralee Caruso will deliver the news of the day when CTV Winnipeg airs its first 5:00 newscast on August 28.
"CTV News at Five" is Bell Media's latest expansion of local news across the country, adding Winnipeg to the list of six other CTV stations already delivering news at that time across the country.
The hour-long weekday newscast will recap the day's events and take viewers into the regular 6:00 show.
Weather and traffic reports will be presented by weather specialist Colleen Bready, while Michelle Gerwing will preside over Medicalwatch segments, such as trends in health, food and fitness. Megan Benedictson of "CTV Morning Live" will continue her focus on the biggest stories of the day online with what's happening in the digital space.
"CTV News at Six" will continue to feature co-anchors Caruso and Gord Leclerc, with Bready continuing her role as weather specialist.
"I'm excited to expand our news coverage to focus in on even more of the news that matters most to Manitobans," Caruso said in a statement. "I look forward to sitting down with local newsmakers to dig deeper into the biggest issues of the day impacting our viewers."
Original Story HERE