Q&A: Steve 'The Thrill' Hill, Cohost, 'The Men's Room'.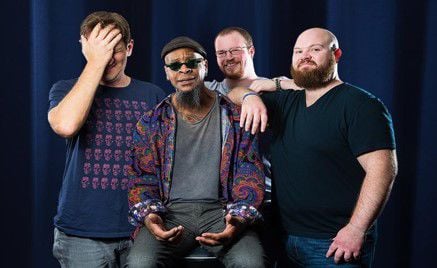 "The Men's Room" has been a ratings powerhouse for Entercom rock KISW (99.9) Seattle. According to Nielsen, from 2013-March 2017, the morning show ranked No. 1 men 18-34 in 54 of 55 surveys, No. 1 men 18-49 and 25-54 in all 55 surveys, No. 1 adults 18-49 in 51 of 55 surveys and No. 1 adults 25-54 in 53 of 55 surveys.
The success of the program—comprised of Miles Montgomery, Steve "The Thrill" Hill and Thee Ted Smith, along with producers Robin Foxx and Mike Hawk—has led to a syndication partnership with Westwood One who launched it on eight stations last Friday (June 5). The show was cleared on Entercom rock outlets from the East (WAAF Boston, WCMF Rochester) to the West (KUFX San Jose, KRXQ Sacramento) and can also be heard in the last American wilderness, Alaska.
Inside Radio spoke with Hill to discuss the syndicated launch of the show, their successful show-branded brews and memories of Seattle's own Chris Cornell, who was a big fan of the program. An edited transcript follows.
How long has "The Men's Room" been together? Tell us how the show was formed.
The show started in Baltimore in October 2003. A program director [Bill Pasha] put us together based on our mutual abilities to get on his nerves in similar ways. He thought we should work together…but it felt kinda like he was putting his 'troubled students' together.
Can you describe the show for those who have not heard it yet?
Our working mantra is: everyone is invited to the party. We're topical and all the other buzz- words people use, but honestly, it's just a fun and funny show designed to engage you and make you laugh. Obviously, what's going on in the news inspires most conversations.
What are some of the more well-known features of the show?
The 'Question of the Day' segment is exactly what it sounds like. It's an invite for everyone to share their particular stories and experiences. It's really interactive and allows the listener to be the star. Other cool segments are 'Big Dummy,' a trivia game show we play, 'Profile This' and 'Ted vs. the FCC.' We're pretty diligent about creating content that involves the listener more than us.
The show has performed extremely well in Seattle. What have been some of the highlights over the years?
The biggest highlight is the people we work with. We wouldn't be here if it weren't for working with the best in the business. Dave Richards, our operations manager at Entercom, has made the show what it is today. On-air personality and program director assistant, Ryan Castle, has been our biggest supporter and contributor. The KISW staff of 'BJ & Migs' and 'Taryn Daly' and of course our GM, Jack Hutchison, has always had our back. We truly are lucky to work with so many talented people. The highlight, honestly, is just being able to come in and perform the show every day in this wickedly creative environment.
"The Men's Room" just launched in syndication. How will that change the show's structure or content?
Our content hasn't and won't change…outside of its own natural evolution. The structure only changed to accommodate the new clock, but really, it hasn't changed too much at all. Everything we do is flexible so it hasn't been much of an adjustment.
READ THE REST OF THIS Q & A  HERE