ON THIS DAY in 1902

actor Will Geer was born William Auge Ghere in Frankfort Indiana.  At the end of a 45 year film career he found the role with which he will be forever identified, as Grampa (Zebulon Walton) on the CBS TV series, The Waltons. He died midway through the series Apr. 22, 1978 of a respiratory ailment at age 76.
In 1918, the "King of the Pulp Novelists" Mickey Spillane was born Frank Morrison Spillane in Brooklyn.  He created detective Mike Hammer, who was the subject of severalmovies and two TV series for which Spillane was involved in the writing. He died from cancer July 17, 2006 at age 88.
In 1921, actor Carl Betz (below) was born in Pittsburgh.  He was a radio announcer who took up acting, and starred in two successful TV series, as the husband (Dr. Alex Stone) on The Donna Reed Show, and as the title character in Judd for the Defense.  He succumbed to lung cancer Jan 18, 1978 at age 66.

In 1922, radio station KJR Seattle, began broadcasting.  It became an NBC affiliate, was a rock powerhouse in the 60's, and is now total Sports Talk.  
In 1928, the first telephone call between Vancouver and London, England took place.
In 1942, Tommy Dorsey and his Orchestra recorded the future big band smash, Well, Git It! for Victor Records. Ziggy Elman was featured on the Hollywood session, Sy Oliver arranged the Dorsey classic.
In 1945, "Those Websters" debuted on CBS radio. Willard Waterman starred as George Webster. Beginning five years later, Waterman would have an even more memorable starring role as the lead in The Great Gildersleeve.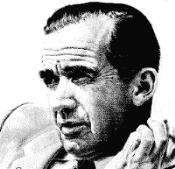 In 1954, this was the day the critics called "TV's coming of age." On CBS's "See It Now" Edward R. Murrow presented his "expose" of the controversial Wisconsin Senator, Joseph R. McCarthy, who had mounted a US witchhunt for communist sympathizers.
Also in 1954, WNBT-TV (now WNBC-TV), New York, broadcast the first local color television commercials — for Castro Decorators of New York City. Castro were the folks who made the Castro convertible sofa beds. The TV commercial featured a little girl (a member of the Castro family) opening a big couch into a bed. It was so-o-o easy! Let me see you try it.
In 1958, CBS-TV's Ed Sullivan Show was headlined by The Everly Brothers singing their first #1 pop single, "Wake Up Little Susie." Jo Stafford and Barbara McNair also sang, while Dick Shawn offered his unique brand of standup comedy.

In 1959, Jack Paar was featured on the cover of LIFE magazine. He was accused, the article said, of "keeping the U.S. up nights." With show regulars, Dody Goodman, Alexander King, Cliff Arquette, announcer Hugh Downs and bandleader Jose Melis, there was little wonder why Paar caused such excitement in television's late night on NBC.
In 1961, "I Want a Guy," the first single by The Supremes, a quartet at the tine, was released on Motown's Tamla label.  It failed to chart.
Also in 1961, The Beatles played their first gig under that name at Liverpool's Cavern Club. When the group appeared there previously they were known as the Quarry Men.
In 1966, an amazingly popular CBC series Wojeck starring John Vernon was born as an episode of The Bob Hope Theatre.  The stories of a crusading coroner led to the later series Quincy, M.E. and Da Vinci's Inquest.
Also in 1966, the Beach Boys recorded "God Only Knows."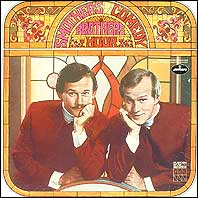 In 1969, a classic battle between the "suits" and the talent erupted as CBS-TV showed a re-run of the Smothers Brothers' Comedy Hour. The network claimed a new show had not been delivered on time, but the underlying friction arose from the program's anti-Vietnam war campaign.
Also in 1969, CBS-TV's Ed Sullivan Show featured music from Creedence Clearwater Revival, Jeannie C. Riley, and The Association.  Also seen were the fine Sullivan impressionist Will Jordan and comedian Norm Crosby.
In 1972, Allen Klein presented UNICEF with the first cheque of 1.2-million dollars from the proceeds of George Harrison's Bangladesh concert and L-P.
In 1974, the Grand Ole Opry played its last Saturday night show at the Ryman Auditorium in downtown Nashville. The Opry then moved to a modern auditorium at Opryland, a multi-million-dollar amusement park on the outskirts of the city.

Also in 1974, Vancouver's Terry Jacks was starting week two of a three-week stay at the top of the pop charts with his uplifting ditty, Seasons in the Sun.
Still on this date in 1974, the British hard rock band Bad Company played its first concert at Newcastle, England.
In 1975, mentalist/magician Joseph Dunninger died at age 82.  He had appeared in his own show on radio (Blue Network) beginning in 1943, and did many guest spots on TV in the 50's and 60's.
Also in 1975, Elvis Presley began his final recording session at RCA's Hollywood studios.
In 1976, "The Who" drummer Keith Moon collapsed onstage at the start of a concert in the Boston Garden. Though drug and alcohol abuse were again the culprits, singer Roger Daltrey told the crowd that Moon was suffering from the flu. The show was cancelled at that point, and was rescheduled for April 1.

Also in 1976, Queen's album "A Night At The Opera" was certified Gold, having sold more than half-a-million copies.
In 1977, The Jacksons TV show was aired for the last time on CBS, finishing at the bottom of the ratings.
In 1978, The Eagles began recording their next Top 5 hit "I Can't Tell You Why."
In 1979, ABC-TV aired the documentary "Heroes of Rock & Roll," narrated by Jeff Bridges, and featuring clips of Buddy Holly, Chuck Berry, Elvis Presley, the Beatles, Rolling Stones, Bob Dylan, Elvis Costello and others.
In 1981, Dan Rather became primary anchorman of CBS-TV News, succeeding Walter Cronkhite.
In 1982, announcer Rex Marshall who was a live commercial spokesman in the early years of US television, suffered a fatal heart attack at age 64.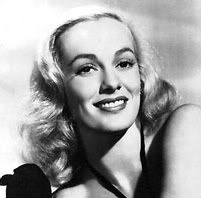 In 1983, TV pioneer Faye Emerson, who appeared as often as herself as she did in dramatic roles on shows from US Steel Hour to I've Got a Secret, succumbed to stomach cancer at age 65.
In 1985, "Tears Are Not Enough" by Northern Lights, the Canadian record in aid of Ethiopian famine relief, was released. The song was written by Bryan Adams and his regular songwriting partner, Jim Vallance.
Also on this date in 1985, bandleader/songwriter/record producer Robert (Bumps) Blackwelldied of pneumonia at age 66.
In 1986, CBS newsman Ned Calmer, who anchored CBS Radio's World News Roundup, and on TV hosted In the First Person, died at age 78.

In 1987, Carole King was inducted into the Songwriters Hall of Fame in New York City.
Also in 1987, U2's album "The Joshua Tree," which sold nearly six-million copies in the U-S alone, was released.
In 1991, Mariah Carey started a two week run at No.1 on the Billboard singles chart with 'Someday', her third US No.1 song.
In 1992, CKST Coast 800 moved it's struggling "modern rock" format from the weak AM 800 frequency in Langley to downtown Vancouver and 1040 on the AM dial.
In 1993, Michael Jackson twisted his ankle and had to use crutches and a wheelchair on stage at the Soul Train music awards show in Los Angeles. He performed "Remember the Time," sitting in the chair as other performers danced around him.
Also on this date in 1993, swing-era bandleader/singer Bob Crosby, younger brother of Bing, who replaced Phil Harris as bandleader for the final three years of the Jack Benny radio show on CBS, died of cancer at age 79.

Again in 1993, winners of People's Choice awards included actors Tim Allen, Candice Bergen, Kevin Costner and Whoopi Goldberg. Garth Brooks and Whitney Houston were named favorite male and female musical performers.
In 1995, Scott Amedure (AH'-mih-door), a talk-show guest on "The Jenny Jones Show," was shot to death by Jonathan Schmitz, a friend who also appeared on the show. Schmitz had been surprised three days earlier during the taping of the show about secret admirers when Amedure admitted he had a crush on Schmitz. The show never aired.
In 1996, comedian George Burns died at the age of 100. His long career was one of a handful to span all the prime years of both radio & TV.
Also in 1996, David Clayton-Thomas (below) of Blood, Sweat and Tears, John Kay of Steppenwolf, Denny Doherty of the Mamas and Papas, Zal Yanovsky of the Lovin' Spoonful and rock guitarist Dominic Troiano were inducted into the Juno Hall of Fame. At the same ceremony in Toronto, Ronnie Hawkins was honoured with the Walt Grealis Achievement Award for his contribution to the development of the Canadian music industry.

Again on this date in 1996, "One Fine Day" by Mariah Carey and Boys II Men topped the Billboard Hot 100 singles chart for the 15th week, a record for the rock era.
In 1997, rapper The Notorious BIG was gunned down in a drive-by shooting in Los Angeles. He was 24. Fellow rapperTupac Shakur had been killed in Las Vegas the previous fall.
In 2004, Alf Bicknell, chauffeur to the Beatles at the height of their fame and inspiration for the song, "Baby You Can Drive My Car," died at age 75 at his home in Oxford.
Also in 2004, singer Tom Jones was banned from wearing tight leather pants by his own son and manager Mark Jones. His son said it was time to "dress his age" as he was in danger of becoming a laughing stock at age 63.
 In 2005,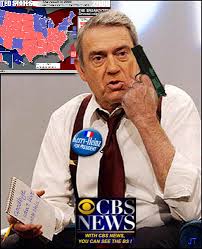 Dan Rather
 did his last "Dan Rather Reporting" radio segment for the CBS Radio Network after 20 years. (Rather also left as anchor of TV's CBS Evening News on this date.)
.
In 2007, Brad Delp, lead singer of the rock band Boston, committed suicide by carbon monoxide poisoning at his home in the New Hampshire town of Atkinson. Boston had the 1986 US No.1 single 'Amanda.'
Also in 2007, Courtney Love was sued again for non-payment, this time by a luxury rehab center, Brau Monde International, in Newport Beach, CA. Love checked in following a drug overdose at a Hollywood club in '05. According to the center, Ms. Love had paid only a portion of her bill.
Still in 2007, frontman of the band Staind, Aaron Lewis performed solo on CBS-TV's Late Late Show With Craig Ferguson.
In 2010, on his 77th birthday, "Lloyd Price Day" was declared in New Orleans and the state of Louisiana.

In 2011, US political journalist David Broder of the Washington Post died of diabetic complications at age 81.  He appeared on NBC TV's 'Meet the Press' a record 401 times.
Also in 2011, The Eagles performed in mainland China for the first time when they appeared at Shanghai's Mercedes-Benz Arena.
In 2012, American writer and comedian Peter Paul Bergman, the founder of the satirical Firesign Theatre & creator of the term "love-in," died from complications of leukemia at age 72.
Also in 2012, Billboard released their list of Music's Top Money Earners for 2011, topped by Taylor Swift, U2, Kenny Chesney, Lady Gaga and L'il Wayne.

Still in 2012, Bruce Springsteen and the E Street Band performed a special concert at Harlem's Apollo Theater to celebrate the ten-year anniversary of satellite radio. The show aired live on Sirius XM's all-Springsteen channel E Street Radio.
Again in 2012, the Rolling Stones Facebook page passed the 9 million mark and guitarist Keith Richards celebrated by posting a picture of himself holding a card saying "9,000,000 Stones Fans."
In 2013, former KISS drummer Peter Criss was announced as the American Cancer Society's Humanitarian of the Year Award honoree.
In 2015, Nashville singer/songwriter  Wayne Kemp, who wrote country hits for George Jones, Johnny Cash, Johnny Paycheck, George Strait and Conway Twitty, died of kidney failure at age 74.
Also in 2015, actor Windell D. Middlebrooks was found dead following a fatal pulmonary  embolysm at age 36. Although he worked on TV's The Suite Life on Deck, My Name is Earl and Hannah Montana, he is remembered by most as the straight-talking Miller High Life delivery guy on a series of beer commercials.
In 2016, actor Robert Horton,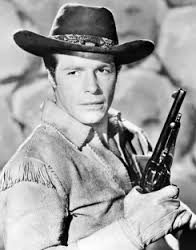 who won legions of female fans as frontier scout Flint McCullough on NBC-TV's Wagon Train (1957-65), died at age 91.
Today's Birthdays:
Singer-actress Keely Smith is 85.
Singer Lloyd Price is 84.
Actress Joyce Van Patten (Unhappily Ever After, Don Rickles Show) is 83.
Country singer Mickey Gilley is 81.
Actor Charles Siebert (The Blue Knight, Trapper John MD) is 79.
Singer Mark Lindsay of Paul Revere and the Raiders is 75.
Former ABC News anchor Charles Gibson is 74.
Actress Trish Van Devere (One Life to Live, Search for Tomorrow) is 74.
Guitarist Robin Trower (Procol Harum) is 72.
English rock guitarist Jim Cregan is 71.
Guitarist-harmonica player Jimmie Fadden of The Nitty Gritty Dirt Band is 69.
Soul singer Jeffrey Osborne is 69.
Actress Jaime Lyn Bauer (Days of Our Lives, The Young & the Restless) is 68.
Actress Lauren Koslow (Days of Our Lives, The Bold & the Beautiful) is 64.
Former TV journalist Faith Daniels (Dateline, A Closer Look) is 60.
Choreographer/talent judge Mary Murphy (So You Think You Can Dance) is 59.
Actress Linda Fiorentino (Acting on Impulse, Strangers, Neon Empire) is 59.
Actor Tom Amandes (Parenthood, Everwood, The Untouchables) is 58.  
Actor Rodney A. Grant (Wild Wild West) is 58.
Actress Finn Carter (As The World Turns, Missing Pieces) is 57.
Bassist Robert Sledge (Ben Folds Five) is 49.
Fox News Channel host Kimberly Guilfoyle (The Five) is 48.
Rapper C-Miller (formerly C-Murder) is 46.
Actor Emmanuel Lewis (Webster) is 46.
Actor Kerr Smith (The Fosters, Life Unexpected, Dawson's Creek) is 45.
Actress Jean Louisa Kelly (Yes, Dear) is 45.
Actor Kerr Smith (Justice, Charmed, Dawson's Creek) is 45.
Actor Chaske Spencer (Banshee) is 42.
Montreal-born TV host Ben Mulroney (eTalk Daily, Canadian Idol) is 41.
Actor Rupert Evans (The Man in the High Castle, Rogue) is 41.
Actress Camille De Pazzis (Hemlock Grove, The Following, Last Resort) is 39.
Actor Oscar Isaac (Show Me a Hero) is 38.
Actor Matthew Gray Gubler (Criminal Minds) is 37.
Rapper Chingy is 35.
Actor Bobby Campo (Scream, Being Human) is 33.
Actor Joseph Gilgun (Preacher) is 33.
Actress Brittany Snow (Harry's Law, Nip/Tuck, American Dreams) is 31.
Rapper/actor Bow Wow/Shad Moss (Saving Jason,  Smart & Sober) is 30.
Brampton Ont.-born actress/voicist Brenna O'Brien (Supernatural, Garage Sale Mystery:The Deadly Room) is 26.
Actor Luis Armand Garcia (George Lopez) is 25.
Actress Cierra Ramirez (The Fosters) is 22.
Ontario-born actress Niamh Wilson (Degrassi: the Next Generation, Debra) is 19.
Chart Toppers – March 9
1944
Mairzy Doats – The Merry Macs
Besame Mucho – The Jimmy Dorsey Orchestra (vocal: Bob Eberly & Kitty Kallen
No Love, No Nothin' – Ella Mae Morse
Ration Blues – Louis Jordan
1953
Till I Waltz Again with You – Teresa Brewer
Don't Let the Stars Get in Your Eyes – Perry Como
Doggie in the Window – Patti Page
Kaw-Liga – Hank Williams
1962
Duke of Earl – Gene Chandler
Hey! Baby – Bruce Channel
Crying in the Rain – The Everly Brothers
Misery Loves Company – Porter Wagoner
1971
One Bad Apple – The Osmonds
Me and Bobby McGee – Janis Joplin
Just My Imagination (Running Away with Me) – The Temptations
I'd Rather Love You – Charley Pride
1980
Crazy Little Thing Called Love – Queen
Longer – Dan Fogelberg
Desire – Andy Gibb
My Heroes Have Always Been Cowboys – Willie Nelson
1989
Lost in Your Eyes – Debbie Gibson
The Lover in Me – Sheena Easton
The Living Years – Mike & The Mechanics
I Still Believe in You – The Desert Rose Band
1998
My Heart Will Go On – Celine Dion
3 AM – Matchbox 20
Gettin' Jiggy Wit It – Will Smith
Round About Way – George Strait
2007
What Goes Around… Comes Around – Justin Timberlake
Say It Right – Nelly Furtado
It's Not Over – Daughtry
Ladies Love Country Boys – Trace Adkins