ON THIS DAY in 1904
radio/TV talent show host Ted Mack was born William Edward Maguiness in Greeley Colorado.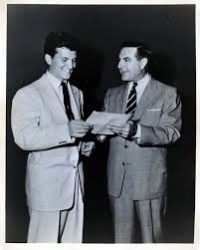 (pictured w/ Pat Boone)
Mack succeeded Major Bowes as host of The Original Amateur Hour for the period 1948-52 on radio, and until 1970 on TV.  His discoveries include Gladys Knight, Pat Boone, & Teresa Brewer.  He also hosted TV's Ted Mack Family Hour, a show similar to Ed Sullivan.  Mack died July 12, 1976 at age 72.
On this day in 1905, actor Harry Bellaver was born in Hillsboro Illinois. He had a 4-decade career on Broadway, and 35 years on TV.  He had recurring roles in the Naked City, Another World & Somerset, as well as multiple guest assignments on Inner Sanctum, Alfred Hitchcock Presents, Studio One, Climax & The FBI. He died of pneumonia August 8 1993 at age 88.
On this day in 1907,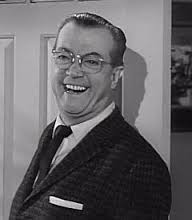 actor Joseph Kearns was born in Salt Lake City.  He began his radio career playing the Crazyquilt Dragon in the classic serial The Cinnamon Bear, becoming active during the 1940s on The Adventures of Sam Spade, Burns and Allen, The Whistler, and dozens of other shows. On Suspense, he was almost a mainstay, heard regularly as the host "The Man in Black" in the early years.  On TV he is best remembered as the neighbour Mr. Wilson on CBS-TV's Dennis the Menace.  He suffered a cerebral hemmorhage and died Feb. 17 1962, five days after his 55th birthday.
On this day in 1909, singer/producer Barry Wood was born in New Haven Conn. He was the singing star of radio's Lucky Strike Hit Parade in the early 40's just ahead of Frank Sinatra, and went on to perform in lesser-known radio shows.  In the TV era he was host of several shows including Places Please & Backstage with Barry Wood, and producer for The Bell Telephone Hour & Wide Wide World.   He died July 19 1970 at age 61.
On this day in 1910, announcer Ken Roberts 
 was born Saul Trochman in New York City.  He is best remembered as announcer on the daytime television soap operas The Secret Storm, Texas and Love of Life, each for a two-decade span.  During the Golden Age of Radio he was the announcer on such New York-based shows as The Shadow, The Adventures of Ellery Queen, Crime Doctor, Easy Aces, The Hour of Charm, It Pays to be Ignorant, Quick as a Flash, and You Are There. He lived a good long life and died June 19 2009 at age 99.
On this day in 1912, another of the great announce voices of bigtime radio Del Sharbutt was born in Cleburne Texas.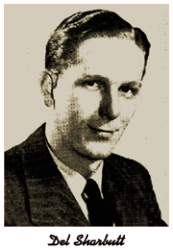 He became a staff announcer for CBS Radio in 1933, and is best remembered as spokesman for Campbell's Soup ("Mmm mmm Good!") beginning in the '30's.  He was also TV announcer for Your Hit Parade, and worked until retirement in 1976 as newscaster for the Mutual Radio network.  He died April 26, 2002 at the ripe old age of 90.
On this day in 1914, singer/sax man/bandleader (Gordon) "Tex" Beneke was born in Fort Worth Texas.  He sang on the Glenn Miller hits Chattanooga Choo Choo, I've Got a Gal in Kalamazoo, & Don't Sit Under the Apple Tree, among others.  He took over leadership of the Miller band after the war, but due to friction with Glenn's estate left to form his own big band; it wasn't that successful.  He died of respiratory failure May 30, 2000 at age 86.
On this day in 1915, newscaster/actor Lorne Greene was born in Ottawa.  He was called "The Voice of Doom" as the nightly newsreader on CBC Radio during World War Two.(1939-42)  On TV he starred in Bonanza, Battlestar Gallactica & Code Red. He died Sept 11, 1987 after an operation for a perforated ulcer, at age 72.
On this day in 1919, actor Forrest Tucker was born in Plainfield Indiana.


Although he had an active big screen career, and toured in the national company of The Music Man, he is best remembered as Sergeant O'Rourke in TV's F-Troop. He also was a regular in 3 other series, Dusty's Trail, The Ghost Busters & The Filthy Rich. He played Flo's estranged father in TV's Alice. Tucker died due to lung cancer & emphysema Oct 25, 1986 at age 67.
On this day in 1923, swing/jazz pianist Mel Powell was born Melvin Epstein in New YorkmCity.  In 1941-42, beginnign at age 18, he played, composed, and arranged for Benny Goodman. He was a prominent member of Glenn Miller's Army Air Corps Band from 1943-45.  Turned to composing classical music a few years later. He died of liver cancer Apr 24, 1998 at age 75.
On this day in 1924, bandleader Paul Whiteman presented his unique symphonic jazz at the Aeolian Hall in New York City. The concert marked the first public performance of George Gershwin's "Rhapsody In Blue". The composer, himself, was at the piano this night. Distinguished guests included John Philip Sousa and Jascha Heifetz.
Also this day in 1924, Calvin Coolidge, known by many as the "Silent President", made the first US presidential political speech on radio. 

The speech originated from New York City and was broadcast on five radio stations. Some five million people tuned in to hear the President speak.
Again this day in 1924, "The Eveready Hour" became radio's first sponsored network program, as the WEAF (New York) production .. which began the previous Dec. 4th…was extended to stations in Buffalo and Providence. The weekly hour featured top stars of the Broadway stage, and set the format for variety entertainment on the air for years to come. The host and Eveready Batteries "ambassador" was the banjo-playing vocalist, "the red-headed music maker" Wendell Hall.  The program was last heard in 1930.
On this day in 1933, actor Lincoln Kilpatrick was born in St Louis. He had recurring roles in the TV series The Leslie Uggams Show, Matt Houston, Frank's Place, Gabriel's Fire, King, & Arthur Hailey's The Moneychangers, plus dozens of guest spots. He died of lung cancer May 18 2004 at age 71.
On this day in 1934, Winnipeg radio station CKY moved from 910 KHz back to its 1925 frequency of 780 KHz.
On this day in 1940, Vancouver radio station CKWX (AM 980) received approval to increase power from 100 to 1,000 watts.  The company purchased 20 acres of land on Lulu Island and erected a transmitter building to house a new 1,000-watt Collins 20-H transmitter.  A 250 ft. tower, quarter-wave antenna, and radial ground wave system were installed at the transmitter site in what is now Richmond.
Also this day in 1940, New York radio station WOR presented the first broadcast featuring the comic-strip hero, "Superman". The 15-minute juvenile adventure became a feature of the Mutual Broadcasting System in 1942, three times a week to start, then daily.


The identity of the man from planet Krypton was unknown to listeners for six years. The secret eventually leaked out that Superman's voice was actually that of Clayton 'Bud' Collyer (above), who would later host the hit television game show, "To Tell the Truth" on CBS.
On this day in 1942, jazz singer Mildred Bailey recorded "More Than You Know" on Decca Records.
On this day in 1949, there was panic in Quito Ecuador, after "The War of the Worlds" played on radio, 10.5 years after Orson Welles got a similar reaction in the US.
On this day in 1955, "Sincerely" by the McGuire Sisters topped the charts and stayed there for 10 weeks.
On this day in 1956, Screamin' Jay Hawkins was in New York to record his own composition "I Put a Spell On You." While it failed to chart several cover versions of the song did become hits.
On this day in 1957, the No. 1 Billboard Pop Hit was "Too Much" by Elvis Presley. The song was the first of four Presley songs to hit No. 1 in 1957, matching his 1956 record.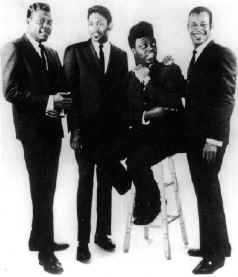 Also this day in 1957, The Coasters recorded "Young Blood," which became the group's first big hit. And Brunswick Records released the single "Maybe Baby" byThe Crickets (with Buddy Holly).
On this day in 1958, The Monotones released their future #5 pop hit "Book of Love."
On this day in 1960, the Pat Boone LP "Pat's Great Hits" was certified as a Gold Record.
On this day in 1961, "Shop Around" by The Miracles became the first million-selling single for any of the Motown labels (Tamla).  In the next ten years The Miracles would end up with six more Gold Records.
On this day in 1962, the No. 1 Billboard Pop Hit was "Duke of Earl'' by Gene Chandler. The song was the first million-selling record for Vee Jay Records.

On this day in 1963, country' music's Buck Owens was at Capitol Records in Hollywood to tape "Act Naturally," which became his first #1 hit.
On this day in 1964, the Beatles played two 25-minute concerts at Carnegie Hall in New York City, concluding a very successful American tour. There was such a demand for tickets that some extra seating was arranged surrounding the stage. Tickets went for between $1.65 and $5.50.  The New York Times review claimed it was the frenzied audience that put on the show and the Beatles merely accompanied them.
On this day in 1965, 18-year-old Donovan Leitch was on the British TV show "Ready Steady Go!" to sing his first record release "Catch The Wind."

On this day in 1966, Simon & Garfunkel released "Homeward Bound," their second Top Five single; Paul had written the song while waiting at a UK railway station.
Also in 1966, The Rolling Stones released "19th Nervous Breakdown" in the US, eight days after it hit stores in the UK.
On this day in 1967, police raided Keith Richards home in West Wittering, Sussex, England. The police found what they termed "various substances of a suspicious nature."  As a result his home Richards, Mick Jagger and Marianne Faithful were arrested May 10 on drug charges.
Also this day in 1967, CBS-TV's Ed Sullivan Show was headlined by The Young Rascals performing "Lonely Too Long" and "Mickey's Monkey."  Lola Falana sang "On Broadway"; Sally Ann Howes also sang, while the South American duo Los Indios Tabajaros' played their guitars. The Beatles were seen on film, and Joan Rivers joked about her teenaged years.

On this day in 1968, singer and famed guitarist, Jimi Hendrix, received an honorary high school diploma from Garfield High School in Seattle, where he had been expelled in his junior year. The legendary psychedelic blues musician who founded The Jimi Hendrix Experience and later, The Band of Gypsies (with Buddy Miles on drums), was back in his home town for a concert this night at the Seattle Centre Arena.
On this day in 1971, actor George Shelton, who was a regular panellist on the long-running radio hit "It Pays to be Ignorant," died at age 86.
On this day in 1972, Al Green's "Let's Stay Together" knocked "American Pie" out of the top spot on the music charts. The record stayed at the top for one week, before giving way to Nilsson's "Without You". Green returned to his gospel roots in 1980 and is a minister in Memphis, TN. Green recorded 14 hit songs with six of them making it to the Top 10.
Also this day in 1972, the song "Roundabout" was released by Yes.
On this day in 1973, Elton John's second straight #1 album in North America "Don't Shoot Me, I'm Only The Piano Player" was certified as a Gold Record.
On this day in 1976, actor & teen idol Sal Mineo (above) was murdered, stabbed to death, in a botched mugging.  He was 37.  As well as his big screen successes he had been seen in a string of TV guest spots from "Studio One" and "Combat" to "S.W.A.T."
On this day in 1977, Barbra Streisand started a six-week run atop the Billboard album chart with 'A Star Is Born.'
Also in 1977, the Police recorded their first single, "Fall Out" at Pathway Studios in London. It did not enter the charts until its re-release two years later.
On this day in 1981, Deborah Harry, the lead singer of Blondie, announced she would be making a solo album. The group scored two number one singles that year "The Tide Is High" and "Rapture."
On this day in 1982, Dawson City-born character actor Victor Jory died at age 79.  For 30 years he worked steadily in guest roles on TV series like Playhouse 90, The Virginian, Climax, Kraft Television Theatre, Studio One, Kings Row, Schlitz Playhouse, and Manhunt.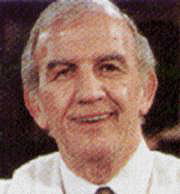 On this day in 1985, actor Nicholas Colasanto, who played Coach on the NBC sitcom Cheers, died of a heart ailment partway through the the third season of the sitcom at age 61.
Also this day in 1985, Johnny Carson surprised "Tonight Show" viewers when he appeared without the beard he had been growing for several weeks. Carson quipped: "I had to do it when a little old lady said that she had confused me for one of the Smith Brothers." There was silence from the studio audience, until Johnny timed it perfectly in adding, "You know, the cough drop guys." Uproarious laughter.
On this day in 1986, the No. 1 Billboard Pop Hit was "How Will I Know" by Whitney Houston. The song displaced "That's What Friends Are For," the No. 1 song by Houston's cousin, Dionne Warwick.
On this day in 1987, Ontario-born actor Lang Jeffries, who played Skip Johnson in TV's Rescue 8, died at age 57.
On this day in 1989, that most unique singer Tiny Tim declared himself a New York City mayoral candidate. He did not win the election.
On this day in 1993, radio/TV talk show host Joan Rivers swapped jobs with one of her viewers and worked as a flight attendant on a flight from New York to Pittsburgh. She spilled a drink on a passenger.

On this day in 1994, Celine Dion's "The Power of Love" was the #1 single in the U.S. It ruled the musical roost for four weeks.
On this day in 1995, Van Halen scored their first Billboard No.1 album with 'Balance.'
On this day in 1997, David Bowie was honored with a star on the Hollywood Walk of Fame.  That same day the Wall Street Journal reported he'd signed a $30-million contract with EMI records.
On this day in 1999, the longtime voice of the Cleveland Indians Jimmy Dudley, also the lead announcer for the Seattle Pilots for their lone year (1969), died at age 89.
Also this day in 1999, singer Toni Fisher of "The Big Hurt" fame, suffered a fatal heart attack at age 68.

On this day in 2000, "Peanuts" cartoonist Charles Schulz died at his home in San Francisco after battling colon cancer. He was 77. The man behind the wonderful series of Peanuts TV specials died the day before his last comic strip was published.
Also this day in 2000, the American singer known as Oliver (Jean, Good Morning Starshine), whose full name was William Oliver Swofford, succumbed to cancer at age 54.
On this day in 2001, the U.S. 9th Circuit Court of Appeals ordered Napster to stop its users from trading copyrighted material without charge.
On this day in 2003, former Doors drummer John Densmore took legal action against The Doors keyboard player Ray Manzarek and guitarist Robby Krieger. He won his suit two years later, preventing the other two from continuing to tour with new members using The Doors' name. Densmore said "It shouldn't be called The Doors if it's someone other than Jim Morrison singing."
 On this day in 2005, country singer Sammi Smith, whose big hit was "Help Me Make Through The Night," died of emphysema at age 61. She had the distinction of being one of the few female members of country music's "outlaw" movement in the 1970's.
On this day in 2006, organist Lenny Dee died at age 83. He left behind 56 albums, and the chart-topping hits Plantation Boogie (1955) and Spinning Wheel (1970).
On this day in 2007, during a West Hollywood press conference Sting confirmed that The Police were getting back together. The band were set to kick off a world tour May 28 in Vancouver.
On this day in 2008, actor David Groh (Rhoda, General Hospital) succumbed to kidney cancer at age 68.
 Also this day in 2008, legendary R&B singer Ronald Isley of the Isley Brothers, now 66, lost his appeal against a three-year jail term for tax fraud, his lawyers citing his poor health and his age.  Prosecutors told court he'd cashed royalty cheques intended for his late brother, and spent millions of dollars from undeclared income on two homes and a yacht.
On this day in 2009, a full frontal nude black-and-white photo of Madonna, taken at age 20 well before she'd hit it big, sold at a New York auction for $37,500, more than double the pre-sale estimate.  The photo had appeared in Playboy in 1985.

On this day in 2010, drummer Jake Hanna died from complications of a blood disease at age 78. He played with Woody Herman, and with the Mort Lindsey Orchestra for almost a decade on TV's syndicated "Merv Griffin Show."
On this day in 2011, actress Betty Garrett, whose extensive film & Broadway career was followed by key TV roles on the sitcoms Laverne & Shirley and All in the Family, died of an aortic aneurism at age 91.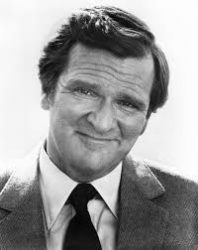 Also this day in 2011, character actor Kenneth Mars (above), known for his exaggerated accents in Mel Brooks films and his portrayal of Henry Kissinger on record, plus several seasons as the dim-witted boss on TV's "Malcolm in the Middle," lost his battle with pancreatic cancer at age 75.
On this day in 2012, nearly 40 million people tuned into CBS-TV's Grammy Awards broadcast, the day after Whitney Houston's shocking drug-related death.  Jennifer Hudson sang "I Will Always Love You" as part of the hastily-prepared tribute to Whitney.
On this day in 2014, comedian/TV pioneer Sid Caesar (below), whose 'Saturday night 'Your Show of Shows' was one of the biggest hits of the early TV 'live' period, died at age 91.  According to fellow cast member Carl Reiner, "He was without a doubt the greatest sketch comedian-monologist that television ever produced."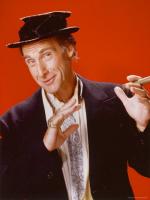 On this day in 2015, radio/TV announcer and voicist Gary Owens died from complications of diabetes at age 80.  He became known nationwide as the ear-cupping on-camera announcer on NBC-TV's Rowan & Martin's Laugh-In. For more than 30 years he was a popular humorous deejay on L.A. radio, and ended his career as the morning man on the syndicated "Music of Your Life" service.  As a voicist he starred on Roger Ramjet and Space Ghost TV cartoons.
Also in 2015, guitarist Sam Andrew, co-founder of Big Brother & the Holding Company which introduced legendary rocker Janis Joplin, died of complications from open heart surgery at age 73.
On this day in 2016,  Elvis Costello's concert film "Detour Live At Liverpool Philharmonic Hall" was released.
Today's Birthdays:
Actor Joe Don Baker (In the Heat of the Night, Edge of Night, Eischeid) is 81.
Country singer Moe Bandy is 73.
Actress Maud Adams (Emerald Point NAS, Chicago Story) is 72.
Actor Cliff DeYoung (Sunshine, JAG, Relativity) is 72.
Toronto-born actor Michael Ironside (V, Superman, SeaQuest DSV) is 67.
Guitarist Steve Hackett (Genesis) is 67.
Actor Larry Joshua (NYPD Blue, Cop Rock, Search for Tomorrow) is 65.
Singer Michael McDonald (Doobie Brothers) is 65.
Actress Joanna Kerns (Growing Pains, Hunter) is 64.
Actor Zach Grenier (The Good Wife, The Good Fight, Deadwood, Touching Evil) is 63.
Actor-talk show host Arsenio Hall (Arsenio, Martial Law) is 61.
Actress Sigrid Thornton (Wentworth Prison) is 58.
Actor John Michael Higgins (Raising the Bar, The Late Shift) is 54.
Seattle-born actor Brian Haley (Maggie Winters, The Weird Al Show, Wings) is 54.
Actor Raphael Sbarge (The Guardian, Once Upon a Time) is 53.
Actress Alex Meneses (Telenovela, Everybody Loves Raymond, Dr Quinn Medicine Woman) is 52.
Actress Christine Elise (L.A. Firefighters, ER, Beverly Hills 90210) is 52.
BC-born actor Lochlyn Munro (Riverdale, True Justice, Charmed, Hawkeye) is 51.
Singer Chynna Phillips of Wilson Phillips is 49.
Actor Josh Brolin (The Young Riders, Mister Sterling, Into the West) is 49.
Ontario-born bassist Jim Creeggan of Barenaked Ladies is 47.
Keyboardist Keri Lewis of Mint Condition is 46.
Actor Ajay Naidu (LateLine) is 45.
Actress Lisa Brenner (All My Children) is 43.
Actor Michael Bower (Salute Your Shorts) is 42.
Actor Jesse Spencer (Chicago Fire, House M.D.) is 38.
Actor Angus Sampson (Shut Eye, Fargo) is 38.
Actress Christina Ricci (Sleepy Hollow, Pan Am, Ally McBeal) is 37.
Actress Sarah Lancaster (Chuck, Everwood, Saved By The Bell:The New Class) is 37.
Winnipeg-born actress/voicist Heather Doerksen (Ninjago: Masters of Spinjitsu, Lego Star Wars, Stargate: Atlantis) is 37.
Actor Enver Gjokaj (Dollhouse, Rizzoli & Isles) is 37.
Actor Josef Altin (Game of Thrones) is 34.
Actress  Valorie Curry (The Following) is 31.
Actress Georgina Reilly (Murdoch Mysteries, The L.A. Complex) is 31.
Montreal-born actress Anna Hopkins (Defiance) is 30.
Model/TV personality Abigail Ratchford of The E! Network is 25.
Actress Jennifer Stone (Wizards of Waverly Place) is 24.
Chart Toppers – Feb. 12
1946
Symphony – The Freddy Martin Orchestra (vocal: Clyde Rogers)
I Can't Begin to Tell You – Bing Crosby with the Carmen Cavallaro Orchestra
Aren't You Glad You're You – Bing Crosby
Guitar Polka – Al Dexter
1955
Sincerely – McGuire Sisters
Hearts of Stone – Fontane Sisters
Ko Ko Mo (I Love You So) – Perry Como
Let Me Go, Lover! – Hank Snow
1964
I Want to Hold Your Hand – The Beatles
You Don't Own Me – Leslie Gore
Um, Um, Um, Um, Um, Um – Major Lance
Begging to You – Marty Robbins
1973
Crocodile Rock – Elton John
Why Can't We Live Together – Timmy Thomas
Oh, Babe, What Would You Say? – Hurricane Smith
She Needs Someone to Hold Her (When She Cries) – Conway Twitty
1982
Centerfold – The J. Geils Band
Harden My Heart – Quarterflash
Open Arms – Journey
Someone Could Lose a Heart Tonight – Eddie Rabbitt
1991
Gonna Make You Sweat (Everybody Dance Now) – C & C Music Factory featuring Freedom Williams
All the Man that I Need – Whitney Houston
One More Try – Timmy -T-
Brother Jukebox – Mark Chesnut
2000
Show Me the Meaning of Being Lonely – Backstreet Boys
What A Girl Wants – Christina Aguilera
Thank God I Found You – Mariah Carey featuring Joe & 98 Degrees
Cowboy Take Me Away – Dixie Chicks
2009
Single Ladies (Put A Ring On It) – Beyoncé
Just Dance – Lady Gaga featuring Colby O'Donis
Love Story – Taylor Swift
She Wouldn't Be Gone – Blake Shelton