ON THIS DAY in 1906
a man who was instrumental in bringing The Lone Ranger and The Green Hornet to the airwaves, James Jewell was born.  He was a busy actor, producer and director at radio station WXYZ, Detroit, where owner George W. Trendle opted to drop his network affiliation and create his own programming.   Jewell was made Director of Drama, and was part of the station staff that worked out the original concepts for The Lone Ranger.  He's also credited with selecting The William Tell Overture as the theme. "Ke-mo sah-bee", Tonto's greeting to the masked Ranger, was derived from the name of a boys' camp owned by Jewell's father-in-law.  When he departed for Chicago in 1938 he became director of another classic kid's radio serial, Jack Armstrong the All American Boy.  When that series ended in 1951 he became director of ABC Radio's Silver Eagle.  He suffered a fatal heart attack in 1975 and died at age 69.
On this day in 1914, singer/songwriter Matt Dennis was born in Seattle.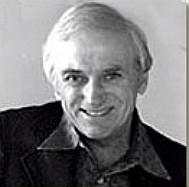 As arranger for the Tommy Dorsey Orchestra he had 14 of his songs recorded by the band in one year alone! Three of his biggest hits were "Everything Happens to Me," "Let's Get Away from It All," and "The Night We Called It a Day." Later he was musical director for the Dick Haymes radio show. He died at age 88 June 21, 2002.
On this day in 1915, blues singer Josh White was born in Greenville South Carolina. Specializing in country blues, he was amongst the first blues performers to attract a large white and middle-class African American following. One of his many appellations was "The Singing Christian." He died Sept. 5 1969 at age 54.
On this day in 1917, author/producer Sidney Sheldon was born in Chicago.  He produced TV's Patty Duke Show & I Dream of Jeannie, before striking the mother lode as author of pop novels.  Later he created the series Hart to Hart. Several of his novels became TV mini series, including Master of the Game, If Tomorrow Comes, Bloodline, The Other Side of Midnight, and Windmills of the Gods.  He died of complications from pneumonia Jan 30 2007 at age 89.
On this day in 1919, 
 actress Eva Gabor was born in Budapest.  She co-starred with Eddy Albert in the hit rural CBS sitcom Green Acres, and accepted dozens of TV guest roles. She died of respiratory failure July 4, 1995 ay age 76.
On this day in 1920, actor Billy Halop was born in New York. Active in radio in the 20's as a kid he became a member of Hollywood's Dead End Kids, and ended a sporadic acting career as Bert Munson on TV's All in the Family.  A longtime alcoholic he died from a heart attack Nov. 9 1976 at age 56.
On this day in 1922, "April Showers" by Al Jolson hits #1 on the Pop Charts and stays on top for 11 weeks.
On this day in 1925, Emmy-winning actress Kim Stanley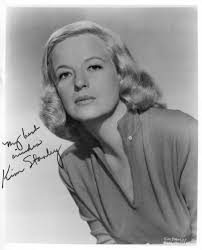 was born in rural New Mexico. The brilliant stage star guested sparingly on TV over 35 years, including her 1963 role on Ben Casey, and in 1985 PBS's Cat on a Hot Tin Roof, both of which resulted in acting Emmys. She succumbed to uterine cancer Aug. 20 2001 at age 76.
On this day in 1926, actor Leslie Neilsen was born in Regina.  Besides his 100 Hollywood films he appeared in some 1500 television shows, latterly in spoof roles spawned by his straitfaced but intensely laughable portrayals of buffoonish characters.   He died of pneumonia November 28 2010 at age 84.
On this day in 1935, rockabilly pioneer Gene Vincent (below) was born in Norfolk, Va. His biggest hit was 1956's top 10 song "Be-Bop-a-Lula."  He died from a ruptured stomach ulcer Oct 12, 1971 at age 36.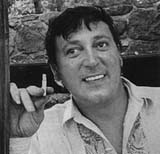 On this day in 1938, Larry Clinton and his orchestra recorded "Martha" on RCA Victor Records. Bea Wain was heard warbling the vocal.
On this day in 1940, NBC radio presented "The Chamber Music Society of Lower Basin Street" for the first time. The famous Blue network series included several distinguished alumni — among them, Dinah Shore and Zero Mostel. The chairman, or host, of "The Chamber Music Society of Lower Basin Street" was Milton Cross.(pictured)


He would say things like, "A Bostonian looks like he's smelling something. A New Yorker looks like he's found it." The show combined satire, blues and jazz and was built around what were called the three Bs of music: Barrelhouse, Boogie Woogie and Blues.
On this day in 1945, award-winning songwriter Al Dubin passed away at age 53.  His memorable hits (most of which are now regarded as pop standards) include Lullaby of Broadway, September in The Rain, Forty Second Street, Lulu's Back in Town, About a Quarter to Nine, You're Getting to be a Habit, and I Only Have Eyes for You.
On this day in 1949, the private-eye radio drama Yours Truly, Johnny Dollar debuted on CBS Radio, with Charles Russell in the title role.  It amazingly survived five changes in the lead actor during its 13 year run.
On this day in 1950, "Chattanoogie Shoe Shine Boy" by Red Foley topped the charts and stayed there for 8 weeks.
On this day in 1954, the Sixth Annual Emmy Awards gave top honors to "I Love Lucy," Donald O'Connor & Eve Arden.
On this day in 1956, for the third Saturday night in a row Elvis Presley appeared on "Stage Show" (CBS TV). He was finally given permission to perform "Heartbreak Hotel."
On this day in 1960,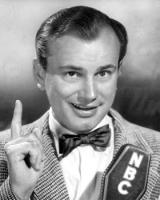 Jack Paar walked off NBC's "Tonight Show". The previous night, Paar had told a joke during his monologue, and although Paar didn't say "toilets," but "water closets," it offended the NBC censors, who cut the joke (a total of four minutes) out of the show. Paar was incensed when he found out, so on this night he complained about the NBC censors, said "good night" and left. (He returned on March 7, following a trip to Hong Kong, and stayed around for another two years as host of "Tonight".)
On this day in 1963, The Beatles recorded all of the tracks for their first album to be released in the U-K, "Please Please Me." It took less than 10 hours. John Lennon had a bad cold, nevertheless he nailed "Twist and Shout" in just one take.
On this day in 1964, The Beatles played their first U.S. concert at the Coliseum Arena in Washington, DC. Tickets ranged from $2 to $4. The Chiffons and Tommy Roe were the opening acts.
On this day in 1965, the Johnny Cash LP "Ring of Fire" was certified as a Gold Record, having sold more than 500,000 copies.
Also in 1965, Beatle drummer Ringo Starr married Maureen Cox. They had a son, Zak Starkey, seven months later. They also had a daughter, Lee. The couple divorced in 1975.
On this day in 1966, Cher recorded "Bang Bang (My Baby Shot Me Down)." Peaking at #2 on Billboard's Hot 100 it became her biggest solo hit of the decade.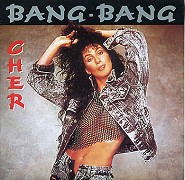 Also this day in 1966, the Roger Miller album, "Golden Hits" was certified to be a Gold Record.
On this day in 1967, five months into their weekly TV series The Monkees announced that they would be playing all the instruments on their future recordings. This after the revelation that studio musicians had done most of the work on their first releases.  The promise lasted for one album, 1967's "Headquarters."
On this day in 1968, soprano Roberta Peters, the Lennon  Sisters, Eddie Albert and Vincent Price headlined the CBS-TV Ed Sullivan Show.  For laughter, Ed featured Morey Amsterdam and Totie Fields, along with ventriloquist Jimmy Nelson.
On this day in 1971, the 100th episode of "Ironside" aired on NBC-TV, starring New Westminster's Raymond Burr.
On this day in 1972, David Bowie performed as "Ziggy Stardust" for the first time.
On this day in 1975, the No. 1 Billboard Pop Hit was "You're No Good" by Linda Ronstadt.
On this day in 1976, one of America's premier character actors over three decades, Lee J. Cobb suffered a fatal heart attack at age 64.  On TV he starred in the series "The Virginian" & "The Young Lawyers," and recreated his award-winning stage role as Willie Loman in "Death of a Salesman."
On this day in 1979, the TV movie "Elvis!" starring Kurt Russell attracted a huge audience of 43-million to ABC-TV.
On this day in 1982, ABC-TV's presentation of "The Winds of War" 
concluded.  The 18-hour miniseries cost $40 million to produce and was the most-watched television program in history at the time — topping another ABC presentation, Alex Haley's "Roots". An audience estimated at 140 million people watched one or more nights of the program.
On this day in 1983, Bob Seger's album "The Distance" went Platinum, his seventh straight LP to do so.
Also in 1983, "Weird Al" Yankovic recorded "Ricky" & his debut LP for Scotti Bros. records.
On this day in 1984, the Michael Jackson single "Thriller" debuted at No. 20 on Billboard's Hot 100. It was the highest debuting song of the 1980s, but failed to reach No. 1, topping out at No. 4.
On this day in 1985, the No. 1 Billboard Pop Hit was "Careless Whisper" by Wham! featuringGeorge Michael. The song was released as a solo by Michael in the United Kingdom but was included on the group's U.S. album.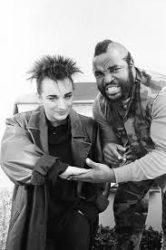 On this day in 1986, Boy George guest-starred on an episode of NBC-TV's action series "The A-Team" as a singer mistakenly booked into a country dance hall.
Also this day in 1986, the rap single "Superbowl Shuffle" recorded by the Chicago Bears Shufflin' Crew in honor of the team's one-loss NFL season, was certified as a Gold Record by the RIAA.
On this day in 1987, in the wake of Liberace's death from AIDS, the London Daily Mirror asked if it could have back the 53-thousand-dollar U-S libel award the entertainer won from the paper more than 30 years earlier. The tabloid had called Liberace "a fruit-flavoured, mincing, ice-covered heap of mother love" in 1956.
On this day in 1989, Paula Abdul started a three week run at No.1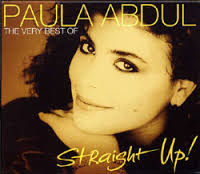 on the Billboard singles chart with 'Straight Up', the first of three No.1's in 1989.
On this day in 1992, actor/director Ray Danton, who guest starred on episodic TV over a span of more than 25 years, died from kidney disease at age 60.
Also this day in 1992, Motley Crue fired their singer Vince Neil when he turned up for rehearsals, claiming that he had lost his passion for the band and was now more involved with racing cars.

On this day in 1994, actor William Conrad died after a heart attack at age 73. He'd been extremely busy in bigtime radio, notably as Marshall Dillon in CBS Radio's Gunsmoke.  On TV he starred in two series, "Cannon" & "Jake and the Fat Man," and also was greatly in demand for narration.
On this day in 1994, Prince premiered his song "The Most Beautiful Girl in the World" at the Miss USA Pageant on South Padre Island in Texas.
Also this day in 1994, actor Sorrell Brooke, who played Mayor Hogg on TV's Dukes of Hazzard, died of colorectal cancer at age 64.
On this day in 1997, 
 actor Don Porter, the wonderful boss on TV's Private Secretary and the professor (with Sally Field) on Gidget, died at age 84.
On this day in 2001, Shaggy started a four-week run at No.1 on the US album chart with 'Hotspot.'
On this day in 2002, after producing the best ratings on TV during the current season, the six stars on NBC's "Friends" signed a deal that would pay them $1 million per episode in the sitcom's 9th and 10th years.
On this day in 2004, Nickelback received four nominations, including the Group of the Year honour, for Canada`s 33rd annual Juno Awards.
On this day in 2005 at noon, CKWV-1 FM 99.9 Parksville stopped simulcasting the Wave FM 102.3 Nanaimo and launched its own full-service radio station playing Adult Standards.  Its new call letters are CHPQ which are the call letters the station had in the 90s.  Its branding is "The Lounge."
Also in In 2005, at 10:13 a.m., Prince George radio station CKKN FM 101.3 became Classic Hits. It is now i.d'd as The River with a Hot Adult Contemporary format.
On this day in 2006, Il Divo went to No.1 on the Billboard album chart with their second album 'Ancora.'
On this day in 2007, The Doors and the Grateful Dead received the Recording Academy Lifetime Achievement Award in connection with the 49th annual Grammy Awards in Los Angeles. The Police (Sting, Stewart Copeland and Andy Summers) reunited to perform during the opening of the Grammy telecast.
On this day in 2008, Heather Mills and Sir Paul McCartney appeared at the High Court in London for a hearing to reach a financial settlement for their divorce.
On this day in 2009, Ronettes singer Estelle Bennett (below, centre) died of colon cancer at age 67. The 60's girl group (best known for their work with producer Phil Spector) had the 1963 hit 'Be My Baby.'

On this day in 2010, singer Anne Murray was one of the people carrying the Olympic Flag during the opening ceremonies of the Vancouver Winter Olympics.
Also this day in 2010, actress Caroline McWilliams of the TV series "Benson" & "Soap," soccombed to cancer at age 64.
Still in 2010, rocker Jon Bon Jovi made a guest appearance as himself on the NBC-TV comedy 30 Rock. He even had a couple of killer lines on the Valentine's Day-themed show.
On this day in 2011, Bon Jovi landed at #2 on Billboard's Top 40 Money Makers list with a yearly income of $30,441,776. Lady Gaga and her "Monster Ball" tour topped the survey.Roger Waters was at #3, Paul McCartney was in the #10 spot.
On this day in 2012, singer Whitney Houston 
 was found dead submerged in her bath tub at a posh LA hotel.  Cause of death was a lethal combination of prescription drugs and liquor.
On this day in 2013, Tom Aspell, a veteran foreign correspondent for NBC News, died after a two-year battle with lung cancer at age 62.
Also in 2013, UK bass player Rick Huxley, one of the founding members of 1960s chart stars The Dave Clark Five, died at age 72 following a long struggle with emphysema.
On this day in 2015, Bob Simon, the longtime "60 Minutes" correspondent and legendary CBS News foreign reporter died when the limo he was in was involved in a car accident in New York City, at age 73.  He was one of a handful of elite journalists who had covered the important news events of the late 1960's to the present.                                                                                                                                                               
Today's Birthdays:
Actor/jazz musician Conrad Janis (Mork and Mindy, Frasier) is 89.
Former boxing commentator Larry Merchant (HBO) is 86.
Actress Tina Louise (Gilligan's Island, Dallas) is 83.
Actor Burt Reynolds (Evening Shade, Dan August, Hawk) is 81.
Songwriter Gerry Goffin is 78.
Singer Bobby "Boris" Pickett (Monster Mash) is 77.
Musician Sergio Mendes (Brazil '66) is 76.
R&B singer Otis Clay is 75.
Actress Catherine Hickland (One Life To Live, Loving) is 61.
Actress Deena Freeman (Too Close for Comfort) is 61.
Actor Bradley Cole (Guiding Light, General Hospital) is 58.
Actress Carey Lowell (Law and Order) is 56.
Singer Sheryl Crow (Katie) is 56.
Former Alaska Governor/U.S. vice presidential candidate/former Fox News contributor Sarah Palin is 53.
Actress Alexandra Bokyun Chum (Days of Our Lives, The Event, The Young & the Restless, Another World) is 50.
Actress Jennifer Aniston (Friends) is 48.
Actor Damian Lewis (Homeland, Band of Brothers) is 46.
Actress Lisa Kay (Indian Summers, Heartbeat) is 46.
Model/actress Marisa Petroro (Deal or No Deal, The Real Whatever) is 45.
Actor Isaiah Mustafa (Shadowhunters: The Mortal Instruments) is 43.
Singer D'Angelo is 43.
Actor Riley Schmidt (Scream Queen) is 41.
Actor Brice Beckham (Mr. Belvedere) is 41.
Vocalist Mike Shinoda of Linkin Park and of Fort Minor is 40.
Singer/actress Brandy Norwood (Moesha) is 38.
Actor Matthew Lawrence (Boy Meets World, Gimme a Break) is 37.
Hamilton-born actor Dru Viergever (Strange Times at Blake Holsey High) is 36.
Actress Alexi Wasser (Dirt) is 36.
Singer Kelly Rowland (Destiny's Child) is 36.
UK actress Natalie Dormer (Elementary, Game of Thrones, The Tudors) is 35.
Vancouver-born actress Nicki Clyne (Battlestar Galactica) is 34. 
Singer/model/reality TV personality Aubrey O'Day (Making the Band, All About Aubrey) is 33.
Actress/TV personality Sherlyn Chopra (MTV Splitsvilla) is 33.
Tacoma-born actress Sarah Butler (Nightmare Nurse, Love Vampires) is 32. 
Actress Jazz Raycole (Jericho, The Soul Man. My Wife and Kids) is 29.
Actress Q'orianka Kilcher (Sons of Anarchy) is 27.
Actress Georgia May Foote (Coronation Street) is 26.
Actor Taylor Lautner (My Own Worst Enemy) is 25.
Actor Dominic Janes (ER) is 23.
Chart Toppers – Feb. 11
1945
Don't Fence Me In – Bing Crosby & The Andrews Sisters
Accentuate the Positive – Johnny Mercer
I Dream of You – The Tommy Dorsey Orchestra (vocal: Freddy Stewart)
I'm Losing My Mind Over You – Al Dexter
1954
Oh! My Pa-Pa – Eddie Fisher
Make Love to Me – Jo Stafford
Young-at-Heart – Frank Sinatra
Bimbo – Jim Reeves
1963
Hey Paula – Paul & Paula
Loop De Loop – Johnny Thunder
Up on the Roof – The Drifters
The Ballad of Jed Clampett – Flatt & Scruggs
1972
American Pie – Don McLean
Let's Stay Together – Al Green
Without You – Nilsson
One's on the Way – Loretta Lynn
1981
Celebration – Kool & The Gang
I Love a Rainy Night – Eddie Rabbitt
9 to 5 – Dolly Parton
I Keep Coming Back – Razzy Bailey
1990
Opposites Attract – Paula Abdul with The Wild Pair
Two to Make It Right – Seduction
Janie's Got a Gun – Aerosmith
Southern Star – Alabama
1999
…Baby One More Time – Britney Spears
Miami – Will Smith
Slide – Goo Goo Dolls
Stand Beside Me – Jo Dee Messina
2008
Low – Flo Rida featuring T-Pain
No One – Alicia Keys
Don't Stop The Music – Rihanna
Letter to Me – Brad Paisley