It's now becoming  clear the legendary and longtime Radio NL news director Jim Harrison (pictured left) will be sticking around for awhile longer, continuing to do news stories, his long time talk show and guiding the transition process. More Details below with a comment from Shane Woodford. By the way, Jim Harrison has been in the News Directors position at Radio NL for more than 40 years!
What we do know is that Shane Woodford of CKNW (pictured below) is leaving at the end of May to assume the ND role at Kamloops' CHNL AM 610.
In a chat with Shane, after congratulating him on his new position, he said the following;
Thanks! It is an exciting challenge in a great city, solid news market, and a fantastic station. Just to flesh out the article I leave NW, likely at the end of May, and start as the News Director in Kamloops in September. Jim will help me transition into the job until December then step away. He will also retain his talk show and daily editorial.
We at PSR wish the very best to both Jim and Shane.  Woodford has history at the highly regarded interior news beacon; he worked there for two years as anchor/reporter before joining CKNW in 2011.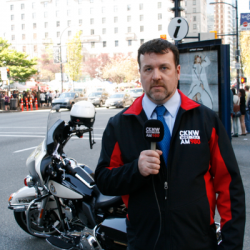 Our thanks to Gord Lansdell at Northwest Broadcasters for the information.

Related PSR Story HERE