ON THIS DAY in 1908
actor Eddie Albert was born Edward Heimberger in Rock Island Illinois.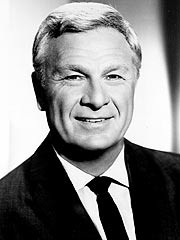 Best remembered as Oliver opposite Eva Gabor on CBS TV's Green Acres & Petticoat Junction, he worked regularly in the medium for 50 years.  He had featured roles in the series Leave it to Larry, Nothing but the Best, Switch, War & Remembrance, General Hospital & Spider-Man. He died of pneumonia May 26 2005 at age 97.
In 1909, actor Ralph Byrd was born in Dayton Ohio.  He starred in a series of Dick Tracy 'B' movies in the '40's, and in a Tracy TV series in 1950-51.  He suffered a fatal heart attack Aug 18 1952 at age 43.
In 1920, actor/quizmaster Hal March was born in San Francisco. He teamed for a time with actor Bob Sweeney & starred in the CBS radio comedy show Sweeney & March.  Early in his television career he appeared on Burns and Allen, The Imogene Coca Show and I Love Lucy. However, he was best known as the host of CBS TV's $64,000 Question from 1955 to 1958. As a result of the quiz show scandals, the show was canceled and March was out of a job for nearly a decade. He started hosting another show, It's Your Bet, in 1969, but was diagnosed with lung cancer and died Jan 19 1970 at age 49.

In 1923, producer Aaron Spelling was born in Dallas.  His list of successful TV series is immense, including Charlie's Angels, Melrose Place, Dynasty, The Colbys, Love Boat, Fantasy Island, Starsky and Hutch, Mod Squad, T J Hooker, Hotel, Models Inc., Burke's Law, Sunset Beach, Beverly Hills 90210, Summerland, 7th Heaven, Charmed, etc.   He died of complications following a stroke June 23 2006 at age 83.
In 1935, a half-hour musical variety show headed by personable conductor Meredith Willson began an intermittent run on various radio networks that spanned 19 years.  The first series (eight shows) was on NBC Blue.
In 1940, the first all-Chinese commercial radio program was broadcast over KSAN radio in San Francisco. Later, KSAN would become a pioneer in playing "underground rock" music which, to many, must have sounded like Chinese, too…
In 1946, Tex McCrary and Jinx Falkenburg arrived at WEAF radio in New York City with an entertaining morning show called, Hi, Jinx, which evolved into The Tex & Jinx Show. WEAF later became WNBC and finally WFAN SportsRadio 66.
In 1952, an atomic test conducted in Nevada was the first nuclear explosion shown on live network television.

In 1954, the Army-McCarthy televised hearings that eventually helped bring down the red-baiting Senator Joseph McCarthy (above, left), debuted in glorious black-and-white.  ABC TV, which didn't have much daytime programming anyway, became a ratings hit with its wall-to-wall coverage.
In 1956, Elvis Presley made his Las Vegas debut at the Frontier Hotel. With Heartbreak Hotel at the top of the pop charts, one can imagine the excitement generated by the new "King of rock and roll". Even with a #1 hit, Elvis was not yet well-received by the middle-aged audience. Management of the Frontier was so unimpressed, they gave Elvis his walking papers after one week of the two-week engagement.
In 1962, the three-year-old son of rocker Jerry Lee Lewis drowned while playing in a swimming pool.
In 1965, Frank Sinatra recorded "It Was a Very Good Year," for which both he and arrangerGordon Jenkins won Grammys.
In 1966, a future #1 pop single, "Wild Thing" by the British band The Troggs was released in the U.S.
In 1967, actor Tom Conway died of cirrhosis of the liver at age 62. He took over the radio role of Sherlock Holmes from Basil Rathbone, and on TV had the title role on the Mark Saber TV series, plus was a regular on The Betty Hutton Show.

In 1968, Herb Alpert debuted the soon-to-be-#1 hit "This Guy's in Love With You" on his CBS-TV special.
In 1969, The Who gave their first complete live performance of the rock opera "Tommy" at a show in Dolton, England.
Also in 1969, John Lennon and Paul McCartney recorded "The Ballad of John and Yoko."  That same day John Lennon legally changed his name to John Winston Ono Lennon. He always hated his middle name, which his mother gave him to honor Winston Churchill, but British law did not allow him to change it. He could however add Ono, and would never use Winston again, except for legal documents.
Still in 1969, the Carpenters, Richard & Karen, signed with A&M Records, setting the stage for their string of chart-topping hits.
In 1970, as taped at Nashville's Ryman Auditorium, ABC-TV's Johnny Cash Show featured the star in a duet with Lynn Anderson on "I've Been Everywhere," and in a medley with folksinger Burl Ives.

In 1974, at NBC-TV's Today Show, Barbara Walters was officially named co-host (with Jim Hartz), following the death of Frank McGee.  With TV still an 'old boy's club' she had been doing the job without the title for more than 5 years.
Also in 1974, Redbone was awarded a Gold Record for the single, "Come and Get Your Love." The group, playing American Indian "swamp rock", formed in Los Angeles in 1968. They had one other hit, "The Witch Queen of New Orleans."
Still in 1974, Charlie Rich's second straight #1 country album, "Very Special Love Songs," was certified as a Gold Record.

In 1976, ABC announced that Barbara Walters was to become the first US female nightly network news anchor, teaming with Harry Reasoner on the "ABC Evening News." She has made no secret of how unwelcome Harry made her feel, partly due to her much-publicized million dollar salary.
Also in 1976, Johnnie Taylor's "Disco Lady" became the the first single certified double-platinum (2 million sold) by the RIAA.
In 1978, Grampa Walton in the longrunning CBS-TV family series "The Waltons," actor Will Geerdied from a respiratory ailment at age 76.
Also in 1978, the final episode of "Maude" aired on CBS TV.

Still in 1978, John Belushi and Dan Aykroyd were seen for the first time performing as the Blues Brothers on NBC's "Saturday Night Live."
In 1979, Mick Jaggar and Keith Richards of the Rolling Stones were at the auditorium in Oshawa Ontario to give two court-ordered concerts to benefit the CNIB, as part of Richard's release on drug charges.
In 1980, singer Jane Froman died from chronic heart & lung problems at age 72. She was an early member of the Bob Hope radio troupe, worked regularly on radio on various shows, and in early TV had her own quarter hour music show that alternated weeknights with Perry Como.  Her "I Believe" became a Gold Record in 1953.
In 1981, Eric Clapton was hospitalized in Seattle with bruised ribs and a lacerated chin suffered in a car accident, a mere two days after being released from hospitalization for ulcer treatment in St. Paul, MN.

In 1983, jazz pianist & bandleader Earl "Fatha" Hines, whose radio remotes from Chicago made his "the most broadcast band in America," died after a heart attack at age 77.
In 1985, the founder of Victoria's CKDA Radio, who also put put BC's first private TV station CHEK 6 on the air, Dave Armstrong died at age 65.  His wife Sheridan took over until she disposed of 'DA & sister station CFMS a decade later.
Also in 1985, Prince released the album "Around The World In a Day." It was his first release after "Purple Rain."
In 1986, NBC aired the final episode of "Riptide."
In 1988, actress Irene Rich, who starred in the radio soap Dear John for a decade beginning in 1933, died at age 96.
In 1989, "Like a Prayer" by Madonna topped the charts and stayed there for 3 weeks. It was her 7th #1 hit.

Also in 1989, country singer Clint Black made his debut on the Grand Ole Opry.
In 1990, at his home in Spokane, actor Albert Salmi who played numerous "heavies" from the earliest days of live TV drama, beset with severe clinical depression, shot his estranged wife and then himself at age 62.
In 1991, Johnny Carson announced his intention to retire the following year from the Tonight Show.
Also in 1991, the Dave Matthews Band played their first live show when they appeared at the Earth Day festival in Charlottesville, Virginia.

In 1993, Candid Camera creator Allen Funt suffered an incapacitating stroke at age 78.  He would live another 6 years.
In 1996, humorist Erma Bombeck, who augmented her columns & books with a regular role on ABC's Good Morning America, died of kidney problems at age 69.
In 1998, husband and wife Tim McGraw and Faith Hill were the big winners at the 33rd annual Academy of Country Music Awards, nabbing four awards for their duet "It's Your Love," for single, song, video, and top vocal event.

In 1999, Steve Wariner performed "Holes in the Floor of Heaven" at a vigil in Nashville's Centennial Park in memory of the victims of the tragedy at Columbine High School in Littleton, Colo.
In 2003, songwriter Felice Bryant died in Nashville at age 77.  Mrs. Bryant and her husband, Boudleaux, wrote "Rocky Top" and numerous Everly Bros. hits including "All I Have to Do is Dream," "Wake Up Little Susie," "Bye Bye Love" and "Take a Message to Mary."
Also in 2003, Ontario-born actor Alan Thicke (Growing Pains) was hit by a puck while playing hockey. He lost five front teeth and had to have 30 stitches in his face.
Still in 2003, Madonna's final album for the Maverick label, "American Life" was released.

In 2005, an anonymous bidder purchased the microphone that sat on Johnny Carson's desk. The final price was $50,787.
In 2007, Canada's Avril Lavigne went to No.1 on the UK album chart with her third album 'The Best Damn Thing', also a North American chart topper.
In 2008, Bon Jovi guitarist Richie Sambora pleaded no contest to a drunken-driving charge stemming from an arrest the previous month in Laguna Beach, CA. A related DUI count was dropped as part of the deal, which called for the guitarist to pay penalties totaling $1,600, attend an alcohol-education class and be on probation for three years.
Also in 2008, it was revealed that 60's English singer Tommy Steele took Elvis Presley on a secret tour of London in 1958 after Presley struck up a friendship with Steele. When the rock legend flew in from his army assignment in Germany for a day, Steele apparently took him round the city, showing him famous landmarks such as the Houses of Parliament.  For more than 50 years, Presley fans had believed the only time Elvis ever set foot in the UK was during a 1960 stop-over at Scotland's Prestwick Airport.

In 2009, Heart's Ann and Nancy Wilson received the Founders Award at ASCAP's 26th annual Pop Music Awards in L.A. The Wilsons were cited as "music trailblazers" whose "success and influence helped pave the way for other female artists."
In 2011, Elton John and his Canadian boyfriend David Furnish were interviewed by Barbara Walters on ABC's 20/20, on the raising of their 4-month old son, Zachary.
Also in 2011, Pearl Jam received the Planet Defender award from Rock the Earth, a not-for-profit environmental advocacy organization. "Pearl Jam ultimately hopes to become 0% net emissions for all tours and band businesses," according to a statement on the Rock the Earth website.
In 2012, Cheap Trick performed at the Earth Day concert at the National Mall in Washington, D.C. Bad weather was blamed for keeping attendance down.
In 2013, singer/songwriter and guitarist Richie Havens, the folksinger who opened the legendary Woodstock music festival, suffered a fatal heart attack and died at age 72.
In 2014,  
 Canadian TV/radio talk show host Bob McLean died at age 81 due to complications from heart disease. An early Ryerson broadcasting graduate, he hosted a CBC daytime hour that succeeded Elwood Glover from 1975-81.   As well as many US broadcast assignments he was an Edmonton anchor for the national radio news network CKO, and ended his career in 2011 as a talk show host at CKWR Radio in Kitchener.
Today's Birthdays:
Actress Charlotte Rae (The Facts of Life, Diff'rent Strokes, Hot L Baltimore) is 90.
Singer Glen Campbell is 80.
Actor Jack Nicholson (Elephant's Child, Andy Griffith Show, Dr. Kildare) is 79.
Singer Mel Carter is 73.
Country singer Cleve Francis is 71.
Singer Peter Frampton is 66.
Singer Paul Carrack (Squeeze, Mike and the Mechanics) is 65.
Actor Joseph Bottoms (The Net, Street Legal, Santa Barbara) is 62.
Actor Bruce A. Young (The Sentinel, ER, General Hospital) is 60.
Actor Ken Olandt (Super Force, Riptide) is 58.
Seattle-born actor Ryan Stiles (The Drew Carey Show, Whose Line Is It Anyway?) is 57.
Edmonton-born actress Catherine Mary Stewart (Days of Our Lives, Hearts Are Wild) is 57.
Comedian/TV host/producer Byron Allen (Comics Unleashed, Real People, Jammin') is 55.
Montreal-born actor Chris Makepeace (Christmas in My Hometown,  The Undergrads) is 52.
Actress/voicist Lauri Hendler (Gimme a Break!, Wing Commander Academy) is 51.
Seattle-born actor Jeffrey Dean Morgan (The Good Wife, Extant, Grey's Anatomy, Supernatural) is 50.
Actress Dana Barron (One Life to Live, Beverly Hills 90210, Christmas Vacation 2) is 50.
TV personality/game show hostess/actress Sherri Shepherd (The View, Newlywed Game, Less Than Perfect, Sherri) is 49.
Actress Sheryl Lee (Twin Peaks, One Tree Hill, Dirty Sexy Money) is 49.
Country singer Heath Wright of Ricochet is 49.
Actor Ingo Rademacher (General Hospital, Titans) is 45.
Country singer Kellie Coffey is 45.
Actor Eric Mabius (Ugly Betty) is 45.
Actor Ingo Rademacher (General Hospital, Titans) is 45.
Bassist Shavo Odadjian of System Of A Down is 42.
Actress Misty Lee (Ultimate Spider-Man) is 40.
Actor Manu Intiraymi (Star Trek:Voyager) is 38.
Singer-guitarist Daniel Johns of Silverchair is 37.
Actress Gemma Whelan (Game of Thrones) is 35.
Actress Cassidy Freeman (Longmire, Smallville) is 34.
Actor Francis Capra (Veronica Mars) is 33.
Actress Michelle Ryan (Bionic Woman, Eastenders) is 32.
Actress Amber Heard (The Playboy Club, Hidden Palms) is 30.
Rapper/actor Machine Gun Kelly (Roadies) is 26.
Chart Toppers – April 22
1952
Wheel of Fortune – Kay Starr
Any Time – Eddie Fisher
Be My Life's Companion – The Mills Brothers
(When You Feel like You're in Love) Don't Just Stand There – Carl Smith
1961
Blue Moon – The Marcels
Runaway – Del Shannon
Mother-In-Law – Ernie K-Doe
Don't Worry – Marty Robbins
1970
Let It Be – The Beatles
ABC – The Jackson 5
Spirit in the Sky – Norman Greenbaum
Is Anybody Goin' to San Antone – Charley Pride
1979
Knock on Wood – Amii Stewart
Heart of Glass – Blondie
Music Box Dancer – Frank Mills
All I Ever Need is You – Kenny Rogers & Dottie West
1988
Get Outta My Dreams, Get Into My Car – Billy Ocean
Devil Inside – INXS
Where Do Broken Hearts Go – Whitney Houston
I Wanna Dance with You – Eddie Rabbitt
1997
Can't Nobody Hold Me Down – Puff Daddy featuring Mase
You Were Meant for Me – Jewel
For You I Will – Monica
Rumor Has It – Clay Walker
2006
SOS (Rescue Me) – Rihanna
You're Beautiful – James Blunt
Temperature – Sean Paul
What Hurts the Most – Rascal Flatts