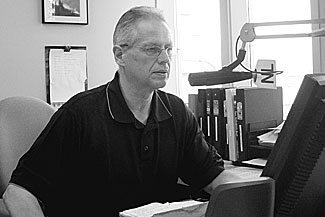 News comes to the surface in various ways, this one came through our Job Opportunities section with the latest Job Posting for a new News Director for NL Broadcasting in Kamloops. Whats not in the ad is to replace long time news director Jim Harrison who is planning on retiring.
When I contacted Jim yesterday afternoon about this surprising news, he replied;
"The reports of my imminent demise are somewhat premature. Expect it to take some time to hire a replacement and then to transition that individual. Once that does occur, I still intend to continue to do daily editorials and our talk show for the foreseeable future. In short, I'm not sure when D-day will actually arrive."
Jim has been a fixture with the Kamloops radio station since the mid 70's. One of his many achievements being a recipient of the Bruce Hutchison Lifetime Achievement Award in 2007.
When complimenting Jim about running one of the most impressive 'tight ship' radio news room in British Columbia, he humbly replied; "but owe whatever success we've had as a newsroom to a long cast of incredible owners, leadership and partners, and a long list of hard working co-workers past and present. That's been the foundation for my nearly 43 years here at NL."
Before landing in Kamloops, Jim worked for CJAT in Trail.
"CJAT was my second stop in broadcasting in 1972. Joe Kobluk was the general manager, and I recall the station was sold to Lloyd Hoole while we were there. Worked with N.D. Barrett Lawrie, and fondly recall many others including the late Dave Glover, the late Tom Fawkes, and John Jackson. Began working in broadcasting the year before at CKDR Dryden, after several years working in the auto plants in Windsor."
PSR Congratulates Jim for a job well done!
So, the search is on, and radio man Ted Farr has been commissioned to handle and conduct interviews for the News Directors chair. See the Job Opening HERE