ON THIS DAY in 1901
actor Melvyn Douglas was born Melvyn Edouard Hesselberg in Macon Georgia. One of the finest American actors, he starred in the early TV detective series Steve Randall, hosted Frontier Justice, and guested on Playhouse 90, Philco TV Playhouse, General Electric Theatre, and CBS Playhouse, for which he won an Emmy. He also was awarded a Tony & two Oscars.  He died of pneumonia complicated by cardiac problems Aug. 4 1981 at age 80.

In 1908, actress Bette Davis was born in Lowell Massachusetts.  Besides her many star turns on the big screen, she began guest starring on TV in the late 50's, as her movie offers were drying up.  She made a total of 15 features for televison, including 1979's Strangers: The Story of a Mother & Daughter, for which she won an Emmy.  She died of metastasized breast cancer Oct. 6 1989 at the age of 81.
Also in 1908, the first dial telephones in Canada for general use were put into service in Edmonton.
In 1916, actor Gregory Peck was born in La Jolla Calif.  After an impressive & rewarding bigscreen career he began accepting a few TV roles in his late 60's, including the mini-series The Blue & the Gray, and the TV movie Moby Dick.  He died of cardiorespiratory arrest and bronchial pneumonia June 12, 2003 at age 87.
In 1921, broadcaster Robert Q. Lewis was born Robert Goldberg in New York City.


He was best known for his involvement with a series of TV game shows in the 1950s, serving as host, guest host, panelist, guest panelist, and even as a mystery guest on What's My Line? He also hosted a series of daytime Robert Q. 'variety' shows on radio, where he spent 12 years, and on TV, where he did occasional guest acting.   He frequently substituted as daytime host for Arthur Godfrey. He died of emphysema Dec 11, 1991 at age 70.
In 1927, less than five months after the first NBC network broadcast from New York, the Pacific coast-based NBC 'Orange' network aired its first programmming from temporary studios in San Francisco's St. Francis Hotel.  The network was still unable to broadcast west of Denver since AT & T had no broadcast quality lines available through the Rocky Mountains, so a complete duplicate NBC programming staff had been set up in the Bay Area, to serve NBC stations from San Diego to Seattle and Spokane.
In 1928, Tony Williams, the original lead singer of The Platters, was born. The Platters' string of hits from 1955 to '64 included "The Great Pretender," "Only You" and "Smoke Gets in Your Eyes." Williams quit the Platters in 1961, and died Aug. 14 1992 at age 64.

In 1933, actor/impressionist Frank Gorshin was born in Pittsburgh.  He appeared a dozen times on TV's Ed Sullivan Show, and also did impressions on almost every other variety show of the era.  But most of us will best remember him as The Riddler on the 60's TV series Batman.  He died of emphysema, lung cancer & pneumonia May 17, 2005 at age 72.
In 1948, independent Chicago station WGN TV channel 9 began broadcasting. Three decades later it would become a US Superstation, distrbuted by cable companies on both sides of the border.
In 1956, Frank Sinatra was at the Capitol Tower in Hollywood recording his next Top 40 hit "(How Little it Matters) How Little We Know."
In 1957, Andy Williams recorded "I Like Your Kind of Love," the followup to his first (and only) #1 single "Butterfly."

In 1958, the first Greatest Hits album, Johnny's Greatest Hits, featuring Johnny Mathis on Columbia Records, made it onto the Billboard LP chart for the first time. The album remained on the charts for 490 weeks (nearly 9-1/2 years!) Mathis was originally a jazz-style singer when Columbia's Mitch Miller switched him to singing pop ballads. Johnny would go on to chart over 60 albums in the next 30 years.
In 1959, The Fleetwoods from Olympia Wash. sang their #1 hit "Come Softly To Me" on CBS-TV's Ed Sullivan Show. Other singers included "The Billy Williams Quartet" and Domenico Modugno, while comedians Jean Carroll, Myron Cohen, and Canada's Wayne and Shuster supplied the laughs.
In 1961, Bob Dylan played his first paid gig in New York, at the Loeb Music Center.
Also in 1961, NBC TV scored a "great get" when 19-year old Barbra Streisand made her first network television appearance on the late night "Jack Paar Show" with guest host Orson Bean.

In 1964, making their North American debut The Searchers sang "Needles and Pins" on CBS-TV's "The Ed Sullivan Show." Teresa Bewer also sang, while the laughter on the show was courtesy of comedian Nipsey Russell, ventriloquist Senor Wences, and the little Italian mouse puppet Topo Gigio.
In 1965, two very British but very different women were the cause of much celebration at the 37th Annual Academy Awards, with Bob Hope hosting. And My Fair Lady bested Mary Poppins 8 Oscars to 6.
Also in 1965, the singing team of Sonny and Cher were signed to Atco Records. Sonny Bono was aged 30, his wife Cher just 18.

In 1967, Al Martino recorded one of his Easy Listening #1 hits, "Mary in the Morning."
In 1968, one day after Martin Luther King's assassination, Boston officials urged James Brown to allow his concert to be televised. Civic leaders hoped teens would stay home instead of venting their anger in the streets. Brown was paid 60-thousand dollars' compensation for the ticket-buyers being urged to stay home. Only about two-thousand people showed up at the Boston Garden — and the city's streets were quiet.
In 1970, The Temptations headlined CBS-TV's Ed Sullivan Show, singing "You Make Me So Very Happy" & "Psychedelic Shack." Roy Rogers & Dale Evans sang a medley of patriotic songs, while George Hamilton performed many of Hank Williams songs.
In 1971, Chicago became the first US rock band to play New York's Carnegie Hall. Their six sold-out shows that week were recorded for a four-disc album, "Chicago at Carnegie Hall," which became the group's third LP set to make it into Billboard's Top 5.

In 1972, actor Brian Donlevy, who capped a bigscreen career with the lead in the radio & TV high adventure series 'Dangerous Assignment' (1949-53), lost his battle with throat cancer at age 71.
Also in 1972, Elvis Presley opened a 15 city tour with a concert before more than 17,000 fans at Memorial Auditorium in Buffalo.
In 1974, the Guess Who hosted a celebrity tennis tournament in Toronto with proceeds in aid of the National Ballet of Canada.
In 1975, Minnie Riperton went to No.1 on the Billboard singles chart with the Stevie Wonder-produced track 'Loving You.'
In 1976, reclusive billionaire Howard Hughes, who had spent a number of years staying out of the public eye in a waterfront Vancouver hotel, died of liver failure at age 72.
Also in 1976, Led Zeppelin released their seventh studio album, "Presence." It had been recorded in Germany with Robert Plant still in a wheelchair after his serious auto accident on the Island of Rhodes the previous year.

In 1980, the final episode of the original "Hawaii Five-O" aired on CBS TV.
In 1981, Bob (Bear) Hite, lead vocalist of Canned Heat, suffered a fatal heart attack in Venice, California. He was just 38. Canned Heat's mixture of blues and progressive rock placed them at the top in the late '60s.
In 1982, after 35 years of publication to the US radio and recording industry, Record World magazine ceased publication and filed for bankruptcy protection.
In 1983, singer Danny Rapp, leader of the vocal group Danny & the Juniors (Rock And Roll Is Here To Stay, At The Hop), committed suicide by shooting himself at age 41.
Also in 1983, the Beach Boys were banned by Secretary of the Interior James Watt from taking part in the upcoming Fourth of July concert at the White House, saying they would attract "the wrong element." But two days later, after a public outcry, President Ronald Reagan overturned the ban.

In 1984, Cyndi Lauper's "Girls Just Want to Have Fun" won Best Female Video at the second annual American Video Awards.
In 1985, at 3:50pm GMT, over 5,000 radio stations worldwide aired the charity single by USA for Africa 'We Are The World'. The single went on to be a No.1 in the US & UK, and most Western territories.
Also in 1985, the Bryan Adams' song, "Heaven," was released as a single. That was a year after its inclusion in the soundtrack of "A Night in Heaven," a film about male strippers.
In 1987, the FOX Broadcasting Company, under the direction of media and publishing baron, Rupert Murdoch, debuted coast-to-coast in the US with two Sunday night comedy shows, Married..With Children and The Tracey Ullman Show.

Also in 1987, rock guitarist Carlos Santana and his band played before a packed house of 25-hundred in East Berlin. After the non-stop three-hour show, Santana said the fans' enthusiasm "brought tears of joy and gratitude" to his eyes.
In 1988, soul singer James Brown turned himself in to police in Aiken, South Carolina. He was accused of beating his third wife with a pipe and firing a gun into a car while she was inside.
In 1989, David Letterman's "Late Show" on CBS became the 1st network TV series to use a dolby stereo sound system.
In 1991, Katie Couric started her first day on the job as co-host on N-B-C's "Today" show. (see 2006 below.)
In 1993, criminal charges were dropped in Boston against rapper Marky Mark. He had settled a lawsuit accusing him of repeatedly kicking a man in the face and breaking his jaw.
Also in 1993, construction began on the Rock and Roll Hall of Fame in Cleveland.

In 1994, Nirvana singer-guitarist Kurt Cobain fatally shot himself above his garage in Seattle. His body was not found for three days.
In 1996, Marlon Brando made anti-semitic remarks about Hollywood when Larry King aired his TV show from Brando's home.
In 1997, Notorious B-I-G's album "Life After Death" debuted at number-one on the Billboard chart a month after the rapper was gunned down in Los Angeles. "Life After Death" sold nearly 700-thousand copies in its first week of release.
Also on this date in 1997, country singer Stoney Edwards died of cancer at age 67. He was one of the few successful black performers in country music. He had 15 singles on the charts in the '70s, including "She's My Rock" and "Mississippi You're On My Mind."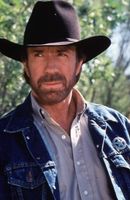 Still in 1997, the 100th episode of "Walker, Texas Ranger" starring Chuck Norris, aired on CBS.
In 1998, the Spice Girls performed their first-ever live concert when they appeared in front of an audience 9,000 strong in Glasgow, Scotland.
In 1999, three daughters of Tammy Wynette filed a $50 million lawsuit, alleging that the country star's death the previous year was due to negligence by her husband and her doctor. An out-of-court settlement was reached three years later.
In 2000, country singer Trace Adkins seriously injured two fingers on his left hand while working on his property in Middle Tennessee. Moving some rocks to correct an erosion problem, Adkins dislodged a 400-pound boulder. The stone ran over his hand, crushing his middle and index fingers. Adkins drove himself to the emergency room.
In 2005, Canadian-born ABC News anchor Peter Jennings announced he had lung cancer, and was stepping away from his daily duties. He died just four months later, on August 7th.
Also in 2005, actress Debralee Scott, who had prominent roles in the TV sitcoms Angie and Welcome Back Kotter, died at age 52. The cause of her death, even today, has never been determined.

In 2006, Katie Couric announced her departure from NBC's "Today" show to become anchor of "The CBS Evening News."
Still in 2006, singer Gene Pitney was found dead of arteriosclerosis in his Cardiff, Wales hotel room; he was 66.
Again in 2006, Mötley Crüe drummer Tommy Lee bowed out of their show in Red Deer Alberta, due to an ongoing bout of tendonitis. The band enlisted Harvey Warren, from the Canadian tribute act Bröken Töyz, and he called the gig "the  chance of a lifetime."
In 2007, a former Kiss guitarist Mark St. John died from an apparent brain hemorrhage at the age of 51.
In 2008, movie star Charlton Heston, who had running roles in TV's The Colbys and The Bold & the Beautiful, and guest starred on the small screen over a span of 50 years, succumbed to pneumonia while suffering from Alzheimer's at age 84.
Also in 2008, Apple's iTunes overtook supermarket group Wal-Mart to become the largest music retailer in the US. iTunes had sold more than four billion songs since its launch in 2003.

Still in 2008, Danity Kane were at No.1 on the Billboard album chart with their second album 'Welcome To The Dollhouse.'
In 2011, a member of the 60's group, the Highwaymen ("Michael, Row your Boat Ashore"), Gil Robbins was claimed by prostate cancer at age 80.
Also in 2011, a concrete sculpture of a guitar was unveiled in tribute to Nirvana frontman Kurt Cobain in his Washington State hometown of Aberdeen, on this the 17th anniversary of his death.
In 2012, Gil Noble, a television journalist on WABC-TV New York, who for 43 years hosted "Like It Is," an award-winning Sunday morning program  centering on Black issues, died from complications of a stroke at age 80.
In 2013, the ABC drama "Nashville" was celebrated with a new exhibit, "Nashville: Like A Country Song," at the Country Music Hall of Fame. The display included costumes and instruments featured on screen and a copy of the pilot's script.
In 2014, John Pinette, a stand-up comedian whose career included a turn in the Seinfeld finale,  and who was currently on a comedy tour of the US and Canada, suffered a pulmonary embolism and died at age 50.
In 2015, 
 actor Richard Dysart, whose quiet air of authority helped him play presidents, generals, corporate executives and his best-known character, senior partner Leland McKenzie of "L.A. Law", succumbed to cancer at age 86.
Also in 2015, Vancouver WA-born sportscaster Lon Simmons, who began broadcasting San Francisco Giant baseball (alongside Russ Hodges) when the franchise arrived in 1958, died at age 91.  He also aired the games of the Oakland A's and San Francisco 49ers during his Hall of Fame career.
In the year 2063, Earth is to have its first contact with extra-terrestrials (Vulcan); according to Star Trek.
Today's Birthdays:
60's r & b singer Billy Bland is 84.
Country singer Tommy Cash is 76.
Actor Michael Moriarty (Law and Order) is 75.
Singer Allan Clarke, lead singer of The Hollies, is 74.
Actor Max Gail (Gary Unmarried, Sons and Daughters, Barney Miller) is 73.
Singer Agnetha Faltskog of Abba is 66.
Actor Mitch Pileggi (Sons of Anarchy, The X-Files, DayBreak, Stargate: Atlantis) is 64.
Actor/wrestler 'Diamond' Dallas Page (WWF Raw) is 60.
Actor Shawn Stevens (Days of Our Lives, MacKenzies of Paradise Cove) is 58.
Actress Lisa Zane (Biker Mice from Mars, ER, LA Law) is 55.
Guitarist Mike McCready of Pearl Jam is 50.
Country singer Troy Gentry of Montgomery Gentry is 49.
Singer/songwriter Paula Cole is 48.
Vancouver-born singer/actress Thea Gill (Queer as Folk, Dante's Cove) is 46.
Actress Krista Allen (Significant Mother, What About Brian, Baywatch, Days of our Lives) is 45.
Actress Victoria Hamilton (The Game, Lark Rise to Candleford) is 45.
Country singer Pat Green is 44.
Rapper-producer/TV talent judge Pharrell Williams (The Voice)  is 43.
TV host/producer Zak Bagans (Ghost Adventures, Paranormal Challenge) is 39.
Actor Tom Riley (Da Vinci's Demons) is 35.
Actress Hayley Atwell (Agent Carter, The Prisoner, The Pillars of the Earth) is 34.
Actor Marshall Allman (True Blood, Prison Break) is 32.
Actress Lily James (Downton Abbey) is 27.
Chart Toppers – April 5
1944
Long Ago and Far Away – Helen Forrest & Dick Haymes
I'll Get By – The Harry James Orchestra (vocal: Dick Haymes)
San Fernando Valley – Bing Crosby
Too Late to Worry, Too Blue to Cry – Al Dexter
1953
I Believe – Frankie Laine
April in Portugal – The Les Baxter Orchestra
Song from Moulin Rouge – The Percy Faith Orchestra
Mexican Joe – Jim Reeves
1962
Soldier Boy – The Shirelles
Stranger on the Shore – Mr. Acker Bilk
She Cried – Jay & The Americans
She Thinks I Still Care – George Jones
1971
Joy to the World – Three Dog Night
Never Can Say Goodbye – The Jackson 5
Me and You and a Dog Named Boo – Lobo
I Won't Mention It Again – Ray Price
1980
Call Me – Blondie
Ride like the Wind – Christopher Cross
Lost in Love – Air Supply
Beneath Still Waters – Emmylou Harris
1989
I'll Be There for You – Bon Jovi
Real Love – Jody Watley
Forever Your Girl – Paula Abdul
Is It Still Over? – Randy Travis
1998
Frozen – Madonna
All My Life – K-Ci & JoJo
Kiss the Rain – Billie Myers
Perfect Love – Trisha Yearwood
2007
The Sweet Escape – Gwen Stefani featuring Akon
Don't Matter – Akon
Cupid's Chokehold – Gym Class Heroes
Beer in Mexico – Kenny Chesney