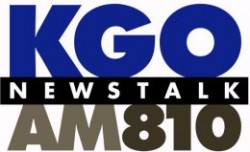 KGO "stunting"


April 1, 2016
Lots of industry buzz in the aftermath of yesterday's (3/31) seismic shake-up and significant layoffs at Cumulus Media/San Francisco.
Unconfirmed reports suggest that north of two dozen staffers got turfed at the cluster, with a big chunk of those coming from the newsroom of heritage News/Talker KGO.
Meanwhile, the KGO website has been stripped of all 'show' info (except for several weekend program listings) and posts a message reading, "The next generation of KGO 810 is coming Tuesday morning (4/5) at 6am."
A quick listen to the station earlier today heard that same message being looped on-air, interspersed with a mix of music and other various content.
While officials at Cumulus remain tight-lipped about plans to fill the now gaping 24-hour hole in KGO's programming schedule, it's hard-to-ignore rumors that iHeartMediaregionally syndicated Armstrong & Getty will takeover as the new morning show on KGO.
In a case of what one might call strange radio bedfellows, the talk duo would be joining KGO's lineup from crosstown iHM talker KKSF-AM, where they've already been replaced in wake-ups by WYM/WYD Media's syndicated Stephanie Miller.
Safe to say we can probably file this story under 'stay tuned for further developments.'
KGO "stunting"
Related Story HERE