March 31st, 2016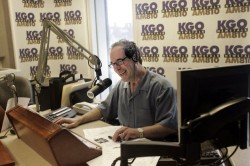 Bay Area Talk radio legend Ronn Owens, who has been heard in middays on KGO/San Francisco for 40 years, told listeners today that he is moving to talk clustermate KSFO, where he'll debut in that station's 3-6pm afternoon drive slot (hours currently occupied by Westwood One's syndicated Mark Levin Show) on Monday (4/4).
With a long reputation as a moderate host from his years on the air at KGO, Owens will join a heavily conservative lineup at KSFO, including the aforementioned Mark Levin, along with syndicated talkers Rush Limbaugh, Sean Hannity, Michael Savage, Glenn Beck and local morning hosts Brian Sussman and Katie Green.
Commenting on the pending move to KSFO Owens said, "What a unique opportunity to keep doing what I've been doing for the past 40 years, in the place I love doing it — the Bay Area — and I'm just a couple of clicks down the dial." Word is expected soon on who, or what, will fill Owen's weekday 9am-noon slot at KGO.
Meanwhile, word has been slowly trickling out of Cumulus Media/San Francisco all day that the shift of Ronn Owens over to KSFO is not the only major change happening at the heritage News/Talker.
NTS MediaOnline Today has learned that a number of pink-slips — primarily in the KGO News department and at sister station KFOG-FM — have been handed out today as part of a repositioning plan for both stations.
Meanwhile, no specifics have been released yet on just what any additional programming changes might be coming to KGO, but more announcements are anticipated.
Following a number of major programming and management changes at KGO in the past few years, the former perennial Bay Area ratings leader has suffered a significant decline in ratings, and currently sits outside the Top 20 in the market, posting just a 1.8 share (6+) in February 2016 Nielsen Audio estimates.