see 1923, 1944, 1946, 1982 & 1997 for BC Radio Landmarks (NO APRIL FOOL!!)
.
ON THIS DAY in 1885
early movie star Wallace Beery was born.
After winning an Academy Award in the bigscreen's The Champ, he has a small footnote in radio history as the temporary host of NBC's 'Shell Chateau' in 1936 who introduced both young stars-to-be Judy Garland & Deanna Durbin to the radio audience. He died Apr 15, 1949 at age 64.
In 1906, character actor Ned Glass was born in Poland. Short, balding and slouchy with a built in worrisome look and perpetual New York accent, he was the perfect wisecracking or weasely character. He had recurring roles on Bridget Loves Bernie and The Phil Silvers Show, and was called back time & again to fill parts in series like Playhouse 90, Have Gun Will Travel, Peter Gunn, The Untouchables, Gunsmoke, Ben Casey, Barney Miller, and Vegas.  He died June 5 1984 at age 78.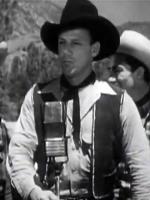 In 1908, western singer/songwriter Bob Nolan was born in Winnipeg. (Some sources say New Brunswick.)  He became leader of the top cowboy singing group of movies & radio, the Sons of the Pioneers, after original member Roy Rogers left for a movie career. Nolan wrote the Sons' two biggest hits, Cool Water & Tumbling Tumbleweeds, (which became standards,) and scores of other songs. Nolan & the Sons sang for almost a decade on Rogers' radio shows.  He died after a heart attack June 15 1980 at age 72.
In 1915, singer Art Lund (below) was born in Salt Lake City.  He sang with the Benny Goodman & Harry James bands before starting a solo career. His biggest hit, Mamselle, got to #3 in 1947.  He turned to acting in the '50's, and was a regular with the zany Ernie Kovacs when he hosted the Tonight Show. He took guest parts on series such as I Love Lucy, Wagon Train, Gunsmoke, Kojak, Baretta, Knight Rider & Winds of War.  He died May 31 1990 at age 75.

In 1917, Scott Joplin, the "King of Ragtime," died in a mental institution in New York City. Joplin fell into a deep depression, and later insanity, after the failure of his opera "Treemonisha." His most famous composition is "Maple Leaf Rag," which refers to the tavern where Joplin wrote the tune and has nothing to do with Canada. Ragtime enjoyed renewed popularity in the 70's through its use in the soundtrack of the movie "The Sting."
Also in 1917, actor Leon Janney (below) was born in Ogden Utah. He was a hard-working player during radio's golden era, featured as Chick Carter Boy Detective & Charlie Chan's "number one son." He played male leads opposite Ethel Merman, and soap characters Helen Trent & Nora Drake. In TV he had regular work on the series Hawk, The Edge of Night, & Another World, as well as a host of one-shots on the likes of The Defenders, East Side West Side, Car 54 & the Jackie Gleason Show. He succumbed to cancer Oct. 28 1980 at age 63.

In 1920, charismatic Japanese actor Toshiro Mifune was born in China.  He is best known in North America for his work in the 1980 TV miniseries Shogun.  While most of his work was in Japanese movies he has been seen in about a dozen US bigscreen films.  He died of multiple organ failure Christms Eve 1997 at age 77.
In 1923, Victoria's first radio station CFCL went on the air. Its first program was the Easter Sunday sunrise service from the top of Mt. Tolmie.  It carried only religious programs until 1925.   Freq: 410 meters.  Power: 500 watts.
Also in 1923, the predecessor to CKWX known as CFDC in Nanaimo went on the air with 10 watts of power. Power was increased to 50 watts later in the year.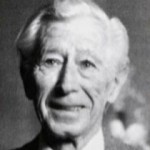 In 1926, actor Jack Grimes was born in New York City.  He was kept busy working in big time radio beginning with the CBS program Let's Pretend. He became a regular on The Fred Allen Show, The Philip Morris Playhouse, Second Husband, Life of Riley, X Minus One, and Death Valley Days. By age 12, he was appearing on 35 to 40 radio shows a week.  Switching to TV in the early '50's his credits include Alcoa Presents, Love of Life, The Aldrich Family, Tom Corbett Space Cadet, Maude, On the Rocks, and All in the Family.  He died March 10 2009 at age 82.
In 1927, RCA in Germany introduced the first automatic record changer.
In 1932, actor Gordon Jump was born in Centerville Ohio.  He is best remembered as TV's long suffering Maytag repairman, and as the incompetent station manager Arthur Carlson on the series WKRP in Cincinnati.  He also had a recurring role on Soap.  He died of heart & respiratory failure Sept. 22 2003 at age 71.
In 1935, the first radio tube to be made of metal was produced in Schenectady, New York.
In 1936, a future superstar of "Boss Radio" The Real Don Steele was born in Hollywood as Donald Steele Revert. 25 years later he would rule the L.A. airwaves on 93/KHJ Radio.
In 1944, a future radio giant was born, as CBC officials (the regulatory authority of the era) okayed a license for Bill Rea to operate CKNW on 1230 KHz with 250 watts.  The station officially signed on Sept 1, with 16-year-old Jim Cox as morning man.
In 1946, radio station CJAV Port Alberni signed on at 1240 on the dial with 250 watts. The official opening ceremony was held that evening at a local theatre featuring an on-stage presentation of Warren and Frank Eckersley of CKWX Vancouver.

In 1949, the first all-black-cast variety show was presented on WENR TV in Chicago. The show was called Happy Pappy.
In 1951, "Paul Harvey News and Comment" debuted on the ABC Radio Network, where it continued 6 days a week until his death in 2009. At its peak it was carried on 1200 US radio stations, most of them at noon local time.
In 1955, One Man's Family was seen on TV for the final time after a six-year stay on NBC-TV, the final year as a daily drama. The longtime radio show of the same name continued until 1959, an incredible 27 year run!
Also in 1955, Sun Records released Elvis Presley's fourth single "Baby, Let's Play House" backed with "I'm Left, You're Right, She's Gone."

In 1956, Chet Huntley began his career with NBC News. Years earlier Huntley began his radio career at Seattle's KIRO AM, later working  at stations in Spokane and Portland, before landing a job at LA's KFI in 1937. He moved to CBS Radio from 1939–51, then ABC Radio from 1951-55. After NBC successfully teamed him with David Brinkley for 1956 election coverage the duo became coanchors of the nightly Huntley-Brinkley Report. Huntley (in New York) and Brinkley (in Washington) closed each broadcast with the trademark, "Good night Chet. Good night David. And good night from NBC News."
In 1957, all of Great Britain was fooled this April Fool's Day by England's most famous newscaster, Richard Dimbleby (below). The newscaster reported on the "spring spaghetti crop in southern Switzerland." The filmed report showed the spaghetti (some ten pounds of the stuff) being picked from a tree!

Also in 1957, the Everly Brothers released their soon-to-be smash hit "Bye Bye Love" on Cadence Records. The number had been rejected by some 30 labels!
In 1959, James Darren guest-starred as teen idol "Buzz Berry" on an episode of ABC-TV's "The Donna Reed Show."
Also iIn 1959, Freddy Cannon released "Tallahassee Lassie" on Swan Records, a label in which Dick Clark was a partner.  The lyrics were written by Cannon's mother.
In 1960, Elvis Presley was a guest as Frank Sinatra's Timex TV special was taped in Miami for ABC TV. Elvis sang "Fame And Fortune" and "Stuck On You," then dueted with Sinatra on a medley of "Love Me Tender" with "Witchcraft," which featured the stars singing the other's signature song.
In 1961, The Beatles opened a three month engagement at the Top Ten Club in Hamburg, Germany. They had a back-breaking schedule, playing seven hours every night, eight on weekends, with 15-minute breaks each hour.

Also in 1961, Troy Shondell recorded his eventual three-million seller, "This Time (We're Really Breaking Up)."
In 1963, the daily TV serial, General Hospital, began its long, record-setting run on ABC-TV, continuing to this day. Not to be left on the operating table alone, NBC-TV countered with The Doctors, which had a lengthy 19 year run itself.
In 1964, after 17 years John Lennon was reunited with his father. The meeting in the London offices of Brian Epstein, the Beatles' manager, lasted 20 minutes.
In 1966, David Bowie's first solo single, "Do Anything You Say" and "Good Morning Girl," was released in Britain.

Also in 1966, The Troggs used 45 minutes of spare studio time to record "Wild Thing" in London.  It would zoom to the top of the charts that summer, and stay on top for 11 weeks!
In 1967, the Country Music Association Hall of Fame opened on Music Row in Nashville. Before they hit it big, country singers Kathy Mattea and Trisha Yearwood worked there as tour guides.
In 1968, the regulatory body the Board of Broadcast Governors (BBG) became the Canadian Radio-Television Commission, under the Broadcasting Act; today's Canadian Radio-Television Telecommunications Commission (CRTC).
In 1969, the Beach Boys launched legal action against their record company (Capitol) seeking more than $2 million in unpaid royalties. They also announced that they were starting a new label called Brothers Records.

Also in 1969, CBS aired the final episode of "The Andy Griffith Show."
In 1970, President Nixon signed a measure banning cigarette advertising on US radio and television, to take effect after Jan. 1, 1971.
Also in 1970, as an April Fool's hoax, John Lennon & Yoko Ono announced they were each having sex change operations.
In 1971, "Stairway To Heaven" hit the airwaves for the first time. The Led Zeppelin song was part of a London concert recording that was played on the BBC's John Peel Rock Hour. Over the decades, "Stairway To Heaven" became the alltime most played song on UK radio.
In 1972, after a successful run as a Country performer (after being banished from pop music in the late '50s), Jerry Lee Lewis returned to Rock n' Roll with "The Killer Rocks On."
In 1973, John & Yoko were at it again. They announced they'd formed a new country with no laws or boundaries, called Nutopia, with silence as its national anthem.

In 1974, the No. 1 Billboard hit was "Hooked on a Feeling" by Blue Swede (pictured). The song was originally a hit in 1969 for B.J. Thomas, who hit No. 1 with "Raindrops Keep Fallin' on My Head."
In 1975, Canadian radio and TV stations first began giving the temperature in Celsius.
In 1976, John Lennon's father Freddie Lennon, with whom he'd reconciled exactly 12 years earlier, succumbed to cancer at age 63.
Also in 1976, the Rolling Stones' tour of Britain drew more than one million ticket applications. The tickets were held in specially guarded vaults and awarded by a lottery.
Still in 1976, Jimmy Buffett's "Margaritaville" was released.

Again in 1976, the home of David Gilmour (of Pink Floyd) was broken into. Several of his guitars were stolen.
In 1977, Elvis Presley was admitted to Baptist memorial Hospital in Memphis after being diagnosed with fatigue and intestinal flu. Concerts in Mobile Alabama and Jacksonville Florida had to be cancelled.  He checked himself out of hospital at 4 am April 4th, and resumed performing two days later.
In 1978, the final episode of "The Bob Newhart Show" aired on CBS.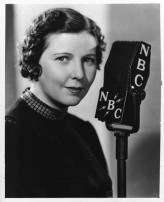 In 1979, actress Barbara Luddy, who co-starred in the network radio anthology series First Nighter for 13 years starting in 1936, died of lung cancer at age 70.
In 1979, The Who released the album "The Kids Are Alright."
In 1982, University of BC radio station CiTR signed on with 49 watts of power in mono at FM 101.9.  First song was "Dancing in the Streets" by Martha and the Vandellas.
In 1983, Kirk Hammett joined Metallica.

In 1984, Motown recording star Marvin Gaye was shot to death in Los Angeles by his father, Marvin Gay Sr., following an argument.  Gaye had been one of Motown's most consistent hitmakers throughout the 60's and '70s.
Also in 1985, David Lee Roth left Van Halen to pursue a solo career.
In 1988, Jim Jordan (below, left), the man who played one of radio's most iconic characters, "Fibber McGee", died from a blood clot following a fall at age 91.

In 1989, "The Look" by Roxette topped the charts, but stayed #1 for just a week.
In 1990, CBS fired their lead sportscaster, Brent Mussburger (after a power shift at the network.)  He soon caught on with ABC.
In 1991, Rod Stewart was surprised onstage by Elton John, who was wearing a dress.
In 1992, rocker Billy Idol was fined $2,000 by a Beverly Hills, Calif., judge after pleading no contest to charges he hit a woman in the face as they left a restaurant  the previous October.
Also in 1992, Nirvana's classic single, "Smells Like Teen Spirit," was certified  platinum (one million sales).

In 1993, the producers of "Hee Haw" announced the end of the cornball country music and humour TV show after 25 years. But the old shows continued to run in syndication, featuring comedy skits with Southern belles in skimpy outfits, and music by Roy Clark and Buck Owens (above).
In 1994, Kurt Cobain (Nirvana) walked away (actually jumped a six foot wall) from a rehab center in Marina del Rey and returned to Seattle. He killed himself four days later.
In 1995, London-Ont. born film mogul Jack M. Warner died at age 79.  His Warner Bros. was the first major Hollywood studio to fully embrace TV and produce programs for the new medium.
In 1997, CJVI AM 900 Victoria dropped it's oldies format to become "Victoria's Information Superstation" with talk and news programming 24 hours a day. The format ended 27 months later, and CJVI signed off forever Sept. 2 2000, as Rogers flipped the license to FM.

Also in 1997, actor David Carradine (Kung Fu) helped to unveil his new star on the Hollywood Walk of Fame.
In 1999, CBS Corp. announced an agreement to buy King World Productions Inc., the leading syndicator of TV programs, for $2.5 billion US.
Also in 1999, Jesse Stone, a major force in the development of rhythm-and-blues and rock 'n' roll, died in Florida at 97. He had helped to build Atlantic Records into a top R-and-B label in the late '40s and early '50s, working with such artists as Ray Charles, the Drifters and the Clovers. He also wrote such early rock classics as "Shake, Rattle and Roll" and "Flip, Flop and Fly."
In 2000, Santana started a nine week run at No.1 on the US singles chart with, 'Maria Maria.'

In 2001, the 100th episode of "King of the Hill" aired on Fox.
In 2002, Paul McCartney kicked off the first leg of his Driving USA tour at the Oakland Arena in California. The 24 dates over seven weeks became the highest grossing tour of the year, taking in more than $100 million.
In 2004, Paul Atkinson, guitarist with The Zombies, died at age 58 due to liver and kidney disease. They scored the 1964 US No.2 single 'She's Not There.'  He later became an artists and repertoire executive for Columbia and RCA, discovering and signing such bands as ABBA, Bruce Hornsby, Mr. Mister and Judas Priest.
In 2007, Victoria's Nelly Furtado was the star of the Juno Awards ceremony in Saskatoon. Furtado was both host and the big winner at Canada's top music awards.

In 2008, Nickelback frontman Chad Kroeger was found guilty of drunken driving two years earlier in the Vancouver suburb of Surrey. Kroeger's blood-alcohol level tested at nearly twice the legal limit when he was pulled over for speeding in his Lamborghini.
In 2010, actor John Forsythe, who starred in three successful TV series, Bachelor Father, Dynasty and Charlie's Angels, died at age 92, of complications from pneumonia following a yearlong battle with colon cancer.

In 2012, rocker Dee Snider of Twisted Sister was kicked off the NBC-TV show Celebrity Apprentice by host/boss Donald Trump. For his brief efforts, Snider netted $325,000 for the March of Dimes. "It takes me 3 years of #BikersForBabies rides to make that much money," Snider tweeted following his dismissal.
Also in 2012, at the Juno Awards in Ottawa, Nickelback were nominated in four categories but got shut out. They lost the Juno Fan Choice Award to Justin Bieber, Group of the Year toArkells, Album of the Year to Michael Bublé's "Christmas" and Single of the Year to The Sheepdogs, "I Don't Know."

In 2013, the 21-year-old star of the MTV reality show "Buckwild" Shain Gandee was found dead of carbon monoxide poisoning (with two other people), after their Ford Bronco became partially buried in offroad mud, covering the exhaust pipe. The show was cancelled within the week.
In 2015, Cynthia Lennon, the first wife of musician John Lennon and the mother of his son Julian, died following a short battle with cancer at age 75.
Today's Birthdays:
Actress/singer Jane Powell (Growing Pains, Loving, Bell Telephone Hour) is 87.
Actress Debbie Reynolds (Will & Grace, Debbie Reynolds Show) is 84.
Actor Don Hastings (As The World Turns, Captain Video, [radio] Hilltop House) is 82.
Actor Jordan Charney (Law & Order, Three's Company, Falcon Crest) is 79.
Actress Ali MacGraw (Dynasty, Winds of War) is 78.
Singer Rudolph Isley (Isley Brothers) is 77.
Bremerton Wash.-born actress Heather Young (Land of the Giants) is 71.
Reggae singer Jimmy Cliff is 68.
Jazz keyboardist Gil Scott-Heron is 67.
Keyboardist Billy Currie of Ultravox is 66.
Actress Annette O'Toole (Smallville, The Huntress, Nash Bridges) is 64.
Actress Denise Nickerson (The Electric Company, Dark Shadows) is 59.
Actress Jennifer Runyon (Charles in Charge, Another World) is 56.
UK talent show singer Susan Boyle (Britain's Got Talent) is 55.
Actress Jane Adams (Hung, Frasier) is 51.
Country singer Woody Lee is 48.
Actress Jessica Collins (The Young & the Restless) is 45.
Rapper/actor Method Man (The Wire, Oz) is 45.
MSNBC host Rachel Maddow is 43.
Actor David Oyelowo (MI-5) is 40.
Yellowknife-born actor Tobias Mehler (Young Blades, Robson Arms) is 40. 
Actor JJ Feild (TURN: Washington's Spies) is 38.
Actor Bryan Buffington (Guiding Light) is 36.
Pro wrestler/actor Randy Orton (WWF Raw) is 36.
Actress Bijou Phillips (Raising Hope) is 36.
Actress Hannah Spearritt (Primeval, Hollywood 7) is 35.
Actor Sam Huntington (Veronica Mars, Two Dreadful Children) is 34.
Actor Taran Killam (Sat. Night Live, MADtv) is 34.
Actor Matt Lanter (90210) is 33.
Actor Josh Zuckerman (Kyle XY, 'Twas the Night) is 31.
Country singer Hillary Scott (Lady Antebellum) is 30.
Vancouver-born actress Mackenzie Davis (Halt & Catch Fire) is 29. 
Actress/TV personality Kayla Collins (I'm a Celebrity Get Me Out of Here) is 29.
Chart Toppers – April 1
1949
Cruising Down the River – The Blue Barron Orchestra (vocal: ensemble)
Far Away Places – Margaret Whiting
Red Roses for a Blue Lady – Vaughn Monroe
Candy Kisses – George Morgan
1958
Tequila – The Champs
He's Got the Whole World (In His Hands) – Laurie London
Lollipop – The Chordettes
Ballad of a Teenage Queen – Johnny Cash
1967
Happy Together – The Turtles
Dedicated to the One I Love – The Mamas & The Papas
Bernadette – The Four Tops
Walk Through This World with Me – George Jones
1976
December 1963 (Oh, What a Night) (facts) – The Four Seasons
Dream Weaver – Gary Wright
Lonely Night (Angel Face) – Captain & Tennille
Til the Rivers All Run Dry – Don Williams
1985
One More Night – Phil Collins
Lovergirl – Teena Marie
We are the World – USA for Africa
Crazy – Kenny Rogers
1994
The Sign – Ace Of Base
Bump N' Grind – R. Kelly
Without You/Never Forget You – Mariah Carey
No Doubt About It – Neal McCoy
2003
In Da Club – 50 Cent
Picture – Kid Rock & Sheryl Crow
When I'm Gone – 3 Doors Down
Brokenheartsville – Joe Nichols