ON THIS DAY in 1906
 actor William Bendix was born in New York City.  Identified as one of the "most cherished" actors in the history of radio, Bendix starred in "The Life of Riley" on NBC Radio from 1944-51, and the TV version from 1953-58. He also had an impressive big screen resume. He died from lobar pneumonia Dec 14, 1964 at age 58.
On this day in 1907, Dr. Lee De Forest patented the Audion tube. De Forest is generally thought of as the "Father of Radio". The Audion tube allowed amplification which made Radio transmission more practical for voice and music.
On this day in 1908, singer Russ Columbo (below) was born in Camden New Jersey.  The crooner, who had a late-night NBC Radio slot in the early 30's, was killed under strange circumstances at age 26 that helped make him a legendary figure. In lighting a cigarette, photographer Lansing Brown lit the match by striking it against the wooden stock of an antique French dueling pistol. The flame set off a long-forgotten charge in the gun, and a lead pistol ball ricocheted off a nearby table and hit Columbo in the left eye, killing him almost instantly. The date was September 2, 1934.
.                                                                                      
On this day in 1915, game show guru Mark Goodson was born in Sacramento.  The long list of Goodson-Todman productions includes Beat the Clock, Family Feud, Match Game, Password, The Price is Right, To Tell the Truth, I've Got A Secret and What's My Line?. The shows endured through the decades, many over multiple runs, because of Goodson's sharp eye for production and presentation.  He succumbed to pancreatic cancer Dec 18 1992 at age 77.
On this day in 1917, jazz trumpeter Billy Butterfield was born in Middleton Ohio. He gained attention working with Bob Crosby and later with Artie Shaw. He led his own, unsuccessful, band from 1945 to 1947. He died Mar 18, 1988 at age 71.

On this day in 1920, longtime CBS newsman George Herman was born. Herman was CBS' first correspondent to file sound-and-film reports from abroad and he was also the first reporter to broadcast coverage of the break-in at the Watergate headquarters of the Democratic National Committee in 1972. He was a long standing moderator for the Face the Nation program. He died Feb 8 2005 at age 85.
On this day in 1924, actor Guy Williams was born in New York City.  Perhaps best known as the title character in the TV series Zorro, he also had recurring roles in Lost in Space, Bonanza & Disneyland. He died of a brain aneurism May 7, 1989 at the age of 65.
On this day in 1926, 
 actor Tom Tryon was born in Hartford Conn.  He played the title role in the TV series Texas John Slaughter, and in a number of Disneyland episodes featuring the Slaughter character.  He also was featured repeatedly on The Virginian. He died of stomach cancer Sep 4, 1991 at age 65.
On this day in 1927, Jack Benny married Sadie Marks, who was born in Seattle and raised in Vancouver. Five years later, as Benny was beginning his legendary broadcast career, Sadie started playing the role of Mary Livingstone, Jack's girlfriend on his radio show. Eventually Ms. Marks would officially change her name to Mary Livingstone.

On this day in 1929, country singer Billy Walker was born in Ralls Texas.  He is most famous for his 1962 hit "Charlie's Shoes." He is also wellknown for his cover version of Willie Nelson's "Funny How Time Slips Away" and his 1964 hit "Cross the Brazos at Waco." Walker joined the Grand Ole Opry on January 1, 1960, and he was an active member until his death May 21 2006 in a single-vehicle crash near Montgomery Ala. at age 77.
On this day in 1936, Harriet Hilliard, vocalist and wife of bandleader Ozzie Nelson, sang "Get Thee Behind Me Satan", on Brunswick Records.

On this day in 1939, the program, "Honolulu Bound", was heard for the first time on CBS radio. Phil Baker and theAndrews Sisters (above) were featured on the show. We have no idea what the program was about, but our wild guesses include words like hula, Waikiki, trade winds, sun-drenched beaches, coconuts and pineapple.
On this day in 1950, the No. 1 Billboard Pop Hit was "I Can Dream, Can't I?" by the Andrews Sisters. It stayed on top for 5 weeks.
On this day in 1952, NBC-TV opened the the first "Today" show broadcast with a shot of Dave Garroway (below) looking outside through the "Window on the World" on a cold morning in New York City. The program was the first that featured his signature sign-off: hand raised, uttering one word, "Peace."

On this day in 1955, disc jockey Alan Freed held his first Rock `n' Roll Party stage show in New York. Acts included the Clovers, Fats Domino and the Drifters.
On this day in 1956, rock 'n' roller Little Richard, was singing the newly released "Tutti-Frutti".  So, you think this was the hit version?  Not so.  The much-more vanilla Pat Boone version became even more popular as a 'cover' record.

On this day in 1957, actor Humphrey Bogart, the major Hollywood star who co-starred with his wife Lauren Bacall in the wildly successful syndicated radio show "Bold Venture," succumbed to cancer of the esophagus at age 57.
On this day in 1960, Elvis Presley was promoted from corporal to Sergeant in the U.S. Army.
On this day in 1963, drummer Charlie Watts made his live debut with The Rolling Stones at The Flamingo Jazz Club, Soho, London.
Also in 1963, Roy Orbison recorded one of his biggest hits "In Dreams."

On this day in 1964, a hootenanny was held for the first time at the White House, as the New Christy Minstrels entertained President and Lady Bird Johnson, as well as Italy's President.
On this day in 1966, David Jones changed his last name to Bowie to avoid confusion with Davy Jones from the Monkees, and released his 1st record (Can't Help Thinking About Me)
On this day in 1967, Sonny & Cher released "The Beat Goes On."
Also this day in 1967, the first so-called "Human Be-In" was held in San Francisco's Golden Gate Park. Among the performers were the Grateful Dead and Jefferson Airplane.
On this day in 1968, CBS-TV's Ed Sullivan Show was headlined by Vanilla Fudge, Duke Ellington and his Orchestra, Buddy Greco, Tammy Grimes, comedian Flip Wilson and Topo Gigio.
On this day in 1970, Diana Ross made her last appearance with The Supremes at The Frontier Hotel, Las Vegas, then introduced her replacement in the group, Jean Terrell.

On this day in 1971, the founder of Vancouver's CKWX, Arthur "Sparks" Holstead died in North Vancouver at age 81. With partner Bill Hanlon he put station CFDC on the air in Nanaimo on April 1st 1923, and brought it to Vancouver four years later.  'Sparks' is pictured above with the original Westinghouse 10 watt war surplus transmitter.
On this day in 1972, comedian Redd Foxx, whose last name was really Sanford, debuted on NBC-TV in "Sanford & Son."  Demond Wilson co-starred as Fred Sanford's son.  Quincy Jones composed the catchy theme song.
Also this day in 1972, Paul Simon released his first LP as a solo artist; it would peak at #4 in North America, and #1 in the UK.

On this day in 1973, Elvis Presley drew the largest audience for a single TV show to that time — an estimated one billion viewers in 40 countries. "Elvis – Aloha From Hawaii", a live, worldwide concert from Honolulu International Center Arena (later known as the Neal S. Blaisdell Center Arena). Performed at 12:30 a.m. Hawaiian Time, it was beamed live via Globecam Satellite to Australia, South Korea, Japan, Thailand, the Philippines, South Vietnam and other countries, and was seen on a delayed basis in approximately 30 European countries. The first North American airing was April 4th on NBC-TV. The show was also released as a two-record album, and became one of Elvis's top-selling LPs.
On this day in 1975, the Three Dog Night album, "Joy to the World: Their Greatest Hits," was certified Gold, having sold more than half-a-million LPs.

On this day in 1976, "The Bionic Woman" with Lindsay Wagner debuted on ABC (later it ran on NBC.)
On this day in 1977, "Fantasy Island" starring Ricardo Montalban aired as a highly rated made-for-TV movie on ABC TV. The Saturday night series that ran for seven seasons began the following year.
Also in 1978, the Sex Pistols played their last concert before breaking up. The show was in San Francisco.  The group re-formed in 1996.
Also this day in 1978, the song "Baby Come Back" by Player topped the charts and stayed there for 3 weeks.
On this day in 1979, "The Dukes of Hazzard" made its debut on CBS.
On this day in 1981, broadcasting's US regulators the FCC freed stations to air as many commercials an hour as they wish.
On this day in 1984, Madonna lipsynched to her recording of "Holiday" on ABC-TV's "American Bandstand."

On this day in 1985, the former Miss America Phyllis George joined Bill Kurtis as co-hosts of "The CBS Morning News". It was a bomb. Kurtis went back to WBBM-TV in Chicago as a news anchor and Phyllis stuck around a little longer, encouraging people to give hugs, until she too was eventually axed.
On this day in 1986, actress Donna Reed, who starred on TV's Donna Reed Show as well as Dallas, died of pancreatic cancer at age 64.
On this day in 1989, Paul McCartney released his "Back In The U.S.S.R." album exclusively in Russia, causing North American bootleg copies to fetch upwards of $1000. The album, a collection of oldies covers, was eventually released worldwide.
Also in 1989, the song "My Prerogative" by Bobby Brown topped the Billboard pop singles chart but only for a week.
On this day in 1992, actor Hari Rhodes, who had recurring roles in the TV series Daktari and The Bold Ones: The Protectors, died at age 59.

On this day in 1993, during a taping of his talk show, David Letterman told his studio audience that his last show for NBC would be in June. Letterman had wanted an 11:30 p-m time slot, but NBC would not remove Jay Leno as host of "The Tonight Show." Letterman moved to CBS.
On this day in 1995, singer Ruby Starr, who toured & recorded with "Black Oak Arkansas," and later "Grey Ghost," died of a brain tumor at age 44.
Also this day in 1995, Pearl Jam performed with Neil Young for a Voters for Choice benefit in Washington, DC.
On this day in In 1996, Lethbridge's CJIL-TV signed on to Channel 17, claiming to be Canada's first Christian TV station.  It carries no commercials as such, but does sell most of its programming schedule to religious broadcasters.

On this day in 1997, the Beach Boys guest starred in "The Karate Kid Returns" episode of ABC-TV's sitcom "Home Improvement".  The plot had the "Boys" visiting their cousin, Wilson the neighbour.
On this day in 1998, the 100th episode of the sitcom "Ellen" aired on ABC.
On this day in 1999, actor Robert Guillame suffered a mild stroke on the set of the T-V show "Sports Night." The stroke was later written into the show.
On this day in 2000, talk show host David Letterman underwent emergency heart surgery.
Also this day in 2000, the Nashville-based country fan magazine "Music City News" closed its doors after 37 years of publication.
On this day in 2001, 
 the final episode of "The Jamie Foxx Show" aired on "The WB."
On this day in 2002, CIBH FM 88.5 Parksville signed on at 6 a.m. completing Island Broadcasters move to change all their AM stations to FM.  The station replaced AM 1350 which would simulcast "The Beach" for the next 5 weeks.
On this day in 2005, a $100,000 statue honouring the late punk guitarist Johnny Ramone was unveiled by his widow Linda at the Hollywood Forever Cemetery. Johnny died from prostate cancer in September 2004 at the age of 55.
On this day in 2006, Oscar-winning actress Shelley Winters died of heart failure at age 85.  Among her final professional assignments was a running role as Roseanne Connor's grandmother on the TV series Roseanne.
Also in 2006, actor and stand-up comic Jamie Foxx started a two-week run at No.1 on the Billboard album chart with his second album 'Unpredictable.'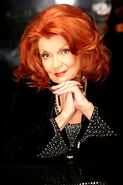 On this day in 2007, veteran actress Darlene Conley died in Los Angeles at age 72. Conley played fashion mogul Sally Spectra for 19 years on the soap The Bold and the Beautiful.  Earlier she'd also appeared in Gunsmoke, Mary Tyler Moore, The Young and the Restless, Capitol, General Hospital, and Days of Our Lives.
On this day in 2009, veteran Latin movie star Ricardo Montalban, who followed an extensive Hollywood career by starring in TV's Fantasy Island and The Colby's, died of congestive heart failure at age 88.

On this day in 2010, the BBC admitted its coverage of the launch of U2's album No Line On The Horizon in 2009 went too far – giving "undue prominence" to the band. RadioCentre, the UK trade body for commercial radio companies, had made a formal complaint over the coverage saying the BBC had given U2 "the sort of publicity money can't buy".
On this day in 2011, actress/model/singer Georgia Carroll, who sang on the radio (& in the movies) with the Kay Kyser Orchestra during WWII, and went on to marry the bandleader, died at age 91.
Also in 2011, Nielson SoundScan reported that The Beatles' "Abbey Road" LP was 2010's best-selling vinyl album in the U.S.  Arcade Fire's "The Suburbs" and Black Keys "Brothers," were #2 and #3, respectively.  "Abbey Road" was also #1 in '09.
On this day in 2012, Stevie Wonder was recognized for his contributions to music and culture at the BET (Black Entertainment Television) Honors Awards in Washington, D.C.

On this day in 2013, Lethbridge-born actor Conrad Bain, who played father figure Phillip Drummond in the 70's & early 80's on the NBC sitcom "Diff'rent Strokes," died of natural causes at age 89.
On this day in 2014, Scottish-born Canadian actor/voicist Tom Harvey died in Toronto at age 89.  Harvey was a frequent supporting presence on the CBC's Wayne & Schuster Hour, appeared regularly as a judge on the 'Street Legal' series, voiced police officers on 24 episodes of the animated 'Spider Man' TV series, and won roles in 20 TV movies.  
Today's Birthdays:
Singer Caterina Valente is 85.
Blues singer Clarence Carter is 80.
Actress Linda Lawson (Don't Call Me Charlie, Ben Casey, Adv. in Paradise) is 80.
Singer Jack Jones is 78.
Actress Faye Dunaway (Alias, A Will of Their Own, It Had to be You) is 75.
Actress Holland Taylor (Two and a Half Men, The Practice) is 73.
NPR anchor/correspondent Nina Totenberg is 72.
Actor/former evangelist Marjoe Gortner (Falcon Crest) is 72.
Singer-producer T-Bone Burnett is 68.
Actor Carl Weathers (Brothers, In the Heat of the Night, Street Justice) is 68.
Singer Geoff Tate of Queensryche is 57.
Actor Mark Addy (Still Standing) is 52.
Fox News Channel anchorman Shepard Smith is 52.
Rapper Slick Rick is 51.
Actor Dan Schneider (Head of the Class) is 50.
Actor-comedian Tom Rhodes (Mr. Rhodes) is 49.
Guitarist Zakk Wylde (Ozzy Osbourne Band) is 49.
Rapper/actor LL Cool J (NCIS: Los Angeles) is 48.
Actor Jason Bateman (Silver Spoons, Arrested Development) is 47.
Musician Dave Grohl of the Foo Fighters (and Nirvana) is 47.
Ontario-born actor Kevin Durand (Lost, Touching Evil, Dark Angel) is 42.
Actor Ward Horton (One Life to Live, Guiding Light) is 40.
Vancouver-born actor Sage Brocklebank (Psych) is 38. 
Actor James Scott (Days of Our Lives) is 37.
Actor Emayatzy Corinealdi (Hand of God) is 36.
London Ont.-born actor Steven Grayhm (The Boy Who Cried Werewolf, Unthinkable) is 35.
Actor Zach Gilford (Friday Night Lights) is 34.
Singer-guitarist Caleb Followill of Kings of Leon is 34.
Musician Joe Guese (The Click Five) is 33.
Actor Grant Gustin (The Flash, Glee) is 26.
Actress Jeanine Mason (Bunheads) is 25.
Actor Matthew Timmons (The Suite Life on Deck) is 23.
Seattle-born actress Dove Cameron (Liv and Maddie) is 20.
Chart Toppers – Jan. 14
1944
My Heart Tells Me – The Glen Gray Orchestra (vocal: Eugenie Baird)
Shoo, Shoo, Baby – The Andrews Sisters
Paper Doll – The Mills Brothers
Pistol Packin' Mama – Bing Crosby & The Andrews Sisters
1953
Why Don't You Believe Me – Joni James
Don't Let the Stars Get in Your Eyes – Perry Como
Keep It a Secret – Jo Stafford
Midnight – Red Foley
1962
The Twist – Chubby Checker
Peppermint Twist – Joey Dee & The Starliters
Can't Help Falling in Love – Elvis Presley
Walk on By – Leroy Van Dyke
1971
My Sweet Lord /Isn't It a Pity – George Harrison
Knock Three Times – Dawn
Lonely Days – Bee Gees
Rose Garden – Lynn Anderson
1980
Escape (The Pina Colada Song) – Rupert Holmes
Rock with You – Michael Jackson
Do that to Me One More Time – The Captain & Tennille
Coward of the County – Kenny Rogers
1989
My Prerogative – Bobby Brown
Two Hearts – Phil Collins
Don't Rush Me – Taylor Dayne
Change of Heart – The Judds
1998
Show Me Love – Robyn
Together Again – Janet Jackson
My Love Is the Shhh! – Somethin' For The People
A Broken Wing – Martina McBride
2007
Irreplaceable – Beyoncé
Fergalicious – Fergie
I Wanna Love You – Akon featuring Snoop Dogg
She's Everything – Brad Paisley