ON THIS DAY in 1900
one of the most famous trademarks in the world, "His Master's Voice", was registered with the U.S. Patent Office.


The logo of the Victor Talking Machine Company, and later, RCA Victor, features the dog, Nipper, looking into the horn of a gramophone machine.
In 1917, science teacher/broadcaster Don Herbert was born in Waconia Minn. As Mr. Wizard on NBC TV, he was the first broadcaster to demonstrate an interesting side of science to a nationwide TV audience. He succumbed to bone cancer June 12, 2007, a month before his 90th birthday.
In 1920, TV journalist David Brinkley was born in Wilmington North Carolina.  He became a TV sensation teamed with Chet Huntley on NBC for the nightly news 1956-70, and for political convention coverage, the JFK assasination, etc. Many of his commentaries, some tongue in cheek or ironical, were considered minor classics.  Later he would move to ABC where This Week with David Brinkley became a Sunday morning fixture.  He died June 11, 2003 at age 82.

In 1921, actress Jeff (Jean Marie) Donnell was born in Maine.  She co-starred as George's wife Alice on The George Gobel Show, had a recurring role in the series Dr. Kildare & Matt Helm, as well as General Hospital.   She died after a heart attack Apr 11, 1988 at age 66.
In 1926, actor Fred Gwynne was born in New York City.  He starred in two popular TV sitcoms, The Munsters & Car 54 Where are You? He died of pancreatic cancer July 2, 1993 a few days shy of his 77th birthday.
In 1931, actor Nick Adams was born in Nanticoke Pa. He starred as Johnny Yuma in the TV series The Rebel, was featured in the short lived series Saints & Sinners, then guested on episodic TV & in movies, often cast as a troubled young man, until his drug-overdose death Feb 7, 1968 at the young age of 36.

In 1936, songstress Billie Holiday recorded Billie's Blues for Okeh Records in New York, a number she had just written.  Bunny Berigan, Artie Shaw, Joe Bushkin and Cozy Cole supported Holiday, instrumentally, on the session.
In 1941, pianist-composer Jelly Roll Morton, who claimed he invented jazz, died of complications from emphysema at age 50. Morton, born Ferdinand La Menthe in New Orleans, may not have created jazz, but he was the first jazz composer to put his works on paper. Among the jazz classics that flowed from Morton's pen were "Jelly Roll Blues," "Wolverine Blues" and "King Porter Stomp." Morton's peak years of popularity were from 1917 to '22, when his Red Hot Peppers Band played college and hotel dates and recorded for the Victor company.
In 1944, a radio show of international intrigue The Man Called X, starring Herbert Marshall, debuted on CBS radio.  It would be a listening favorite on the Tiffany Network & NBC for the next 8 years.
In 1949, the first practical rectangular television picture tube was introduced. The tube measured 12 by 16 inches and sold for $12.
Also in 1949, Columbia Records waxed Frank Sinatra crooning his next Top Ten single, 'Don't Cry Joe (Let Her Go, Let Her Go, Let Her Go.)'
In 1950, a longtime radio institution debuted on TV.  "Your Hit Parade" was seen for the first time on N-B-C, featuring the top seven tunes of the week. Snooky Lanson, Russell Arms, and two Canadian-born women, Dorothy Collins and Gisele MacKenzie became the show's best-remembered singing stars.

In 1954, New York radio station WINS announced the hiring of pioneer rock disc jockey Alan Freed to be the host of their "Rock 'n' Roll Party." As he did on his earlier "Moondog Rock 'n Roll Party Show" on WJW in Cleveland, Freed programmed records by black rhythm-and-blues artists that many white teens had never heard before. Freed is often credited with coining the term rock 'n' roll.
In 1957, 16-year-old Ottawa singer Paul Anka's first single, "Diana," was released to radio stations.
In 1958, Don & Phil the Everly Brothers were in Nashville to record "Devoted To You," and the track that would prove to be their 4th and final #1 pop single, "Bird Dog" for Cadence Records.
Also in 1958, in his second-to-last session for Sun Records in Memphis, singer Johnny Cash recorded his next Top Five country single, "The Ways of a Woman in Love."
In 1961, "Tossin' and Turnin'" by Bobby Lewis topped the charts and stayed there for 7 weeks.

In 1962, the Telstar communications satellite was successfully launched from Cape CanaverIal, FL. Telstar would usher in a new age of communication via telephone and TV, with voice and picture transmission from Europe to America and back. To commemorate the event, an instrumental hit by the Tornadoes, an English surf-rock group, made it to number one for three weeks in November, 1962. It was titled, Telstar, of course.
In 1963, Elvis Presley was in the RCA studios in West Hollywood to record  "Viva Las Vegas."  It was not released until the following spring, when Presley's hit movie of the same name hit the big screens.
In 1964, both the single and album "A Hard Day's Night" by The Beatles were released in Britain. The single was number one for four weeks in the U-K and the soundtrack album topped the L-P charts for 21 weeks. Both single and L-P also hit number one in North America.
Also in 1964, Motown released the first single by the Four Tops, "Baby I Need Your Lovin'."  It would peak at #11 on the Billboard pop chart.

In 1965, the Beatles' album "Beatles VI," went #1 for the next 6 weeks.
Also in 1965, the Rolling Stones, who took their name from aMuddy Waters song, hit the top spot on the Billboard pop chart for the first time.  (I Can't Get No) Satisfaction, stayed at number one for 4 weeks.
Still in 1965, Wilson Pickett's "In The Midnight Hour" was released.
In 1966, Johnny Tillotson, the Jive Five, the Shangri-Las, the Tymes, Dean Parrish and a local band The Castillesfeaturing as vocalist Bruce Springsteen performed at the Surf 'n See Club in Seabright, New Jersey, which the Castilles had earlier played in its Grand Opening.

In 1967, Kenny Rogers and other members of the New Christy Minstrels quit the group to join with Mickey Jones and form The First Edition. The new group received its first national exposure on the Smothers Brothers T-V show, and went on to have such hits as "Just Dropped In (To See What Condition My Condition Was In)" in 1968, "Ruby, Don't Take Your Love to Town" in 1969 and 1971's "Something's Burning." Kenny Rogers began his immensely successful solo career in 1974.
Also in 1967, Bobbie Gentry recorded her soon-to-be-smash hit "Ode to Billie Joe" at a Hollywood studio.
In 1968, guitarist Eric Clapton announced the forthcoming breakup of Cream, the power rock trio he had formed with bassist Jack Bruce and drummer Ginger Baker. Cream played a final concert in London in November, and Clapton and Baker then formed the short-lived Blind Faith.

Also on this date in 1968, Diana Ross And The Supremes (above) and Stevie Wonder gave a concert at the San Diego Sports Arena.
Still in 1968, the art rock band the Nice was banned from London's Royal Albert Hall after stomping on and burning an American flag during a concert. Two years later, group leader Keith Emerson joined Greg Lake and Carl Palmer in Emerson, Lake and Palmer.
In 1969, his fellow Rolling Stones bandmates Bill Wyman, Keith Richards and Charlie Watts attended the funeral asBrian Jones was laid to rest after drowning in his swimming pool a week earlier.
In 1970, Johnny Cash recorded what would prove to be the CMA 'Song of the Year' Award winner, Kris Kristofferson's 'Sunday Mornin' Comin' Down.'
In 1972, Harry Nilsson released his most successful album "Son of Schmilsson" which produced three very different chart hit singles.
Also in 1972, A & M Records released the 7th Top 10 hit single by The Carpenters, "Goodbye to Love."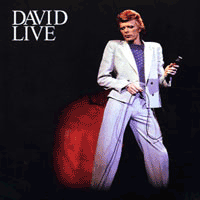 In 1974, David Bowie ended a North American tour by recording a live double-album at Philadelphia's Tower Theatre. It was called "David Live."
In 1975, after being married for only 10 days, Cher filed papers for divorce from Greg Allman. She changed her mind three weeks later, and the divorce was postponed until 1979.
Also in 1975, the short-lived "Gladys Knight & the Pips" Summer Series premiered on NBC-TV. It played for an hour on the 4 remaining Thursdays in the month, closing July 31.
In 1976, on the urging of Elvis, the star's father Vernon Presley fired longtime members of the "Memphis Mafia"Sonny West, cousin Red West, and Dave Hebler – the three members of his handling team most devoted to freeing Elvis from his addiction to pills.

Also in 1976, "Afternoon Delight" by One Hit Wonders the Starland Vocal Band topped the charts and stayed there for 2 weeks.
In 1978, bassist Bill Wyman was knocked unconcious when he fell nine feet while running off the stage after a Rolling Stones concert in St. Paul, Minnesota.
In 1979, Arthur Fiedler, conductor of the Boston Pops Orchestra for nearly 50 years, suffered cardiac arrest and died at home at age 84.
Also in 1979, Chuck Berry was sentenced to four months in prison for tax evasion dating back to 1973. Authorities claimed Chuck owed the IRS more than $200,000.
In 1981, in Memphis rocker Jerry Lee Lewis was rushed to hospital for the first of two emergency operations to correct a bleeding ulcer. At one point doctors said he had only a 50/50 chance of surviving.
In 1985, a future Top 10 pop single "Poplife," by Prince, was released.

In 1986, guitarist Jerry Garcia of the Grateful Dead guitarist went into a diabetic coma. He spent the next four weeks in hospital.
In 1987, the man who was once called the world's greatest talent scout, John Hammond, died in New York at age 76. Hammond, who worked most of his life for Columbia Records, discovered such diverse talents as Billie Holiday, Bob Dylan and Bruce Springsteen.
Also in 1987, Winnipeg musician and bandleader Jimmy King died of cancer at 67. King dominated the prairie city's jazz and big band circles for 45 years, directing the Jimmy King Orchestra and the Golden Boy Brass.

In 1989, cartoon voice Mel Blanc, who started in Portland radio, had his own network radio sitcom in the 40's, provided the voices for Daffy Duck, Bugs Bunny and Porky Pig, and did characters on Jack Benny's radio & TV shows for years, succumbed to his heart disease and severe emphysema at age 81.
Also in 1989, British cockney comic Thomas E "Tommy" Trinder died of a heart ailment at age 80.  The wry, rubber-faced comedian had built up his name in traveling variety shows, clubs and dance halls, then achieved stardom in musical revues, before transferring his popularity first to radio & later TV.  He became the lynchpin of Independent Television's "Sunday Night at the Palladium."

In 1990, shock comedian Andrew Dice Clay cried as a guest on the Arsenio Hall late night talk show.
In 1991, Gerome Ragni, who co-wrote and starred in the 1960's rock musical "Hair," died in New York of cancer. He was 48. Ragni and James Rado wrote the book and lyrics, and Montreal-born Galt McDermot wrote the music, for the show that portrayed the sexual liberation, anti-war movement and flower children of the era.
In 1993, the U-S music video channel MTV debuted in the Commonwealth of Independent States, the former Soviet Union.

Also in 1993, Pete Townshend began his first-ever solo North American tour with a show in Toronto.
Still in 1993, girl trio SWV started a two week run at No.1 on the Billboard singles chart with 'Weak.'
In 1995, a traffic accident injured four of Mary J. Blige's dancers forcing the postponment of a concert featuring Blige, Boyz II Men and Montell Jordan in Springfield, Illinois.

In 1998, the Spice Girls played Canada for the first time, selling out the Molson Centre in Montreal. Shows in Toronto the next night and in Vancouver the following month were also quick sellouts. During their Toronto visit, the British group also appeared on a live MuchMusic special telecast across the country.
In 1999, in a bid to lessen the red ink radio station CJVI 900 Victoria dropped its talk shows and returned to playing popular music of the 60s, 70s and 80s.
In 2000, Diana Ross announced the cancellation of the rest of The Supremes' "reunion" tour, due to disappointing ticket sales. Original members Mary Wilson and Cindy Birdsong sealed the shows' fate when they refused to take part unless they were offered more money.
In 2002, 56-year old country superstar Dolly Parton launched a 13-city tour, her first major road work in ten years.

Also in 2002, rocker Eddie Van Halen and actress Valerie Bertinelli (above, in happier times) announced that they had secretly separated 10 months before. The formal divorce happened five years later.
In 2003, PBS' Soundstage returned to US television with a performance from Tom Petty and the Heartbreakers. The show had not aired in over 18 years when it ran from 1974 to 1985.
In 2005, George Strait was at No.1 on the Billboard album chart with 'Somewhere Down In Texas', the country singers third No.1 album.
Also in 2005, the four founding members of Led Zeppelin were named the UK's ideal supergroup after 3,500 British music fans voted for their fantasy band.  Jimmy Page was voted best guitarist, John Paul Jones won as top bassist, John Bonham, who died in 1980, was selected as best drummer, and Robert Plant edged the late Freddie Mercury for favorite singer.

In 2008, the drum skin used on the cover of The Beatles' Sgt Pepper album sold for almost $1.1 million at Christie's Rock & Pop Memorabilia auction in London. John Lennon's lyrics for 'Give Peace a Chance' as handwritten in a Toronto hotel room went for more than $830,000.
In 2009, Led Zeppelin frontman Robert Plant was honored by Prince Charles with the Commander of the Order of the British Empire medal. Plant said he was humbled to receive the honor alongside deserving folks recognized for their military and community service.
In 2010, Paul McCartney gave his first show in San Francisco since The Beatles' last concert in the summer of 1966. Paul played the AT&T Park, the home to baseball's San Francisco Giants.
In 2011, the announcer for the first six years of the Sunday night CBS-TV game show What's My Line?, Brantford Ont.-born Lee Vines died of complications from a fall and pneumonia at age 92.


His other announce assignments included the popular daytime TV game shows, Password, Beat the Clock and The Big Surprise.
In 2012, the widow of Nat King Cole, and the mother of Natalie Cole, herself a jazz singer with the Count Basie and Duke Ellington Orchestras, Maria Cole lost her battle with stomach cancer at age 89.
Also in 2012, former Guns N' Roses guitarist Slash was awarded the 2,473rd star on the Hollywood Walk of Fame.
In 2013, the Midwest Rock 'N Roll Express tour with Styx, REO Speedwagon and Ted Nugent announced they'd raised $108,000 for the victims of the Boston marathon terrorist bombings.
Today's Birthdays:
Writer/narrator Earl Hamner Jr. (The Waltons) is 92.
Actor William Smithers (Peyton Place, Dallas, Guiding Light) is 88.
Composer Jerry Herman (Hello Dolly, Mame, La Cage Aux Folles) is 84.
Nobel Prize-winning Canadian short story author Alice Munro is 84.
Canadian children's entertainer Lois Ada Lillenstein (of Sharon, Lois & Bram) is 79.
Singer Sandy Stewart (Sing Along with Mitch) is 78.
Actor Lawrence Pressman (Doogie Howser, Judging Amy) is 76.
Singer Mavis Staples is 76.
Actor Mills Watson (B.J. and the Bear, Misadventures of Sheriff Lobo) is 75.
Tacoma-born guitarist Jerry Miller of Moby Grape is 72.
Actor Ron Glass (Barney Miller) is 70.
Actress Sue Lyon (Mantrap) is 69.
Folk singer Arlo Guthrie is 68.
Actor Mark Shera (Barnaby Jones, S.W.A.T.) is 66.
Actress Phyllis Smith (The Office) is 64.
Toronto-born guitarist/singer/writer Rik Emmett is 62.
Singer Neil Tennant of the Pet Shop Boys is 61.
Actor Michael Woods (NightMan, Capital News, Our Family Honor, Texas) is 58.
Actress Fiona Shaw (True Blood) is 47.
Banjo player Bela Fleck of Bela Fleck and the Flecktones is 57.
Drummer Shaw Wilson of BR549 is 55.
Actor Alec Mapa (Switched at Birth, Ugly Betty, Half & Half) is 50.
Guitarist Peter DiStefano of Porno for Pyros is 50.
Actress Gina Bellman (Leverage) is 49.
Actor Jonathan Gilbert (Little House on the Prairie) is 47.
Actor Gale Harold (Hellcats, Desperate Housewives, Queer as Folk) is 46.
Actress Alexandra Hedison (The L Word) is 46.
Country singer Gary LeVox of Rascal Flatts is 45.
Actress Sofia Vergara (Modern Family) is 43.
Actor/voicist Peter Serafinowicz (Axe Cop, Running Wilde) is 43.
Actress Annie Mumulo (Curious George, About a Boy) is 42.
Actor Adrian Grenier (Entourage) is 39.
Actress Gwendoline Yeo (Desperate Housewives) is 38.
Actor Chwetel Ejiofor (Dancing On The Edge) is 38.
Singer/actress/TV personality Jessica Simpson (The Jessica Simpson Show, Newlyweds: Nick & Jessica, Entertainment Tonight) is 35.
Actor Thomas Ian Nicholas (Red Band Society, Party of Five) is 35.
Bassist John Spiker of Filter is 34.
Actress Heather Hemmens (Hellcats, If Loving You is Wrong) is 27.
Actress Haley Pullos (General Hospital) is 17.
Chart Toppers: July 10
1945
Dream – The Pied Pipers
The More I See You – Dick Haymes
Bell Bottom Trousers – Tony Pastor
Stars and Stripes on Iwo Jima – Bob Wills
1954
Little Things Mean a Lot – Kitty Kallen
Hernando's Hideaway – Archie Bleyer
Three Coins in the Fountain – The Four Aces
Even Tho – Webb Pierce
1963
Easier Said Than Done – The Essex
Blue on Blue – Bobby Vinton
One Fine Day – The Chiffons
Act Naturally – Buck Owens
1972
Lean on Me – Bill Withers
Outa-Space – Billy Preston
Too Late to Turn Back Now – Cornelius Brothers & Sister Rose
Eleven Roses – Hank Williams, Jr.
1981
Bette Davis Eyes – Kim Carnes
All Those Years Ago – George Harrison
The One that You Love – Air Supply
I was Country When Country wasn't Cool – Barbara Mandrell
1990
Step By Step – New Kids on the Block
She Ain't Worth It – Glenn Medeiros featuring Bobby Brown
Hold On – En Vogue
Love Without End, Amen – George Strait
1999
If You Had My Love – Jennifer Lopez
I Want It That Way – Backstreet Boys
Wild Wild West – Will Smith featuring Dru Hill & Kool Moe Dee
Write This Down – George Strait
2008
Take a Bow – Rihanna
Bleeding Love – Leona Lewis
Love in This Club – Usher featuring Young Jeezy
Back When I Knew It All – Montgomery Gentry