ON THIS DAY in 1907
comedian/actor Dick Bentley was born in Melbourne Australia.  He is best remembered as Jimmy Edwards' co-star in BBC Radio's Take It From Here, which also aired in Canada.  He was the original voice of Ron in the sketch 'The Glums' (pictured with sketch co-star June Whitfield) which had a life long after TIFH. He died Aug 27 1995 at age 88.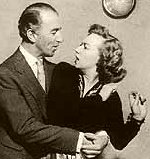 In 1910, choir conductor Carl Tapscott was born in Toronto. He's best known as the director of the 12-man Carl Tapscott Singers, formed in Toronto in 1954. The group performed regularly on the C-B-C until 1967, and made eight L-Ps, mainly of spiritual music, for various labels. Eight female voices were added in 1968, and the group was renamed the Carl Tapscott Choir.
In 1916, musician/bandleader Skip (Lloyd) Martin was born in Robinson Ill. He began on staff at radio station WLW in Cincinnati, before playing alto and baritone sax for a series of big bands, including Charlie Barnett, Jan Savitt, Glenn Miller, and Benny Goodman. He had stints with NBC & CBS radio in New York before arranging the theme and incidental music for the 1958-59 TV series, "Mickey Spillane's Mike Hammer."  He died in Feb 1976 at age 59.
In 1917, choral leader Norman Luboff was born in Chicago.  He sang & arranged music on Chicago radio while attending university, but is best known as founder of The Norman Luboff Choir.  The choral group toured extensively and recorded more than seventy-five albums, winning the 1961 Grammy Award for Best Performance by a Chorus.   He died of cancer Sep 22, 1987 at age 70.

In 1921, actor Richard Deacon was born in Philadelphia. The bald, bespectacled character actor was most famous for playing television producer Mel Cooley on "The Dick Van Dyke Show" from 1961 to 1966.  He also was Fred Rutherford on Leave It to Beaver. He died Aug 8, 1984 at age 63.
In 1926, comedian/actor Eric Morecambe was born in London. He teamed with Eric Wise to form one of Britain's favrite comedy teams, beginning in music hall & radio after WWII & moving into TV in 1954.  Various shows featured them almost continuously until Eric's death following a third heart attack May 28 1984 at age 58.
In 1927, "Ain't She Sweet?" by Ben Bernie hit #1 on the pop singles chart.

In 1936, singer Bobby Darin, whose real name was Walden Robert Cassotto, was born in New York City. Darin's big break came in 1958 when he wrote and recorded "Splish Splash," which reached number three on the U-S charts and sold one-million copies. His other hits included "Mack the Knife" and "Beyond the Sea." He later became a nightclub performer and actor, earning a 1963 Oscar nomination for "Captain Newman, M-D." Darin, who had a congenital heart defect, died after heart surgery December 20th, 1973 at age 37.
In 1937, Duke Ellington and his 'Famous Orchestra' recorded the future big band classic, Caravan, for Brunswick Records.
In 1945, The Sparrow and the Hawk, a serial for kids, was first broadcast over CBS radio. While a quality production, it lasted just a year.
Also in 1945, "Tennessee Jed" made his debut on ABC radio. Johnny Thomas & later Don Mclaughlin played the part of the sharpshooter Tennessee Jed Sloan. The daily kids serial, set just after the Civil War, ran for two years.

In 1951, the Ernie Kovacs Show, an innovative TV variety show, debuted on NBC.
In 1952, country singer Tex Ritter (John's father) recorded "High Noon" for the Gary Cooper movie of the same name. But Frankie Laine's version (that peaked at #5) surpassed Ritter's record (#12) on the Billboard pop chart.
In 1953, at 7:30 p.m., CBC TV stations in Montreal, Ottawa and Toronto were linked for the first time in a 340 mile microwave network, the first step in creating a national public television chain.  Ottawa's CBOT did not actually hit the air until June 2nd.
In 1955, "Dance with Me Henry" by Georgia Gibbs topped the charts and stayed there for 3 weeks.

Also in 1955, singer Bo Diddley made his R&B chart debut with his first single and future #1 song "Bo Diddley."
Still in 1955, Elvis Presley released "Baby Let's Play House" b/w "I'm Left, You're Right, She's Gone."
In 1956, rocker Buddy Holly got a prescription for contact lenses. But he couldn't get used to wearing them so he continued to use his trademark horn-rimmed spectacles.
Also in 1956, Mercury Records released the first L-P by The Platters. And the label also sent out the next Top 10 hit single for Patti Page, "Allegheny Moon."
In 1957, Elvis Presley was rushed to a Los Angeles hospital after swallowing a porcelain cap from one of his front teeth, which then became lodged in one of his lungs.
Also in 1957, Nat King Cole recorded his first successful stab at a rock & roll track, "Send for Me."  It peaked at #6 on Billboard's pop singles chart.


In 1959, US jazz clarinetist/saxophonist/bandleader Sidney Bechet died at age 62.
In 1963, Victoria radio station CFAX was sold by Ellison Queale, to Clare G. Copeland, onetime sales manager of CKWX Vancouver. Within a year, Copeland had approval to move CFAX from a daytime-only station at 810 KHz to full-time operation at 1070 KHz.
Also in 1963, the No. 1 Billboard Pop Hit was "If You Wanna Be Happy," by Jimmy Soul.
Still in 1963, Lesley Gore was rushed into a New York studio to record a sequel to her first hit "It's My Party," which had entered Billboard's Hot 100 just three days earlier.  The followup single, produced by Quincy Jones, was "Judy's Turn to Cry."
In 1964, Elvis Presley recorded the title tune from his upcoming movie, "Roustabout."
Also in 1964, Jan & Dean began recording their third Top 10 single, "Little Old Lady From Pasadena," which would hit store shelves three weeks later.

In 1966, Canadian rocker Denny Doherty (pictured, left) and his hit singing group TheMamas & The Papas had a #1 Billboard hit with "Monday Monday".
Also in 1966, The Kingsmen's "Louie Louie" entered the Billboard Hot 100 chart for the ninth time since its first release by the Olympia Wash. group three years earlier.
In 1968, Paul McCartney and John Lennon were guests on NBC's "Tonight Show" (with guest host Joe Garagiola).
Also in 1968, in New York, The Rascals recorded their future #1 hit "People Got to Be Free."
In 1969, the 13-piece Canadian rock band Lighthouse debuted at the Rock Pile in Toronto. The group was formed by drummer-singer Skip Prokop and keyboardist-vibraphonist Paul Hoffert. Their hits in the early '70s included "Hats Off (to the Stranger)," "One Fine Morning" and "Pretty Lady."

In 1970, actress/comedienne Billie Burke, best remembered as Glinda the Good Witch in The Wizard of Oz, who had her own Saturday morning CBS radio sitcom (1943-46), died of heart failure at age 85.
Also in 1970, Crosby, Stills, Nash & Young announced their breakup before a performance in Chicago. The band — minus Torontonian Neil Young — would regroup several times during the next dozen years. And, all four got together again for their 1988 hit single and album "American Dream."
In 1971, The Honey Cone were awarded a Gold Record for the single, Want Ads. The female soul trio was formed in Los Angeles in 1969 and scored two million-sellers, Want Ads and Stick Up. Only Want Ads made it to the number one position.
In 1972, the Canadian country group, the Good Brothers, first performed together under that name at the Riverboat club in Toronto. Younger brother Larry had just joined twins Brian and Bruce, replacing James Ackroyd in a group called James and the Good Brothers.
In 1973, the No. 1 Billboard Pop Hit was "You Are the Sunshine of My Life," by Stevie Wonder. It was his third chart-topping hit.

Also in 1973, Rowan & Martin's "Laugh-In" aired for the last time on NBC-TV, after 5 successful seasons.
In 1976, 84-year old Lowell Thomas ended a 46-year career as a network radio anchor & commentator with a final broadcast for CBS Radio.
Also in 1976, former Yardbirds vocalist Keith Relf was electrocuted while tuning a guitar at his London home. He was 33. The Yardbirds' blues-based rock in the mid-60's set the stage for heavy metal. At different times, its lineup included guitar legends Eric Clapton, Jimmy Page and Jeff Beck.
In 1977, Leo Sayer went to No.1 on the Billboard singles chart with the Albert Hammond and Carole Bayer Sager song 'When I Need You', the singer's second No.1 hit.
In 1981, the No. 1 Billboard Pop Hit was "Bette Davis Eyes," by Kim Carnes. Bette Davis responded by sending roses to Carnes when the song won a Grammy.
Also in 1981, Canadian singer songwriter Gordon Lightfoot kicked off a 5-date UK tour at Belfast Grosvenor Hall.

In 1982, actor Hugh Beaumont, best known as the father, Ward Cleaver on TV's "Leave it to Beaver", suffered a fatal heart attack at age 73.
Also in 1982, guitarist Fast Eddie Clark left Motorhead in the middle of the band's US tour.Brian Robertson, formerly of Thin Lizzy, was his replacement.
In 1984, the 19th Academy of Country Music Awards saw top honors go to Alabama.
Also in 1984, the Columbia album "To All The Girls I've Loved Before" by Willie Nelson andJulio Inglesias, having sold more than half-a-million copies, was certified as a Gold Record.
In 1986, Prince joined The Bangles on stage in San Francisco to perform two songs; "Manic Monday" (which Prince wrote) and Jerry Lee Lewis' '50's classic, "Whole Lotta Shakin' Going On."

In 1988, Atlantic Records celebrated its 40th anniversary with an 11-hour concert at Madison Square Garden in New York. Performers included a reunited Led Zeppelin, Wilson Pickett, the Bee Gees, Booker T. and the M-G's and Phil Collins. The lone sour note was David Crosby's failure to show up for a reunion with Stephen Stills and Graham Nash.
Also in 1988, "Anything for You" by Gloria Estefan & Miami Sound Machine topped the charts and stayed there for 2 weeks.
In 1989, the TV crime drama "Moonlighting" which introduced us to Bruce Willis, aired for the last time on ABC.

Also in 1989, the TV sitcom "Family Ties" starring Vancouver's Michael J. Fox, aired its final episode on NBC.
In 1991, Bushwick Bill, the leader of the rap group the Geto Boys, had surgery to remove his right eye after his girlfriend shot him in the face. Bill, a dwarf whose real name is Richard Shaw, later had a glass eye implanted. Bill said he was drunk and suicidal when he dared his girlfriend to shoot him at their Houston apartment.
In 1992, the album "Revenge" was released by KISS. The album featured a new drummer,Eric Singer.
In 1993, the acoustic guitar that Elvis Presley used to make his earliest recordings in 1954 — "That's All Right Mama" and "Blue Moon of Kentucky" — sold for 152-thousand dollars at auction in London. Christie's auction house said the price was a record for both Elvis memorabilia and an acoustic guitar.
In 1994, the Rolling Stones sold out two New York-area stadium shows in 81 minutes — an average of 14-hundred tickets every 60 seconds.

Also on this date in 1994, B-B King helped open China's first Hard Rock Cafe by playing a two-hour set for 300 people in Beijing.
In 1997, jazz singer/actress Thelma Carpenter, who recorded with Count Basiebeginning in 1939, and who had a featured role in TV's Barefoot in the Park (1970), died after a heart attack at age 75.
Also in 1997, legendary producer Phil Spector failed to show up to accept an award as co-composer of "You've Lost That Lovin' Feelin'." The song had logged seven-million plays on the radio, surpassing the six-million tally of the Beatles' "Yesterday."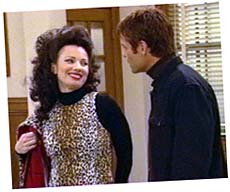 Still in 1997, the 100th episode of "The Nanny" was aired by CBS.
In 1998, in Los Angeles, Frank Sinatra, possibly the best-ever interpreter of classic pop songs, suffered a fatal heart attack at age 82. He had not been seen in public since suffering a previous heart attack in January 1997.
Also in 1998, recording artist George Michael pleaded no contest in Beverly Hills Municipal Court to committing a lewd act in a park restroom. Michael, who did not appear in court for arraignment on the misdemeanor charge, was fined $810, was handed 80 hours of community service and ordered to undergo counseling.
Still in 1998, the final episode of TV's Seinfeld ran on NBC, with 30-second commercials selling for $2 million each.

In 2003, actor Robert Stack, star of TV's The Untouchables, and host of Unsolved Mysteries, died following a heart attack at age 84.
In 2004, English actress Anna Lee, who had recurring TV roles in General Hospital, The Charles Farrell Show & A Date with Judy, died at age 91 after losing a bout with pneumonia.
Also in 2004, 64-year-old record producer Phil Spector was arrested after getting into a scuffle with his chauffeur at his California mansion. Spector, who was also at the time awaiting trial for murder, was later released after a court date was set.

Still in 2004, Steven Tyler fulfilled a terminally ill fan's wish when he gave her a kiss after an Aerosmith concert in Winnipeg.
In 2005, pioneering bluegrass singer Jimmy Martin died in a Nashville hospice, more than a year after he was diagnosed with bladder cancer. He was 77.
Also in 2005, a judge in Springfield, Massachusetts, ordered rapper 50 Cent to stay away from drugs and take an anger management course, otherwise he'd be spending time in jail for an assault on three women at a 2004 concert.

In 2006, Lew Anderson, the Howdy Doody TV Show's final & longest serving Clarabell the Clown, succumbed to prostate cancer at age 84. Earlier in his career, he sang on radio with a group known as the Honey Dreamers.
Also in 2006, the final episode of "The West Wing" was seen on NBC.
Still in 2006, Aras Baskauskas, a 24-year-old yoga instructor from Santa Monica, Calif., won "Survivor: Panama, Exile Island," the 12th edition of the CBS reality show.
In 2007, Capitol/EMI announced that Paul McCartney's post-Beatles catalog would be sold digitally. "For the very first time, McCartney and Wings albums will be made available across all digital platforms," said the EMI/Capitol statement.
In 2008, Metallica kicked off a 26-date North American and European tour at the Wiltern Theatre in Los Angeles.

In 2009, the supergroup Chickenfoot, made up of Sammy Hagar, Michael Anthony, Joe Satriani and Chad Smith, launched their first-ever tour before an SRO crowd in Seattle.
In 2011, five years after they met, two country music superstars, Miranda Lambert and Blake Shelton got married in Texas.
In 2012, in London, Queen appeared at the 10th anniversary performance of the musical "We Will Rock You." Guitarist Brian May emerged from a trap door to play the guitar solo from "Bohemian Rhapsody." Later, drummer Roger Taylor joined May for "The Show Must Go On."
Today's Birthdays:
Spokane-born opera soprano Patrice Munsel is 90.
Singer Charlie Gracie is 79.
New Brunswick singer-actress Catherine McKinnon (Singalong Jubilee, Don Messer's Jubilee, Music Hop) is 71.
Ottawa-born guitarist Gene Cornish (Young Rascals) is 70.
Musician David Byrne (Talking Heads) is 63.
Actor Tim Roth (Klondike, Lie to Me) is 54.
Guitarist C.C. DeVille of Poison is 53.
Singer Ian Astbury of The Cult is 53.
Actor Danny Huston (John Adams, Covert One:The Hades Factor) is 53.
Lip-syncher Fabrice Morvan of Milli Vanilli is 49.
Bassist Mike Inez of Alice in Chains is 49.
Singer Raphael Saadiq (Tony! Toni! Tone!) is 49.
Singer Danny Wood of New Kids on the Block is 46.
Actress Deanne Bray (Sue Thomas: F.B.Eye, Heroes) is 44.
Actor Ben Weber (Secret Life of the American Teenager, Sex & the City) is 43.
Actor Gabriel Mann (Revenge) is 43.
Actress Indira Varma (Game of Thrones, Luther, Rome) is 42.
Singer Natalie Appleton of All Saints is 42.
Singer Shanice is 42.
Toronto-born actor Keram Malicki-Sánchez (Catwalk, The Care Bears Family) is  41.
UK actress Martine McCutcheon (EastEnders) is 39.
Actress Ada Nicodemou (Home & Away) is 38.
Actress Carla Jimenez (Last Man Standing, Raising Hope) is 37.
Guitarist Henry Garza of Los Lonely Boys is 37.
Bassist Mike Retondo of Plain White T's is 34.
Actress Rachel Roth (Titus) is 33.
Actress Amber Tamblyn (House, The Unusuals, Joan of Arcadia, Gen. Hospital) is 32.
Actress Lina Esco (Cane) is 30.
Actress Amber Wallace (90210, One Tree Hill) is 28.
Actress Miranda Cosgrove (iCarly, Drake & Josh) is 22.
Chart Toppers – May 14
1951
If – Perry Como
Mockingbird Hill – Patti Page
On Top of Old Smokey – The Weavers (vocal: Terry Gilkyson)
Cold, Cold Heart – Hank Williams
1960
Stuck on You – Elvis Presley
Cathy's Clown – The Everly Brothers
Night – Jackie Wilson
He'll Have to Go – Jim Reeves
1969
Aquarius/Let the Sun Shine In – The 5th Dimension
Hair – The Cowsills
Hawaii Five-O – The Ventures
Hungry Eyes – Merle Haggard
1978
If I Can't Have You – Yvonne Elliman
The Closer I Get to You – Roberta Flack with Donny Hathaway
With a Little Luck – Wings
It's All Wrong, But It's All Right – Dolly Parton
1987
(I Just) Died in Your Arms – Cutting Crew
Looking for a New Love – Jody Watley
With or Without You – U2
The Moon is Still Over Her Shoulder – Michael Johnson
1996
Always Be My Baby – Mariah Carey
Tha Crossroads – Bone thugs-n-harmony
Give Me One Reason – Tracy Chapman
You Win My Love – Shania Twain
2005
Hollaback Girl – Gwen Stefani
Let Me Go – 3 Doors Down
Lonely – Akon
My Give a Damn's Busted – Jo Dee Messina