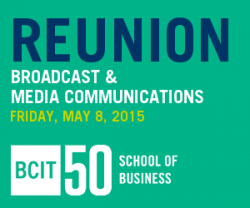 By Julia Foy
For Puget Sound Radio
Monday May the 11th, 2015
.
Under sunny skies, over 350 broadcasters from 50 years of  British Columbia Institute of Technology alumni started pouring into the Hilton at Metrotown in Burnaby BC on Friday night.
.
.
With a rockin' sound track created by Den O'Neill laying the beat, radio ,television and journalism grads from 1966 through 2015 jammed the Crystal Ballroom. The vibe was electric as friends shouted across a sea of laughter.
.
For over 4 hours classmates, workmates and  BCIT Broadcast and Media Communications supporters schmoozed the night away. There were several special guest speakers including Associate Dean Randy Singer, BCIT President Kathy Kinloch, and longtime  former Broadcast Associate Dean Brian Antonson. Kathy gave a nod to a grad from the very first broadcast class of 1966- Gary Hanney who is one of the most famous ( and fabulous) cameramen in the province. She also saluted Rob Nason, who has been an instructor in the BCIT television program for 40 years.
.
MC Brian Adler did a fine job promoting our silent auction, glam photo booth and fun photo stage. But it appears someone fell in love with the Darth Vader helmet and took it home a the end of the night!  A sign of a crazy, fun filled evening.
.
Our broadcast constellation was full of stars, including Tamara Taggart and Mike Killeen of CTV News at 6, and CBC's BC Almanac Gloria Macarenko, and Global BC Morning News Kaitlyn Herbst  just to mention a few.
.
A big shoutout to our Reunion Committee who worked tirelessly for close to a year to make this event happen: Judy Phipps, Susan Einarrson, Kim  Kuhn and hugs to the many faculty and student volunteers who stepped up to help in the final push to the party.
.
Thanks to everyone who came from across the country and around the world to play. Our industry has weathered some rough seas in recent years, but we remain committed to keep producing the best radio, TV and broadcast and online journalism students in Canada.
.
Now that we have celebrated what we have accomplished over the past 50 years, we are focused  on creating a new vision of Media Communications which will blend the strengths of  our 3 programs  into an exciting expanded program for future students.
,
Stay tuned for details!
.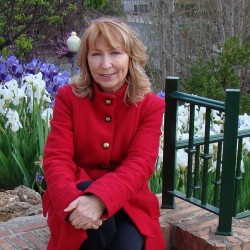 Julia Foy
BCIT Broadcast and Online Journalism Faculty
News Reporter/ Global BC