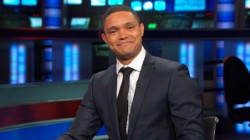 Ezra Levant reports from TheRebel.media:
He hasn't taken over The Daily Show yet, but new host Trevor Noah is raising eyebrows thanks to a series of what some say are anti-Semitic and bigoted tweets.
But are they even funny? Ezra Levant's not convinced — and he explains that part of the way Noah earns his living is on the "Muslim dictatorship comedy circuit".
JOIN TheRebel.media for more news and commentary you won't find anywhere else.
http://www.TheRebel.media