ON THIS DAY in 1901
Guglielmo Marconi arrived in North Sydney N.S. from Newfoundland two weeks after he had received the first transatlantic radio signal at Signal Hill in St. John's Newfoundland; the Anglo-American Telegraph Company, owner of the undersea cable and holder of a monopoly of telegraphy in the province, notified him that it would take legal action unless he immediately ceased his wireless experiments and removed his equipment from Newfoundland. So Marconi set up shop in Cape Breton, where he continued his work. 
On this day in 1921, 
 comedian/author/composer & all around Renaissance man Steve Allen was born in New York City. He began in radio, co-hosted a quarter hour daily comedy show on Mutual, & had a midnight audience-participation show on KNX Radio Hollywood, which morphed into the original NBC-TV Tonight Show from New York.  More TV shows, many books, a movie (The Benny Goodman Story), much pop music writing ….. Steve died at age 78 on October 30th, 2000 after a minor traffic accident caused a blood vessel in his heart wall to rupture.
On this day in 1926, on Nashville radio station WSM, the "WSM Barn Dance" began regular Saturday night broadcasts. Within two years it was renamed the "Grand Ole Opry."

On this day in 1927, standup comedian & actor Alan King was born Irwin Kniberg in New York City.  He appeared 33 times on CBS-TV's Ed Slivan Show, and hosted two PBS discussion series exploring the comedy mind. He also co-hosted both the Tony Awards & the Oscars.  King succumbed to lung cancer May 9, 2004 at age 76.
On this day in 1939, W.C. Handy of Memphis, one of the legendary blues composers of all time, recorded the classic "St. Louis Blues". W.C. and his band recorded in New York for Varsity Records.
On this day in 1944, the No. 1 Billboard Pop Hit was "Don't Fence Me In" by Bing Crosby & theAndrews Sisters.

On this day in 1950, Look sharp! Feel sharp! How are you fixed for blades?" The Gillette Safety Razor Company & Mutual radio signed agreements for the radio rights for the next six years to baseball's World Series and All-Star games. The price tag: a comparatively paltry $6 million dollars.
On this day in 1951, the No. 1 Billboard Pop Hit was "Cry" by Johnnie Ray.
On this day in 1952, the soap opera "Big Sister" was heard for the last time on CBS radio. The show had been on the air for 16 years. "Big Sister" was the ongoing story of Sue Evans Miller and her relationship with her big sister, Ruth Evans.
On this day in 1953, "Oh My Papa" by Eddie Fisher became #1 for 8 weeks on the Cashbox Singles chart.
On this day in 1954, 
 one of radio's most popular programs, "The Shadow", lurked around the airwaves for the final time. (That is, not counting reruns.) Vigilante crime-fighter Lamont Cranston had battled greed and corruption on a weekly basis since 1930. "Who knows what evil lurks in the hearts of men? The Shadow knows…."
On this day in 1955, Bill Haley and the Comets' "See You Later Alligator" was released by Decca Records.
On this day in 1961, Jay & the Americans recorded their future Top Ten hit single "She Cried."

On this day in 1963, wrestler "Gorgeous George" Wagner suffered a fatal heart attack at just 48 years of age.  He had been one of the headliners who helped to make wrestling a popular staple of early television.
Also this day in 1963, Capitol Records rushed to release its first single by The Beatles. "I Want to Hold Your Hand", backed with "I Saw Her Standing There", reached #1 on February 1, 1964. The flood of music by John, Paul, George and Ringo had started the British Invasion, changing contemporary music forever.
Still in 1963, Stevie Wonder arrived in the UK for scheduled appearances on the ITV shows 'Ready Steady Go!' and 'Thank Your Lucky Stars.'
On this day in 1964, The Fab Four got their sixth #1 hit song since February 1, as "I Feel Fine" became the top tune this day. The first five #1 hits by The Beatles were: "I Want to Hold Your Hand", "She Loves You", "Can't Buy Me Love", "Love Me Do" and "A Hard Day's Night".

Also in 1964, after a year of being criticized for their long hair, the Rolling Stones took out an ad in the UK's New Musical Express wishing "starving hairdressers and their families a Happy Christmas."
On this day in 1965, comedians Jack Carter and Stiller and Meara headined CBS-TV's Ed Sullivan Show.  Also appearing were the Boston rock band The Remains, singers Sergio Franchi and Leontyne Price, and the little Italian mouse puppet Topo Gigio.
Also this day in 1965, Beatle Paul McCartney was interviewed on pirate radio station "Radio Caroline" while spending Christmas at his father's home in Cheshire. Later Paul crashed from the moped he was riding and suffered a five-inch cut to his mouth.
On this day in 1966, John Lennon appeared as a men's room attendant in Peter Cook's and Dudley Moore's BBC TV show 'Not only… But also'

On this day in 1967, a sad day for jazz fans, as the Dave Brubeck Quartet formally disbanded after sax man Paul Desmond (2nd from the left) left the group. Desmond was a fixture with the quartet for 16 years and can be heard on all the immortal Brubeck standards, including "Take Five".
Also in 1967, the Beatles film, "Magical Mystery Tour," premiered on BBC television. The next day, the British press and the viewing public pronounced the film an utter disaster. The negative reaction was so strong that a US television deal for broadcasting the movie was cancelled.
Still in 1967, The Monkees recorded their future Cashbox #1 hit single "Valleri."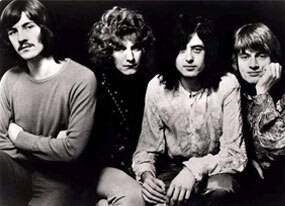 On this day in 1968, Led Zeppelin gave its U.S. debut performance in Denver, as the opening act for Vanilla Fudge.
On this day in 1969, Elton John and lyricist Bernie Taupin began writing songs together. Their long-lasting collaboration is considered one of the most successful of all time.
On this day in 1970, "My Sweet Lord" by George Harrison topped the charts and stayed there for 4 weeks. The record was chosen as the year's best single in a poll by the British magazine Melody Maker, and Harrison was picked as the top male vocalist in a poll of disc  jockeys conducted by Record World magazine.
On this day in 1974, one of the true titans of both bigtime radio & TV, Jack Benny died of pancreatic cancer at age 80.  His weekly radio show was consistently top rated over a 23 year run ending in 1955.  He appeared regularly on CBS-TV from 1950-65.  He is credited with developing a broadcast format for comedy that is still being widely followed today.
Also this day in 1974, the No. 1 Billboard Pop Hit was "Angie Baby" 
 by Helen Reddy. The song was Reddy's third and final No. 1 song.
On this day in 1981, AC/DC's album, "For Those About to Rock We Salute You" was #1 in the U.S. for the first of three weeks.
On this day in 1986, TV's longest-running drama to that time was seen for the last time."Search for Tomorrow" ended its 35-year run on television. The program, seen on CBS until it moved to NBC in 1982, included show veterans Wayne Rogers, Jill Clayburgh, Morgan Fairchild and Don Knotts.
On this day in 1992, longtime New York sportscaster and voice of the NFL Jets Marty Glickman retired at age 75.
On this day in 1998, 
 actor Hurd Hatfield died of a heart attack at age 80. His signature role was in the big screen shocker The Picture of Dorian Gray (pictured), but he also contributed repeatedly to the TV series General Hospital, Hallmark Hall of Fame, Studio One, Climax, and the Dupont Show of the Month, to name just a few.
On this day in 1999, Curtis Mayfield, a pioneer of American soul music who penned some of the most lasting songs of the 1960s and '70s, died at a hospital in Roswell, Ga. of complications from diabetes. He was 57 years old.
On this day in 2000, actor Jason Robards succumbed to lung cancer at age 78.  Many of his most impressive credits were on Broadway & on the big screen, but he also was seen in quality TV movies & mini-series, including The Atlanta Child Murders, Mark Twain & Me, Sakharov, FDR: The Last Year, & Washington: Behind Closed Doors.
On this day in 2001, British actor Nigel Hawthorne 
, a favorite in North America through his character in TV's Yes Minister & Yes, Prime Minister, suffered a heart attack & died at age 72.
On this day in 2003 at noon, CKVX FM (Christmas FM) 104.9 Vancouver dropped its marathon all-Christmas format to become 104.9 Clear FM with a mix of light adult contemporary music and smooth jazz. Today the station is SONIC nation, playing "Hits. Now."  It makes little reference to its heritage call letters, C-FUN.  
On this day in 2004, at midnight CHBE FM 107.3 Victoria finished playing Bing Crosby's "White Christmas", then launched 107-3 KOOL FM playing Black Eyed Peas: "Let's Get it Started" with a hot adult contemporary format. 

Also in 2004, 2Pac went to No.1 on the US album chart with 'Loyal To The Game.'
On this day in 2005, Winnipeg radio station CHNR-FM (The Breeze) became CKFE "Cafe 100.7"with an Adult Album Alternative format.  After failing as HANK FM (country) the station is now branded K-ROCK playing "world class rock."
Also in 2005, Calgary's CIQX-FM dropped "The Breeze" and became "California 103 FM", a combination of Adult Contemporary with Smooth Jazz. That format failed; today the station is XL103 FM playing 'Calgary's Greatest Hits.'

Still in 2005, "Monday Night Football" ended an unprecedented 36-year run on ABC-TV with a lackluster game, a 31-21 New England Patriots victory over the New York Jets. (The series switched to ESPN the following season.)
On this day in 2007, a thirty-year career TV sportscaster in Los Angeles, Stu Nahan died of lymphoma at age 81.

Also in 2007, Amy Winehouse's second album 'Back to Black' was named as the UK's biggest-selling album of the year.
On this day in 2010, singer Bernie Wilson, who 40 years earlier was singing baritone in the R&B group Harold Melvin And The Blue Notes, passed away after both a stroke and a heart attack at age 64.
Also this day in 2010, Ozzy Osbourne once again bashed Christmas in his weekly column for the U.K.'s Sunday Times. He wrote that the holiday is merely an excuse for consumerism and should be wiped off the calendar. "Christmas should be banned. Full stop. Although when I was drinking, I thought it was great, 'cos it was the perfect excuse to get blasted . . . Now I can't stand any of it."
On this day in 2012, soul singer & pianist Fontella Bass, who had the 1965 No.4 single 'Rescue Me,' died of complications following a heart attack aged 72.

Today's Birthdays: 
Actor Donald Moffat (Logan's Run, Eleanor & Franklin: The White House Years) is 84.
Actor/puppeteer Caroll Spinney (Big Bird & Oscar the Grouch on Sesame Street) is 81.
Singer Abdul "Duke" Fakir of the Four Tops is 79.
Canadian country singer Ronnie Prophet is 77. 
Record producer/songwriter/convicted murderer Phil Spector is 75.
"America's Most Wanted" host John Walsh is 70.
Keyboardist Bob Carpenter with The Nitty Gritty Dirt Band is 69.
Toronto-raised comedian/actor Tony Rosato (Ron James Show, Captain N & the Adventures of Super Mario Bros. 3, Night Heat) is 60. 
Actress Tahnee Welch (Falcon Crest, Johnny 2.0) is 53.
Drummer James Kottak of Scorpions is 52.
Country drummer Brian Westrum of Sons of the Desert is 52.
Drummer Lars Ulrich of Metallica is 51.
Actress Nadia Dajani (Ned & Stacey, That's Life) is 49.
Country singer Audrey Wiggins is 48.
Guitarist J (White Zombie) is 48.
Actor Rene L. Moreno (Band of Brothers) is 45.
Guitarist Peter Klett of Candlebox is 45.
Vancouver-raised actor Graham Shiels (General Hospital, True Blood) is 44.
Singer James Mercer of The Shins is 44.
Actor Jared Leto (My So-Called Life) is 43.
Actress Tiffany Brissette (Small Wonder) is 40.
Winnipeg-born actress Nadia Litz (Salem Witch Trials, After the Harvest) is 38.
Rock singer Chris Daughtry (American Idol) is 35.
UK actress Roxanne Pallett (Emmerdale) is 32.
Actress Beth Behrs (2 Broke Girls) is 29.
Actor Kit Harington (Game of Thrones) is 28.
Actress Eden Sher (The Middle) is 23.
Actor Zach Mills (Lucas, October Road) is 19.
Chart Toppers – Dec. 26 
1952
I Saw Mommy Kissing Santa Claus – Jimmy Boyd
Rudolph, the Red-Nosed Reindeer – Gene Autry
White Christmas – Bing Crosby
Back Street Affair – Webb Pierce
1961
The Lion Sleeps Tonight – The Tokens
Run to Him – Bobby Vee
The Twist – Chubby Checker
Walk on By – Leroy Van Dyke
1970
My Sweet Lord /Isn't It a Pity – George Harrison
One Less Bell to Answer – The Fifth Dimension
Knock Three Times – Dawn
Rose Garden – Lynn Anderson
1979
Escape (The Pina Colada Song) – Rupert Holmes
Please Don't Go – K.C. & The Sunshine Band
Send One Your Love – Stevie Wonder
Happy Birthday Darlin' – Conway Twitty
1988
Every Rose Has Its Thorn – Poison
My Prerogative – Bobby Brown
Two Hearts – Phil Collins
When You Say Nothing at All – Keith Whitley
1997
Something About the Way You Look Tonight/Candle in the Wind 1997 – Elton John
How Do I Live – LeAnn Rimes
My Body – LSG
Longneck Bottle – Garth Brooks
2006
Irreplaceable – Beyoncé
Fergalicious  – Fergie
My Love – Justin Timberlake featuring T.I.
Want To – Sugarland