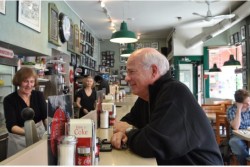 It's a good read in the pages of the Toronto Star .. about the inconspicuous guy in his favorite diner who is only recognizable via his rumbling baritone.
Fascinating too is how Mansbridge was discovered in 1968 as a baggage handler in Churchill Manitoba, who was pressed into making a flight call on the airport PA .. and the next night was working on CBC radio.
The budget shortfall, the termination of hundreds of CBC employees, and the uncertain future after the network loss of Hockey Night in Canada… that's what has Mansbridge worried.
Read the whole story via this link to the Toronto Star website.
http://www.thestar.com/entertainment/2014/05/23/peter_mansbridge_cbcs_anchor_in_a_storm.html