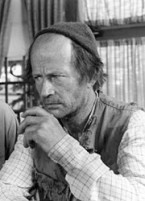 Happy Birthday to Kim Kardashian, Judge Judy, Manfred Mann, Carrie Fisher and the Honeymooner's Joyce Randolph. Also born this date were the late Robert Clothier (pictured) of 'The Beachcombers,' Dizzy Gillespie and Hy Averbach.
The UK's Cliff Richard appeared on CBS-TV's 'Ed Sullivan Show.' Elton John received a star on the Hollywood Walk of Fame. Johnny Mathis scored a #1 hit with 'Chances Are,' and Chuck Berry topped the charts with 'My Ding-a-Ling.' Bob Dylan finished his first album for Columbia, Carl Perkins taped a special for US cable in London, and the new owners of BC radio stations in Powell River and Courtenay changed formats.
Passing on this date were BC broadcasters Bob Hall and Daryl Duke, musicians Edmundo Ros and Bill Black, WWII pinup Marie McDonald, Fred Berry of 'What's Happening,' and Canadian patent medicine pitchman Gilbert Templeton.
ALL the milestones for Oct. 21 INSIDE.
Rodney Crowell should have been a much bigger star than he was…a great writer…
Come Inside and Enjoy this song from Greg's vast collection of musical memories…

ABC is seeking around $1.9 million for a 30-second spot in the program. The cost of a spot in the most recent Oscars award show, hosted in March by Ellen DeGeneres, went for between $1.8 million and $1.9 million. The Oscars are set for a February 22, 2015, broadcast on ABC (& CTV), with Neil Patrick Harris set to host for the first time.
You need to take care of the business of being in business. At times, all of these tasks can be overwhelming and act like a tornado sucking you into the vortex of being in the office.
Come Inside and Read More…
Now that nearly every piece of recorded sound is as easy to find as any other, everyone can finally listen to what we snobs wanted them to hear all along. (Also on the plus side, labels have joined bands in not making any money.)

The homegrown drama will debut simultaneously on City, the Canadian TV network that developed the six one-hour drama, and in all Netflix territories outside of Canada. Also north of the border, Between will initially stream on Shomi.

Happy Birthday to Tom Petty, MASH's William Christopher, 'The Office's John Kranski, country music's Wanda Jackson, plus the late Jerry Ohrbach, Arlene Francis, Grandpa Jones, Dr. Joyce Brothers (pictured) and Will Rogers Jr.
Lee DeForest demonstrated his major invention, the electric vacuum radio tube; radio's 'The Adventures of Sherlock Holmes' debuted on the NBC Red network; ironman news anchor Robert Trout joined CBS radio;'Break the Bank' debuted on Mutual radio; Walter Cronkite debuted the CBS-TV documentary series, 'The Twentieth Century', and Canada's first private TV station signed on in Sudbury Ontario.
Signing off forever were actors Burt Lancaster and Jane Wyatt, plus country music's Merle Travis.
See ALL the milestones for Oct. 20th INSIDE.
Ramblin' Jack Elliott is one of my musical heroes…
Greg Simpson Presents todays feature Inside…

Fred Winston, one of the most famous radio personalities in Chicago history. Winston splits his time between Chicago and his ranch in southern Michigan. Fred Winston, is a Chicago radio legend, who began his career on Chicago radio as an afternoon DJ spinning the hits on WLS back in 1971
Come Inside and Listen to this classic…

Finally, the Bay Area Radio Hall of Fame got it right.
And they did it in about an hour and 40 minutes, substantially shorter than previous inductions at which, say, Ralph Barbieri, former KNBR host, took 24 minutes for his acceptance.
Come INSIDE or the juicy details.