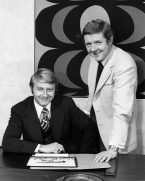 Longtime friend and former ad agency partner Steve Vrlak passed today. My heartfelt condolences to his wife Valerie, his family and friends.

Styx (/stɪks/) is an American rock band from Chicago that formed in 1972 and is best known for melding hard rock guitar balanced with acoustic guitar, synthesizers mixed with acoustic piano, upbeat tracks with power ballads, and incorporating elements of international musical theatre.[6] The band established itself with a progressive rock sound in the 1970s, and began to incorporate pop rock and soft rock elements in the 1980s.

IT WAS MAY 3rd… when National Public Radio began operations in the US with 112 affiliates ….
When President Ronald Reagan began a series of 5-minute Saturday morning radio broadcasts, which most successive presidents have continued ….
When the final episode of the original prime time TV soap opera "Dallas" aired on CBS…
and when the British group Gerry & the Pacemakers made their US TV debut, performing "Don't Let the Sun Catch You Crying" on CBS-TV's Ed Sullivan Show.
ALL the milestones for May 3rd INSIDE.

Premier John Horgan was quite clear last Monday: his NDP government would use the Public Emergency Act to temporarily restrict people's travel outside their own Public Health Region, except for essential reasons.
"This will be conducted through random audits, not unlike roadside checks or CounterAttack during the Christmas season," Horgan explained, as reported on the Global News website.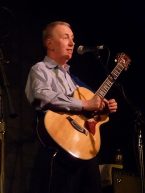 his name is Al Stewart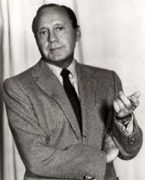 IT WAS MAY 2nd … when comedian Jack Benny (pictured) made his radio debut as star of 'The Canada Dry Program' on NBC Blue …
When Calgary's heritage radio station CFAC (now Sportsnet 960) first aired as CQCA with 10 watts of power …
When radio station WLS Chicago (AM 890) switched its format from Country to Top 40…
When Phil Donahue taped the final episode of his syndicated TV talk show…
and when Ed Sullivan abandoned his vow not to have this British rock group back, and allowed Mick Jagger and The Rolling Stones to make a second appearance on Sullivan's popular Sunday night showcase on CBS-TV.
ALL the milestones for this date INSIDE.

Dani Stover has a wonderful studio with a beautiful sounding microphone and produces content for radio, and podcast. She's not the first unemployed creator to grace the podcast.

Brownstone is an American female contemporary R&B group that was popular during the mid-1990s. They are best known for their 1994 hit single "If You Love Me"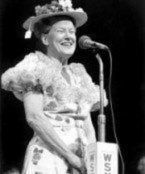 IT WAS MAY 1st … when Edmonton got its first radio station. The Edmonton Journal's CJCA broadcast on 450 metres with 50 watts….
When Vancouver's CKMO moved down the dial from 730 kilocycles to its longtime home at 1410…
When Brooklyn's Larry Zeiger made his first radio broadcast in Miami after his boss renamed him Larry King…
When C-ISL signed on as Richmond BC's first radio station at 940 on the AM dial ..
When both of Kamloops heritage radio stations CFJC & CHNL debuted, though some 44 years apart ..
and when country comedienne Minnie Pearl (pictured) was the surprised honoree on NBC-TV's This Is Your Life.
ALL the milestones for the date INSIDE.

CTV News Vancouver Island is a finalist for six awards for outstanding TV journalism and three awards for excellence in online news.