On THIS DAY in 1907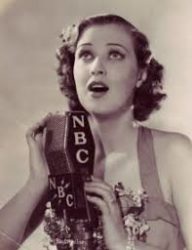 singer Jane Froman was born in Columbia Missouri.
singer: I Only Have Eyes for You, I'll Walk Alone, I Believe; had her own network radio and TV shows. Her life was portrayed by Susan Hayward in the 1952 film With a Song in My Heart. She succumbed to chronic heart and lung disease Apr 22, 1980 at age 72.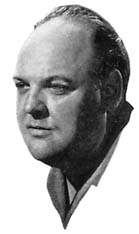 In 1916, bandleader/composer Billy May was born in Pittsburgh. He is best remembered as the band on many of Sinatra's Capitol hits, and the band on Stan Freberg's 1957 CBS radio show.  he died of heart failure Jan 22, 2004 at age 87.
In 1919, announcer & TV host George Fenneman was born in China and grew up in San Francisco. announcer: radio/TV: You Bet Your Life [w/Groucho Marx], Dragnet; TV host: Your Funny, Funny Films, Anybody Can Play; died of emphysema May 29, 1997 at age 77.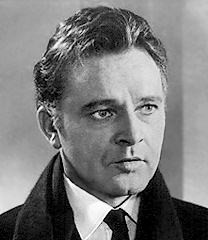 In 1925, British actor Richard Burton was born Richard Walter Jenkins Jr. in Wales. As well as his many big screen roles he was an accomplished narrator, notably on the TV series Winston Churchill-The Valiant Years.  May be best remembered as one of Elizabeth Taylor's ex-husbands.  He died of a cerebral hemorrhage Aug 5, 1984 at age 58.
In 1928, "Carry On," a patriotic song popular in Canada during the Second World War, was first performed at the premiere of the silent film "Carry On Sergeant" in Toronto. The film, coming at the beginning of the era of talking pictures, was a failure, and the song did not become popular until the beginning of the Second World War when it was revived by its lyricist, Gordon V. Thompson. :Carry On" became a kind of theme song for the war effort.
In 1932, jazz pianist and composer Paul Bley was born in Montreal. Bley has worked mostly in the U-S and Europe, and remains largely unknown in Canada. In 1957, he formed a quintet with the then-unknown saxophonist Ornette Coleman. Bley also played with such American jazzmen as Charlie Mingus, Jimmy Giuffre, Don Ellis and Sonny Rollins. In 1964, Bley became a leading figure in the avant-garde jazz movement in New York. He has influenced such younger jazz pianists as Chick Corea and Keith Jarrett.
In 1941, the No. 1 Billboard Pop Hit was the "Piano Concerto in B Flat," by the Freddy Martin Orchestra.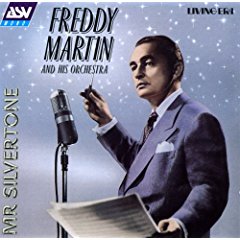 In 1950, a radio comedy series The Magnificent Montague starring Monty Woolley debuted on NBC. It may rank as radio's last original sitcom. Ironically, its final airing was exactly one year later, as TV continued to steal the radio audience.
In 1954, Bill Haley's "Shake Rattle And Roll" peaked at #7 on the Billboard Hot 100. The group's second single was their first Top 10 record in the U.S. after "(We're Gonna) Rock Around The Clock" failed to crack the Top 20 in its initial release.
In 1955, Elvis Presley attended the fourth Country Music Disc Jockey Convention in Nashville. Back at his hotel Mae Boren Axton played him a demo of a new song she had co-written called  'Heartbreak Hotel.' And .. the rest is history!
In 1956, Billboard's annual DJ's Poll found that Elvis Presley was the most-played male pop artist and country artist.
In 1958, John Diefenbaker's Conservative gov't adopted a new Broadcasting Act that created the Board of Broadcast Governors (BBG), which replaced the CBC as regulator of broadcasting in Canada.
Also in 1958, singers Sam Cooke and Lou Rawls were injured and their chauffeur was killed in an auto accident near Marion, Arizona. Cooke wasn't badly hurt, but Rawls was in a coma for five days. Show business legend also has it that Rawls suffered from amnesia following the mishap, and snapped out of it during a concert.
Still in 1958, Billboard magazine reported that Dick Clark's "American Bandstand" show on ABC was the hottest merchandising opportunity on television.  It seems sales of Beechnut gum had doubled since the company begin buying ad space on the program.
Also in 1958, two future Top Five hit singles were released. The Mercury label issued The Platters's fourth and final #1 song "Smoke gets in Your Eyes," while The Crests' Gold Record "Sixteen Candles" (a #2 hit) was released by Coed Records.
In 1960, 13-year-old Greg Allman, was given a guitar as a birthday present. By the  following year, he and older brother Duane had formed a band in Daytona Beach, Florida called the Kings.
In 1961, Elvis Presley was at No.1 on the UK singles chart with 'His Latest Flame/Little Sister.'
In 1964, the emcee of TV's original "Mickey Mouse Club" in the 1950's Jimmie Dodd died of cancer at age 54.
In 1965, The Beatles were in the EMI Abbey Road recording studio in London working on the tracks "The Word" and "I'm Looking Through You."
In 1967, The Moody Blues released their single "Nights in White Satin" to little acclain. It was a re-release 5 years later that turned it into their signature song.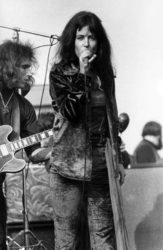 In 1968, after performing their latest single on CBS-TV's "Smothers Brothers Comedy Hour," Jefferson Airplane's Grace Slick, already in partial blackface, gave the "black power salute" (made infamous when a black athlete at that year's Olympics had raised his fist instead of putting his hand over his heart during the U.S. National Anthem).
In 1969, the children's now-classic public TV show  "Sesame Street" made its debut on National Educational Television in the U.S.
Also in 1969, twenty years after the first release of "Rudolph the Red-Nosed Reindeer", Gene Autry was awarded a gold record for his Christmas evergreen. And the album "Led Zeppelin II" also was certified gold.
In 1973, country banjo player and comedian David (Stringbean) Akeman
David (Stringbean) Akemaand his wife were murdered by intruders at their Nashville-area home. Akeman was 58. A longtime member of the Grand Ole Opry, Akeman had become even more well-known through his appearances on the "Hee-Haw" television show.
Also in 1973, Elton John started a eight week run at No.1 on the Billboard album chart with 'Goodbye Yellow Brick Road', his third chart topper.  Meantime former lead singer with The Temptations Eddie Kendricks was No.1 on the singles chart with 'Keep On Truckin'.
Still in 1973, John Lennon met with producer Phil Spector in New York to begin work on an album of oldies covers entitled "Rock 'n' Roll."
In 1974, the NBC series 'MacMillan & Wife' featured blind singer José Feliciano in a dramatic role on the episode "Buried Alive."
In 1979, The Eagles went to No.1 on the Billboard singles chart with 'Heartache Tonight', the group's 5th and final No.1 song.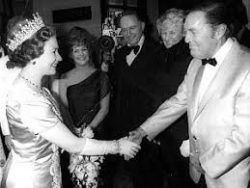 Also this day in 1979, Bill Haley, during his last tour of the British Isles, played for Queen Elizabeth at the annual Royal Variety Performance in London.
In 1980, CBS News anchor Dan Rather claimed he had been kidnapped in a cab. It turned out that Rather had refused to pay the cab fare.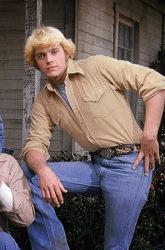 In 1984, TV actor John Schneider had his first number-one country hit with "I've Been Around Enough to Know."
Also in 1984, former Rufus singer Chaka Khan was at No.1 on the UK singles chart with 'I Feel For You.' Written by Prince, the song featured Stevie Wonder on harmonica and the Rap was by Grandmaster Melle Mel.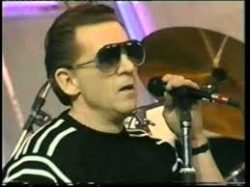 In 1985, Jerry Lee Lewis
entered hospital in Memphis with a bleeding ulcer. He survived surgery that was given only a 50-per-cent chance of succeeding. Jerry died October 28, 2022 at 87.
fans in Canada and the U-S besieged record stores to snap up copies of the five-record album "Bruce Springsteen and the E Street Band Live, 1975-85."

In 1986Fans lined up outside major outlets in Toronto. None of the 40 songs in the collection were new, but Springsteen had never previously issued a live album.
Columbia Records in the U-S said they had sent one-and-a-half million copies to stores. CBS Canada's initial shipment of 50-thousand albums sold out the first day, and 50-thousand more sets were ordered by stores across the country. Sales of 50-thousand albums constitute a gold album in Canada and sales of 100-thousand a platinum album. But the initial rush in sales was not sustained and stores were left holding many unsold copies.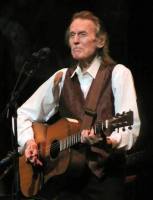 Also in 1986, Gordon Lightfoot was inducted into the Juno Hall of Fame at a ceremony in Toronto. Lightfoot was presented with the award by Bob Dylan. Anne Murray ended her boycott of the Juno Awards by introducing Dylan.
In 1987, Adam Horowitz

of the Beastie Boys rap group was found innocent of assaulting a female fan at a concert in Liverpool, England the previous May. Eighteen-year-old Joanne Clark alleged she received a black eye from a beer can thrown by Horowitz.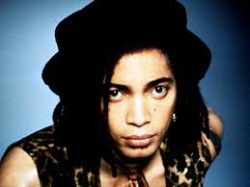 Also on this date in 1987, British singer Terence Trent D'Arby cancelled a show in Austria to protest President Kurt Waldheim, alleged to have participated in Nazi atrocities during the Second World War.
 In 1989, Canada's All-news CKO network signed off forever, the 10 FM stations falling beneath more than a decade of red ink.
Also in 1989, the Clovers, LaVern Baker, Charles Brown, Ruth Brown, Etta James, Jimmy Scott, Percy Sledge and Mary Wells were presented with the first career achievement awards from the Rhythm-and-Blues Foundation. The ceremony took place in Washington at the Smithsonian Institution's Museum of American History.
In 1990, Vanilla Ice's "To the Extreme"
became the first album not available on vinyl to reach number one on the Billboard chart.
Also on this date in 1990, singer Ronnie Dyson,who had a top-10 hit in 1970 with "(If You Let Me Make Love to You Then) Why Can't I Touch You?," died in Philadelphia of heart failure at age 40. Dyson, a longtime smoker, also suffered from chronic lung disease.
In 1991, fans at a show in Augusta, Georgia were treated to an on-stage argument between members of the Atlanta Rhythm Section and the Marshall Tucker Band. The Rhythm Section stormed off stage and headed back to Atlanta. Police said they had a near riot on their hands from fans wanting their money back. A Rhythm Section spokesman said the Atlanta group was unable to set up its drums for the first show because the Marshall Tucker Band had already put its equipment on stage.
In 1992, actor Chuck Connors who starred in the early-TV western The Rifleman, died of lung cancer at age 71.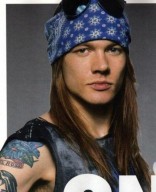 Also in 1992, Axl Rose was found guilty of assault and property damage at a 1991 Guns N' Roses concert in Maryland Heights, Missouri.  He was put on two years probation, and ordered to pay $50,000 to community groups.
Still in 1992, U2, Public Enemy and the Sugarcubes all appeared in concert at Jack Murphy Stadium in San Diego.
In 1993, with sales topping one million, John Mellencamp's "Human Wheels" album was certified platinum.
In 1994, Seattle band Sky Cries Mary became the first act to broadcast live over the Internet. The picture was fuzzy, the sound was on a par with a telephone call and only those with specially-equipped computers could receive the broadcast. Eight days later, the Rolling Stones used the Internet to broadcast 20 minutes of their concert from Dallas.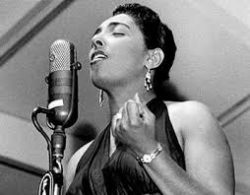 Also on this date in 1994, Carmen McCrae, one of the most critically acclaimed of all jazz singers, died at her home in Beverly Hills. She was 74 and had suffered a stroke a month earlier. McCrae was known for her innovative scat singing and vocal technique, and was recognized by the U-S National Endowment for the Arts in 1993 as a "master of jazz."
Still in 1994, Led Zeppelin's Jimmy Page and Robert Plant performed an all-acoustic version of "Stairway To Heaven" while visiting a TV talk show in Japan.
In 1996, the Carlton Showband disbanded after 33 years, playing its final concert in Brantford, Ontario. The band had been a mainstay in Canadian music since the late 1960's when it gained national popularity on the CTV show "The Pig and Whistle."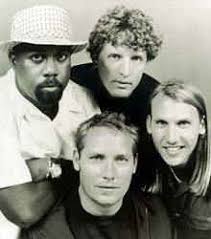 In 1997, Hootie and the Blowfish settled a 150-million-dollar lawsuit by a music promoter who claimed the band dumped him as manager after they hit it big. Terms of the settlement weren't disclosed. Henry Neuman alleged he discovered Hootie at a talent showcase in Charlotte, North Carolina in 1991. He said he was pressured into signing a release from his management contract after the band's huge success with their 1994 album "Cracked Rear View," which sold more than 14 million copies.
In 1999, TV star Ted Danson (Fargo, CSI, Curb Your Enthusiasm, Cheers, Becker, Damages) was awarded a star on the Hollywood Walk of Fame.
In 2001, broadcaster & station owner Joe Chesney died at age 82. A one-time CKNW morning man, he put Langley's CJJC on 850 KHz in 1963.  Five decades later that same station has moved up the dial and is now known as TSN 1040, owned by Bell Media.
In 2002, Mick Jagger, Keith Richards, Tom Petty and Elvis Costello all were guest voices on the "How I Spent My Strummer Vacation" episode of Fox-TV's "The Simpsons."
Also in 2002, Eminem was at No.1 on the US album chart with the '8 Mile Soundtrack.'
In 2003, David Bowie was forced to cancel the remainder of his concert in Nice, France, when the laryngitis he was battling left him unable to continue.
Also in 2003, an emotional tribute to the recently-deceased Johnny Cash was held at Nashville's Ryman Auditorium, featuring classic Cash songs performed by Sheryl Crow, Kris Kristofferson, Willie Nelson, Kid Rock, and Steve Earle, among others.
In 2004, rocker Courtney Love pleaded not-guilty to a felony assault charge in Los Angeles Superior Court. She was accused of attacking a woman with a bottle during an April 25 incident at her ex-boyfriend`s house.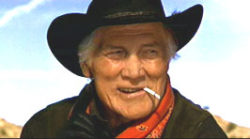 In 2006, actor Jack Palance died at 87 years of age. Palance, in a 54-year career was an Oscar-winner on the big screen and starred in the TV series Bronk and The Greatest Show on Earth, as well as Playhouse 90's acclaimed Requiem for a Heavyweight.
In 2007, actress Laraine Day died at age 87. She guested in dramatic TV over more than 35 years, including on Playhouse 90. She was married for 13 years to baseball manager Leo Durocher and was known as 'The First Lady of Baseball'.
Also in 2007, Carrie  Underwood was at No.1 on the Billboard album chart with 'Carnival Ride', the country-pop singers second album and first No.1.
In 2008, Vancouver's CISL 650 flipped formats at 9 am from "Superhits" (1960-84) to "All Time Favorites" (adult standards 1950-79), to fill the void left when AM600 CKBD flipped to FM and gave up it's 'Unforgettable' format.
Also in 2008, the UK alternative rock band Coldplay were declared the biggest-selling act of the year at the World Music Awards held in Monaco.
Still in 2008, South African-born singer and anti-apartheid activist Miriam Makeba died in Italy.  She had suffered a fatal heart attack while still performing in a fund-raiser at age 76.
In 2010, the radio/TV voice of the Seattle Mariners for their entire 33 year history, Dave Niehaus was silenced forever after a heart attack at age 75.  He has since been immortalized with his own "statue" on the concourse at Safeco Field.

Also in 2010, Kid Rock performed at the 44th Annual CMA Awards in Nashville. Rock was nominated for Musical Event of the Year for "Don't You See," his duet with the Zac Brown Band, but lost to Blake Shelton and Trace Adkins and their song "Hillbilly Bone."
In 2011, Bon Jovi and U2 were finalists for the Top Tour and Top Draw honors at the 2011 Billboard Touring Awards in New York City. U2 won for their 360° tour.
In 2014,  Foo Fighters released the album 'Sonic Highways.'  Recorded in eight cities (hence the title), it featured guest performances by Ben Gibbard of Death Cab For Cutie, The Eagles' Joe Walsh, and Cheap Trick's Rick Nielsen.
In 2015, Allen Toussaint, a musician, songwriter, arranger and record producer who was an influential figure in New Orleans R&B from the 1950s to the end of the century, suffered a fatal heart attack and died at age 77.  He was described as "one of popular music's great backroom figures."
In 2016, the first day of a two-day auction of the late David Bowie's massive art collection netted more than $30.3 million. The auction featured paintings by Jean-Michel Basquiat, Frank Auerbach and Damien Hirst.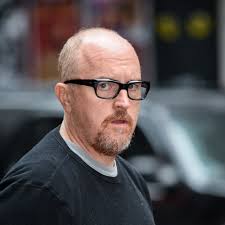 In 2017, comedian Louis C.K. expressed remorse for his behavior in the wake of several women recounting incidents of sexual misconduct in a report that caused entertainment companies to cut ties with him.
In 2018, Aerosmith guitarist Joe Perry collapsed backstage after performing "Walk This Way" during an encore at Billy Joel's Madison Square Garden concert. Perry was rushed to the hospital needing assistance to breathe; he was released six days later.
Today's Birthdays
Blues singer Bobby Rush is 90.
Actress Pippa Scott (Jigsaw John, Mr. Lucky, The Virginian) is 88.
Actor Albert Hall (Men of a Certain Age, Ally McBeal, Young & the Restless') is 86.
Lyricist Tim Rice is 79.
Country singer Donna Fargo is 78.
Singer/songwriter Dave Loggins (Please Come To Boston) is 76.
Seattle-born actress-dancer Ann Reinking (Great Performances: Dance in America) is 73.
Actor Jack Scalia (All My Children, Dallas, Tequila & Bonetti) is 73.
Actress Clare Higgins (EastEnders, Doctor Who) is 68.
Actor-comedian Sinbad (Sinbad Show, Another World) is 67.
Ontario-born actor Matt Craven (NCIS, LA Doctors, High Incident) is 67.
Actress Mackenzie Phillips (One Day At A Time) is 64.
Actor Grant Cramer (The Love & the Restless) is 62.
Comedian Tommy Davidson (In Living Color) is 60.
Actor Hugh Bonneville (Downton Abbey) is 60.
Writer/actor Magnus Scheving (Lazy Town) is 59.
Actress Vanessa Angel (Weird Science) is 57.
Actor Michael Jai White (Black Dynamite, For Better or Worse) is 56.
Country singer/songwriter Chris Cagle is 55.
Comedian Tracy Morgan (30 Rock, Sat. Night Live) is 55.
Actress Ellen Pompeo (Grey's Anatomy) is 54.
Actress/voicist Jennifer Cody (Winx Club) is 54.
Actress Christina Kirk (Powerless, A to Z) is 53.
Actor Orny Adams (Teen Wolf) is 53.
Actor Vince Vieluf (Love Inc.) is 53.
Rapper U-God of Wu-Tang Clan is 53.
Rapper Warren G is 53.
Actor Walton Goggins (The Unicorn, Justified, The Shield) is 52.
Vancouver-born actor David Paetkau (Flashpoint, Whistler) is 50.
Contemporary Christian singer Matt Maher is 49.
Singer-guitarist Jim Adkins of Jimmy Eat World is 48.
Actress Brittany Murphy (King of the Hill, Sister Sister) is 46.
Rapper Eve (Eve Jeffers) is 45.
Bassist Chris Joannou of Silverchair is 44.
Actress Heather Matarazzo (Exes & Ohs, The L Word, Now & Again) is 41.
Award-winning country singer Miranda Lambert is 40.
Actor Lou Ferrigno Jr. (Rush: Inspired by Battlefield, How I Met Your Mother, The Young & the Restless) is 39.
Vancouver-born actress Britt Irvin (Packages from Planet X, Smallville, George of the Jungle) is 39.
Actor Andy Mientus (Smash, The Flash, Gone) is 37.
Actor Josh Peck (Drake and Josh) is 37.
Singer Vinz Dery of Nico and Vinz is 33.
Edmonton-born actress Genevieve Buechner (Caprica, The 4400) is 32.
Toronto-born actor Luke Bilyk (Degrassi: The Next Generation)  is 29.
Actress Zoey Deutch (The Politician, Ringer) is 29.
Actress Kiernan Shipka (Mad Men) is 24.
Actress Mackenzie Foy (The Cookie Mobster) is 23.
Chart Toppers – Nov.10
1951
Because of You – Tony Bennett
I Get Ideas – Tony Martin
Down Yonder – Del Wood
Slow Poke – Pee Wee King
1960
Save the Last Dance for Me – The Drifters
Poetry in Motion – Johnny Tillotson
Georgia on My Mind – Ray Charles
Alabam – Cowboy Copas
1969
Wedding Bell Blues – The 5th Dimension
Come Together – The Beatles
Something – The Beatles
To See My Angel Cry – Conway Twitty
1978
You Needed Me – Anne Murray
MacArthur Park – Donna Summer
Reminiscing – Little River Band
Sleeping Single in a Double Bed – Barbara Mandrell
1987
I Think We're Alone Now – Tiffany
Causing a Commotion – Madonna
Mony Mony "Live" – Billy Idol
Am I Blue – George Strait
1996
No Diggity – BLACKstreet (Featuring Dr. Dre)
It's All Coming Back to e Now – Celine Dion
Un-Break My Heart  – Toni Braxton
Like the Rain – Clint Black
2005
Gold Digger – Kanye West
Because Of You – Kelly Clarkson
My Humps – Black Eyed Peas
Better Life – Keith Urban
Today in Broadcast History compiled by Ron Robinson