ON THIS DAY in 1891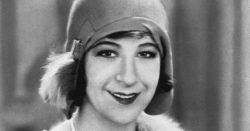 actress/singer Fannie Brice was born in New York City.   A veteran of the Ziegfield Follies, her first broadcast exposure as Baby Snooks was on the Follies radio show, in 1936 when she was 45. It was such a success in the aural medium the impish child characterization would occupy the rest of her life.  Ms. Brice died of a cerebral hemorrhage May 29, 1951 at age 59.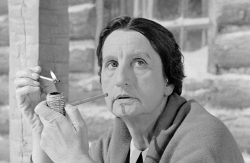 On this day in 1897, actress, Hope Emerson, was born in smalltown Iowa. On radio she became well known as the voice of Elsie the Cow in Borden Milk commercials. On TV she had regular roles on Peter Gunn, (for which she was nominated for an Emmy) I Married Joan, and The Dennis O'Keefe Show.  Emerson died of liver disease April 25 1960 at age 62.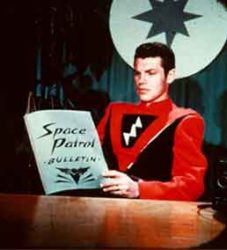 On this day in 1921, actor Ed Kemmer was born in Reading Pa.  He starred as  Commander Buzz Corry in the early TV show Space Patrol.  He had recurring roles in the soaps Another World, As the World Turns, The Secret Storm, The Doctors and The Edge of Night.  Kemmer died of a stroke Nov. 9 2004 at age 83.
On this day in 1922, bandleader/arranger Neal Hefti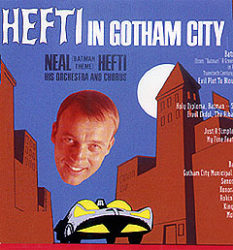 was born in smalltown Nebraska. He is best remembered today as the composer of theme songs for TV's Batman & The Odd Couple. He died Oct. 11 2008, days short of his 86th birthday.
On this day in 1925,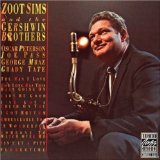 jazz saxaphonist Zoot Sims was born in Inglewood Calif. Throughout his career, he played with renowned bands, including Benny Goodman, Artie Shaw, Woody Herman, Stan Kenton, and Buddy Rich. The Zoot Sims name was also appropriated by TV's Muppets.  He died Mar 23, 1985 at age 59.
Also this day in 1925, actress Geraldine Brooks was born in New York City.  She guested on episodic TV for 26 years, and had recurring roles on the series Faraday & Co, Dumplings, and Love of Life.  Ms.Brooks died of cancer 19 June 1977, at age 51.
On this day in 1930, the tune, "It Must Be True", was recorded on the Victor label by Bing Crosby, who sang with Gus Arnheim and his orchestra.
On this day in 1930, the radio deejay who would become the Big Bopper (J.P. Richardson)with the smash hit Chantilly Lace, was born in Sabine Pass, Texas. He died in the same 1959 plane crash that claimed the lives of Buddy Holly and Richie Valens.
On this day in 1931, the singing cowboy Gene Autry recorded his first hit, "That Silver Haired Daddy Of Mine," which he co-wrote and sang with Jimmy Long.
On this day in 1936, New Brunswick-born country singer Hank Snow made his first recordings, "Lonesome Blue Yodel" and "Prisoned Cowboy."
On this day in 1938, years before Hockey Night in Canada made TV hockey a national institution here, the BBC televised the second and third periods of a game in the Harringay Arena in London, England. It is accepted as the first-ever ice hockey aired on television.
On this day in 1955, singer Slim Whitman joined the Grand Ole Opry, after becoming well known through more than 5 years of radio appearances on the Louisiana Hayride.
On this day in 1956, John Cameron Swayze and The Camel News Caravan on NBC-TV were replaced by Chet Huntley (pictured, right) in New York and David Brinkley in Washington. The Huntley-Brinkley Report clicked so well that the respected newsmen reported nightly until July of 1970. "Good night Chet. Good night David. And good night from NBC News."
Also this day in 1956, CBS had its own innovation as videotape was used for the very first time in network programming. The Douglas Edwards TV news from New York was recorded and the tape fed to West Coast stations three hours later.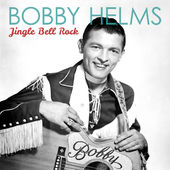 On this day in 1957, Bobby Helms was at the Bradley Studio in Nashville to record "Jingle Bell Rock" for Decca Records. It made it into the Billboard Top Ten pop singles both this year and next, and has been a radio staple at Christmastime every year since.
Still in 1957, Alan Freed's "The Biggest Show Of Stars For 1957" played the Stampede Corral in Calgary. Performers included Fats Domino, Chuck Berry, Buddy Holly and the Crickets, the Everly Brothers, Paul Anka, Clyde McPhatter, Eddie Cochrane, Buddy Knox, Frankie Lymon, LaVern Baker, and The Drifters. Tickets were just $2.50! The show played Edmonton and Regina the next two nights.
Again in 1957, following his concert at LA's Pan Pacific Auditorium, Elvis Presley met TV star Rick Nelson for the first time.  Elvis professed admiration for Rick's current hit "Be-Bop Baby" and for his family's sitcom  "Adventures of Ozzie and Harriet."
On this day in 1958, Elvis Presley attended a Bill Haley concert in Stuttgart, West Germany while stationed there with the U.S. Army.
On this day in 1959, the first corporation to use closed-circuit television was General Mills of Minneapolis, beaming simultaneous meetings in seven US cities.
Also in 1959, Edmonton's CFRN-AM increased power to 10,000 watts from a new transmitter site six miles south of Winterburn, a site still used today.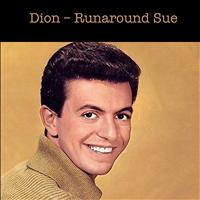 On this day in 1961, the top, pop song on the charts belonged to Dion (DiMucci).   Runaround Sue was in its second week in the #1 spot (it remained in the top 40 for three months.)
On this day in 1963, veteran character actor Adolphe Menjou died at age 73 of chronic hepatitis.   After a lengthy big screen career that began in the silent era, Menjou ended up as host on the TV series My Favorite Story & Target.
Also in 1963, the Hollies began recording sessions in the UK for their first album.
On this day in 1965, the Rolling Stones opened their third North American tour with a concert at the Maurice Richard Arena in Montreal.
Also this day in 1965, the future smash hit "Turn! Turn! Turn!" was released by the Byrds.
On this day in 1970, Neil Diamond was awarded a gold record for his first #1 hit, Cracklin' Rosie.
On ths day in 1971, Allman Brothers guitarist Duane Allman was killed in Macon, Ga. when he crashed his motorcycle to avoid a truck. He was just weeks short of his 25th birthday.
Also in 1971, an NBC-TV special, "The Grand Opening of Walt Disney World," was essentially a 90-minute infomercial for the new Florida park, seen by more than 52 million viewers in the U.S. and Canada.
On this day in 1973, The Who received Gold Record certification for their double album "Quadrophenia."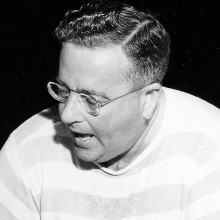 On this day in 1975,  bandleader John Scott Trotter, who was musical director for Bing Crosby on radio, and George Gobel on TV, succumbed to cancer at age 67.  He also conducted the sound track for almost all the Charlie Brown TV specials.
On this day in 1976, in Memphis in his home at Graceland, Elvis Presley recorded "Way Down," "Pledging My Love" and "It's Easy For You." They turned out to be three of the last four songs he would live to record. The fourth tune, his final recording two days later was "He'll Have To Go."
On this day in 1981, the TV sitcom "Gimme A Break," starring Nell Carter, made its debut on N-B-C.
Also this day in 1981, country singer Loretta Lynn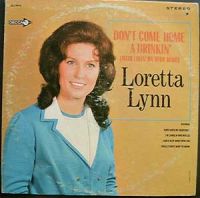 was awarded a Gold Record designation for her album, Greatest Hits, Vol. 2.
On this day in 1983, after four weeks at #1 on the pop music charts, Bonnie Tyler's Total Eclipse of the Heart slipped to #2 — replaced by Islands in the Stream by Kenny Rogers andDolly Parton.
Also this day in 1983, Pink Floyd's Dark Side of the Moon became the longest-charting album of all time when it logged its 491st week on the Billboard Top 200 album chart. The previous champ had been Johnny's Greatest Hits, by Johnny Mathis (490 weeks.) Dark Side of the Moon stayed on the chart for 724 consecutive weeks (740 weeks altogether.)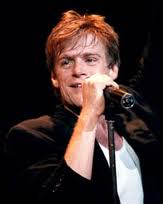 Still in 1983, Kingston Ont.-born rocker Bryan Adams' 'This Time'  peaked at #24 on the Billboard pop singles chart.
On this day in 1984, "I Just Called to Say I Love You" by Stevie Wonder topped the Canadian Singles chart for 11 weeks.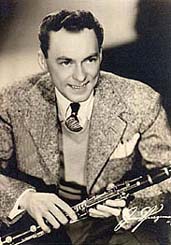 On this day in 1987, influential big band leader and clarinetist Woody Herman died of cardiac arrest at age 74. He had been awarded a Grammy Lifetime Achievement Award earlier in the year.
On this day in 1990, The Byrds, LaVern Baker, John Lee Hooker, The Impressions, Wilson Pickett, Jimmy Reed and Ike & Tina Turner were all inducted into the Rock and Roll Hall of Fame.
On this day in 1991, three members of the group Pink Floyd were injured during an auto race in Mexico when their car rolled 230 feet down an embankment. Guitarist Steve O'Rourke broke his leg and guitarist Dave Gilmour received minor blows to the head. Drummer Nick Mason continued the race.
Also in 1991, city council in Jackson Mississippi  renamed a section of Interstate 55 through their town, The B.B. King Freeway.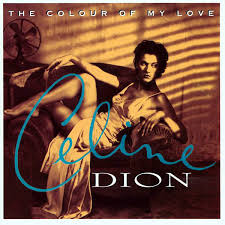 On this day in 1993, Celine Dion's album, 'Colour Of My Love' was released in the US.
Also this day in 1993, TV director Raymond Lockhart (Huntley Brinkley Report), died at age 65.  He worked at NBC for 36 years, and managed and produced election coverage and many special events.
On this day in 1995, Paul Anka guest-starred on the "Treehouse of Horror VI" Halloween episode of Fox-TV's "The Simpsons."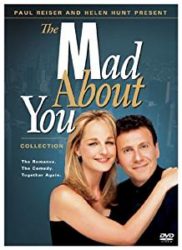 On this day in 1996, the 100th episode of "Mad About You" aired on NBC.
On this day in 1998, three ex members of the San Francisco punk band the Dead Kennedy sued former lead singer Jello Biafra (Eric Reed Boucher), claiming he diverted money owed to his bandmates for his own use.
On this day in 1999, the surviving members of The Who – Pete Townshend, Roger Daltrey and John Entwistle – got back together for the first time in two years, and gave a concert at the Las Vegas MGM Grand.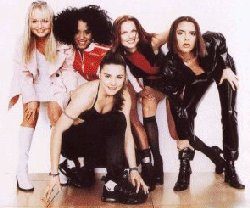 On this day in 2000, The Spice Girls  scored their ninth U.K. No. 1 single as a group, as the double-sided "Holler"/"Let Love Lead The Way" hit the top with first-week sales of 140,000 copies.
Also in 2000, Limp Bizkit started a two-week run at No.1 on the US album chart with 'Chocolate Starfish'.
On this day in 2001, Los Angeles TV station KTLA originated the first coast to coast telecast in HDTV.
Also in 2001, U2 performed for the first time on 'The Late Show with David Letterman' live from the Ed Sullivan Theatre in New York City.
On this day in 2002, Christina Aguilera's album "Stripped" was released.
Also in 2002, Palm Springs, California dedicated a portion of its airport as the Sonny Bono Memorial Concourse, to honor the late singer who served as the town's mayor from 1988 to '92.
On this day in 2003, research in the US found that songs get stuck in our heads because they create a 'cognitive brain itch' that can only be scratched by repeating a tune over and over.  The Neilsen ratings company also found that a full third of the sales of "Beatles 1" were to new fans between the ages of 19 and 24, skewing the Fab Four's fan base even younger than had been the case previously.
On this day in 2004, talented impressionist Vaughn Meader, whose comic spoofing of the Kennedy family made a best seller out of his 1962 comedy album "The First Family" (7.5 million sold), died of pulmonary disease at age 68.
Also in 2004, "CMT Outlaws" aired on the US Country Music channel with Metallica frontman James Hetfield and Kid Rock. The show had been taped outside the infamous Tennessee State prison.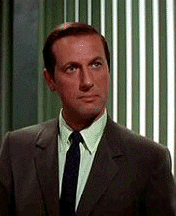 On this day in 2005, Toronto-born actor Lloyd Bochner succumbed to cancer at age 81.  His 68-year acting career took him from Canadian radio to Hollywood films, with a huge component of US TV as well. He was inevitably cast as the "suave, handsome, wealthy villain."
Also in 2005, Nine Inch Nails headlined the Voodoo Music Experience in New Orleans. Proceeds benefited the New Orleans Restoration Fund and other hurricane relief charities.
On this day in 2006, the Rolling Stones entertained Bill and Hillary Clinton at New York's Beacon Theater, belatedly celebrating the former president's 60th birthday. Director Martin Scorsese filmed the performance.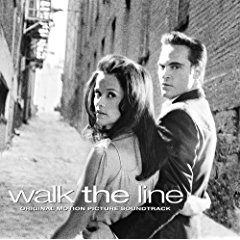 On this day in 2007, Walk the Line with Joaquim Phoenix and Reese Witherspoon, the film about the life of singer Johnny Cash, was voted the greatest music biopic in a poll.
Also this day in 2007, a month after receiving CRTC approval, Astral Media completed its $1.08 billion purchase of Standard Radio assets, thus becoming the largest broadcast undertaking in Canada.
Still in 2007, US cable's Sundance Channel premiered Runnin' Down A Dream: Tom Petty And The Heartbreakers, director Peter Bogdanovich's four-hour documentary about the group. With rare footage and interviews, there were also appearances by Stevie Nicks, Jeff Lynne, Jackson Browne and the late George Harrison.
On this day in 2008, AC/DC's "Black Ice" sold 780,000 copies in its first week of release to top the Billboard 200 chart. The disc, exclusively available at Wal-Mart, Sam's Club and ACDC.com, was only the band's second album to reach #1.
On this day in 2009, Forbes Magazine reported that the late Michael Jackson had earned about 72 million dollars since his death on June 6th. That was good enough for third place on their annual list of deceased celebrities making the most money. That was behind Fashion designer Yves Saint Laurent ($350 million) and songwriters Richard Rodgers and Oscar Hammerstein ($235 million). Elvis Presley was fourth ($55 million).
Also in 2009, the celebration for the Rock and Roll Hall of Fame's 25th anniversary got rolling at New York's Madison Square Garden. U2, Metallica, Tom Morello (Rage Against The Machine), Bruce Springsteen and the E Street Band performed during the two-day event.
On this day in 2010, the late John Lennon won the Royal Mint's public vote by a wide margin (in what would have been his 70th year) and was honored with his own "Great Briton" limited edition £5 coin.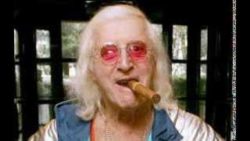 On tis day in 2011, British radio deejay and TV host Jimmy Savile died, two days short of his 85th birthday.  He was the first and last presenter of the BBC's long-running Top of the Pops, and raised an estimated £40 million for charities. A year after his death, hundreds of allegations of child sex abuse and rape became public, revealing Savile as a predatory sex offender, possibly one of Britain's most prolific sexual offenders.
On this day in 2012, Green Day announced that they'd cancelled all dates for '12 and postponed early '13 shows as frontman Billie Joe Armstrong continued his stay in rehab.
On this day in 2013, John Lennon's first home, in Liverpool, was sold for the equivalent of $770,000 at an auction held at the Cavern Club. The red brick terrace at 9 Newcastle Road, Wavertree, was where the member of The Beatles lived from birth, in 1940, until he was five. The property has a rear yard and is a few streets away from Penny Lane, made famous by The Beatles.
On this day in 2014, Slipknot's ".5: The Gray Chapter" topped both the U.S. and Canadian album charts. It was the group's first album in six years, and their first since the death of founding bass player Paul Gray and the dismissal of drummer Joey Jordinson.
On this day in 2015, following a series of farewell concerts, former Grateful Dead members – Bob Weir, Mickey Hart and Bill Kreutzmann – launched a tour with John Mayer as Dead & Company. The first show was in Albany, NY.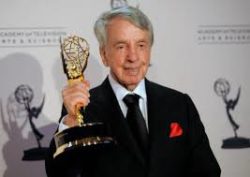 On this day in 2016, Norman Brokaw, an innovative talent agent at the William Morris Agency, who went from mailroom to mogul, died after a long illness at age 89.  Among the major names he represented were the likes of Bill Cosby, Elvis Presley, Marilyn Monroe, Barbara Stanwyck,  Clint Eastwood, Kim Novak, Natalie Wood, Andy Griffith, Barbara Walters and Mary Hart.
On this day in 2018, one-time Molly Hatchet singer from the early 1980's, Jimmy Farrar died at age 68, due to complications from congestive heart, kidney and liver failure.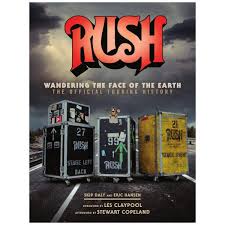 On this day in 2019, "Rush: Wandering The Face Of The Earth: The Official Touring History" was published. The book's title says it all with a forward by Primus's Les Claypool and afterword by The Police's Stewart Copeland.
Today's Birthdays
Country singer Lee Clayton is 81.
Rock musician Denny Laine (Wings, Moody Blues) is 79.
Singer/actress Melba Moore (Falcon Crest) is 78.
Actor Richard Dreyfuss (Education of Max Bickford, Weeds, Parenthood) is 76.
Actress Kate Jackson (original Charlie's Angels, Scarecrow & Mrs. King) is 75.
Actor Scott Jaeck (Santa Barbara, ER, Beverly Hills 90210) is 69.
Voice actor Dan Castellaneta (The Simpsons) is 66.
Actor Scott Thomson (Spaghetti Family) is 66.
Country musician Steve Kellough (Wild Horses) is 66.
Actress Finola Hughes (Blossom, Jack's Place, General Hospital) is 64.
Singer Randy Jackson (The Jacksons) is 62.
Actress Laura Koffman (One Life to Live) is 59.
Rock musician Peter Timmins (Cowboy Junkies) is 58.
Actress Joely Fisher (Til Death, Desperate Housewives, Ellen) is 56.
Actor Rufus Sewell (The Pillars of the Earth) is 56.
TV personality Beth Chapman (Dog the Bounty Hunter, Dog & Beth: On the Hunt) is 56.
Rapper Paris is 56.
Actor Grayson McCouch (Gotham, As the World Turns, Legacy, General Hospital) is 55.
Rock singer SA Martinez (311) is 54.
Toronto-born actor Michael Daingerfield (Smallville, Ace Ventura: Pet Detective, George of the Jungle) is 53.
Yakima Wash.-born actor Christopher Wiehl (Jericho, Bull 2000, First Monday, Switched at Birth) is 53. 
Actor Joe Caniano (Vinyl, Boardwalk Empire) is 53.
Musician Toby Smith is 53.
Actress Winona Ryder (The Lois Wilson Story) is 52.
Actress Gabrielle Union (Being Mary Jane, Flashforward, Seventh Heaven, City of Angels) is 51.
Actress Tracee Ellis Ross (Black-ish, Reed Between the Lines, Girlfriends, The Dish) is 51.
Actor Trevor Lissauer (Sabrina The Teeanaged Witch, Undressed) is 50.
Actress Joy Osmanski (Santa Clarita Diet, True Jackson VP, The Loop) is 48.
Actress Milena Govich (The Defenders, Rescue Me, Law & Order) is 47.
New Westminster-born actor Brendan Fehr (The Night Shift, CSI:Miami, Roswell) is 46.
Actor Jon Abrahams (Boston Public, Ellen: The Ellen Degeneres Show) is 46.
Actor Ben Foster (Six Feet Under, Flash Forward) is 43.
Actress Michele Boyd (Team Unicorn, Solo: The Series, The Guild) is 43.
Vancouver-born actress Chelan Simmons (The L.A. Complex, Action Dad, Kyle XY) is 41.
Actress Alycen Malone (Telenovela) is 41.
Actor Dillon Casey (Remedy, Nikita, Valemount) is 40.
Actor Richard Brancatisano (Chasing Life) is 40.
Rock musician Chris Baio (Vampire Weekend) is 39.
Actor Ben Whitehair (Better Call Saul, Grimm, Manhattan) is 38.
Actress Janet Montgomery (New Amsterdam, Salem, This is Us, Entourage, Human Target) is 38.
Toronto-born actress Italia Ricci (Designated Survivor, Chasing Life, Unnatural History) is 36.
Actress Cleopatra Coleman (Last Man on Earth) is 36.
Actress Cherilyn Wilson(Greetings from Home, I <3 Vampires) is 35.
Actress Chelsea Ricketts (Scream Queens, Flip Flop Shop) is 34.
Actress Carlson Young (As the Bell Rings) is 33.
Actress India Eisley (The Secret Life of the American Teenager) is 30.
Rapper/actor Christopher Jordan Wallace (Scream: the TV Series 2018) is 27.
Chart Toppers – Oct. 29
1948
You Call Everybody Darlin' – Al Trace (vocal: Bob Vincent)
A Tree in the Meadow – Margaret Whiting
Buttons and Bows – Dinah Shore
One Love Has My Name (The Other Has My Heart) – Jimmy Wakely
1957
Honeycomb – Jimmie Rodgers
Jailhouse Rock – Elvis Presley
Hula Love – Buddy Knox
Wake Up Little Susie – The Everly Brothers
1966
96 Tears – ?(Question Mark) & The Mysterians
Last Train to Clarksville – The Monkees
Poor Side of Town – Johnny Rivers
Open Up Your Heart – Buck Owens
1975
Bad Blood – Neil Sedaka
Calypso /I'm Sorry – John Denver
Miracles – Jefferson Starship
San Antonio Stroll – Tanya Tucker
1984
I Just Called to Say I Love You – Stevie Wonder
Caribbean Queen (No More Love on the Run) – Billy Ocean
Hard Habit to Break – Chicago
If You're Gonna Play in Texas (You Gotta Have a Fiddle in the Band – Alabama
1993
Dreamlover – Mariah Carey
Just Kickin' It – Xscape
I'd Do Anything for Love (But I Won't Do That) – Meat Loaf
Easy Come, Easy Go – George Strait
2002
Sk8er Boi – Avril Lavigne
Underneath It All – No Doubt
A Moment Like This – Kelly Clarkson
Somebody Like You – Keith Urban
2011
Someone Like You – Adele
Moves Like Jagger – Maroon 5 featuring Christina Aguilera
Pumped Up Kicks – Foster the People
God Gave Me You – Blake Shelton
Today in Broadcast History compiled by Ron Robinson