ON THIS DAY in 1909
actor Robert Beatty was born in Hamilton Ontario. He went to Britain & made a career in BBC radio & television.  He played Irish detective Philip Odell on the radio from 1947-61.  Beatty also was featured in Ray Bradbury's Martian Chronicles for North American TV.  He died in London Mar 3, 1992 at age 82.
On this day in 1911, bandleader & arranger George Cates  was born in New York. He was Lawrence Welk's musical director beginning in 1951, and conducted the orchestra for the last 10 years of the TV show. Cates died at home May 12, 2002 at age 90.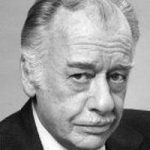 On this day in 1916, actor David Lewis was born in Pittsburgh. He was best known for playing Edward Quartermaine on ABC's General Hospital over 15 years. He died Dec 16 2000 at age 84, after a long illness.
On this day in 1918, comic actor & director Bob Sweeney was born in California.  Onetime comedy partner with Hal March (Sweeney & March) he had running roles in TV's Our Miss Brooks, Fibber McGee and Molly & The Brothers, before turning to TV directing, where he worked on The Andy Griffith Show, Doris Day Show & The Love Boat, among many others.  Sweeney succumbed to cancer June 7 1992 at age 73.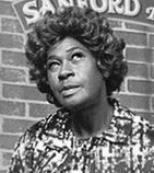 On this day in 1920,  actress LaWanda Page was born in Cleveland. Best known as Aunt Esther on Sanford & Son, she also was in the cast of TV series Amen & Martin. She died Sep 14, 2002 at age 81, due to complications from diabetes.
On this day in 1921, announcer Bern Bennett was born. He was on staff at CBS from 1944 to 2003, nearly 60 years, beginning in radio, then on such TV shows as Toast of the Town (Ed Sullivan), Beat the Clock, To Tell the Truth, and Match Game, subbing for Johnny Olson.  Bennett was the voice of TV soaps 'The Young & the Restless' for 19 years, and 'The Bold & the Beautiful' for 17.  He died May 29, 2014, at age 92.
On this day in 1922, investigative journalist & muckraker Jack Anderson was born in Long Beach California.  Although basically a print reporter he had an effective radio personna & served as commentator for Mutual & USA Radio. Diagnosed with Parkinson's, he died Dec 17, 2005 at age 83.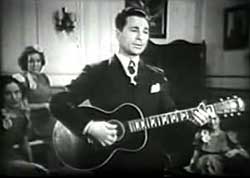 On this day in 1929, the song "Tip Toe Through the Tulips" by Nick Lucas hit #1 and stayed on top for 10 weeks. Years later the song was released by Tiny Tim.
On this day in 1932, auto maker Henry Ford gave his first-ever speech on the radio.
Also this day in 1932, actor Robert Reed was born in suburban Chicago.  Although best remembered as Mike (Dad) on The Brady Bunch, he had prominent roles in other series ..The Defenders, Mannix, Roots and Rich Man, Poor Man.  He died May 12, 1992 at age 59 due to complications from AIDS.
On this day in 1934, singer Dave Guard, one of the founding members of the folk group, the Kingston Trio, was born in Hawaii.  He died March 22 1991 of lymphatic cancer, at age 56.
On this day in 1935, country singer Jim Reeves was born in rural Texas. His crossover hits include "He'll Have to Go," "Adios Amigo," "Welcome To My World," and "Am I Losing You."  Reeves died July 31 1964 when the plane he was piloting crashed in a thunderstorm near Nashville.  He was 29.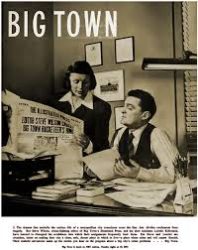 On this day in 1937, the radio classic, "Big Town", made its debut on CBS radio. Star reporters at the Illustrated Press, Steve Wilson and Lorelei Kilbourne, were played by Edward G. Robinson and Claire Trevor. In 1942 they were succeeded by Edward Pawley and Fran Carlon, who carried the show for most of its 14 year run.
Also in 1937, the juvenile adventure radio series Don Winslow of the Navy began a year-and-a-half run on the NBC Blue network.   The 15 min Mon.-Fri. feature was brought back to the Blue schedule for another three months in late 1942.
On this day in 1938, the Bob Crosby Orchestra recorded 'I'm Free' for Decca. Billy Butterfield was featured on trumpet. A few years later, the song would be retitled, 'What's New. ' Under that title it has endured to become a pop standard.
On this day in 1939, singer/composer Tommy Ambrose was born at Toronto. In 1960-61 he hosted the CBC television show While We're Young, hosted his own Tommy Ambrose Show in 1961-63, and from 1975-76 fronted the gospel music show Celebration. More recently he was a prolific writer of advertising jingles.
On this day in 1949, the No. 1 Billboard Pop Hit was "That Lucky Old Sun" by Frankie Laine. That same day Laine was recording "Mule Train," his second straight chart topper for the Mercury label, produced by Mitch Miller.
On this day in 1952, Hank Williams and his second wife, Billie Jean, repeated their wedding vows on a New Orleans stage. Williams died less than three months later.
On this day in 1953, singer Julius LaRosa was unceremoniously fired on the air by Arthur Godfrey, as LaRosa finished singing "Manhattan" on CBS Radio's "Arthur Godfrey Time."  The host said, "Thanks ever so much, Julie. That was Julie's swan song with us…"  Godfrey later held a news conference and claimed that by hiring his own manager, LaRosa had lost his "humility."  The two are pictured here in happier times.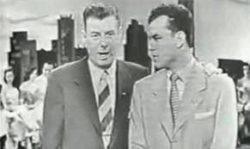 Several historians suggest Godfrey was actually upset Larosa was receiving more fan mail than himself.
On this day in 1955, the Ames Brothers recorded their next Top Twenty single, "It Only Hurts for a Little While."
On this day in 1957, the No. 1 Billboard Pop Hit was "Jailhouse Rock" by Elvis Presley, who also received his draft notice this day.  His military service began the following year.
Also this day in 1957,  CKEK 570 signed on the air in Cranbrook, B.C.
On this day in 1958, Brenda Lee, still weeks short of her 14th birthday, recorded a Johnny Marks song destined to become a seasonal classic, 'Rockin' Around the Christmas Tree.' Floyd Cramer played piano for the Nashville session, Boots Randolph was on sax.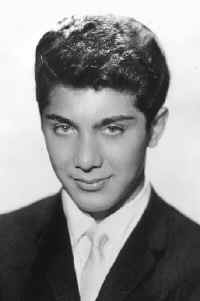 On this day in 1959, Ottawa-born pop singer Paul Anka had a #1 Billboard hit with his single, 'Put Your Head on My Shoulder'.
Also this day in 1959, actress Florence Henderson, destined to be remembered forever as the mother on TV's The Brady Bunch, joined the cast of NBC's Today Show.
On this day in 1963 the Beatles would record one of their big early hits "I Want to Hold Your Hand."
Also this day in 1963, still basking in the success of "I Left My Heart in San Francisco," Tony Bennett recorded his followup single for Columbia, "I Wanna Be Around," which charted even better.
Still this day in 1963, Buck Owens started a 16-week run on top of the U.S. Country chart with 'Love's Gonna Live Here.' It eventually became the biggest of all the Buck Owens hits.
On this day in 1964,
 actor Maurice Gosfield, pictured centre as Pvt. Duane Doberman on Bilko (The Phil Silvers Show), died at age 51 after a heart attack.
On this day in 1967, The Beatles finished guitar and vocal tracks for their next single 'Hello Goodbye' at the Abbey Road studios in London.
Also in 1967, the future hit "I Second That Emotion" by Smokey Robinson & the Miracles was released by Tamla-Motown.
Still in 1967, Jose Feliciano recorded his version of The Door's "Light My Fire," which later won him a Best Performance Grammy.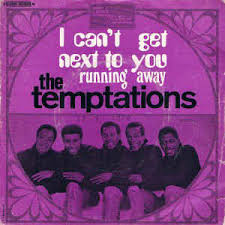 On this day in 1969, the No. 1 Billboard Pop Hit was "I Can't Get Next to You" by The Temptations.
On this day in 1973, Elvis and Priscilla Presley were divorced after six years and one child (Lisa Marie).
Also this day in 1973, Ringo released his single "Photograph."
Also this day in 1974, the song "Nothing from Nothing" by Billy Preston topped the Billboard pop charts. It was his second and last No. 1 hit.
Still in 1974, Bachman Turner Overdrive went to No.1 on the US album chart with 'Not Fragile.'
On this day in 1975, radio innovator & writer Phillips H. Lord died at age 73.  In the 1920's he created & acted the character Seth Parker in a program of rural humour & music.  It became a weekday feature of NBC.  In the 1930's he created Gangbusters, a violent weekly show based on actual crime cases, which ran first on NBC, then CBS and  various networks for 21 years.  His other major success, Mr. District Attorney, ran 13 years.
On this day in 1978, actor Gig Young killed his bride of 3 weeks & then committed suicide at age 64.  She was his 5th wife & literally half his age.  Young had battled alcoholism for years.
On this day in 1979, Fleetwood Mac released their 12th album, the two-disc set "Tusk."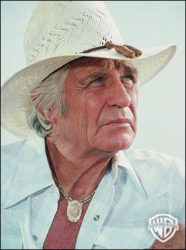 On this day in 1982, the character of Jock Ewing died in an aircrash on the TV show Dallas.This after the death of Jim Davis, the veteran actor who played Jock.
On this day in 1985, "Take on Me", by the Norwegian group a-ha, reached number one on the pop music charts. MTV was playing a-ha's nifty Take on Me video regularly as well.
On this day in 1986, the No. 1 Billboard Pop Hit was "True Colors" by Cyndi Lauper.
On this day in 1988, the US Senate passed a bill curbing ads during TV shows for children.
On this day in 1991, Grant Turner, for 49 years the voice of the Grand Ole Opry on WSM Radio in Nashville, died at age 79.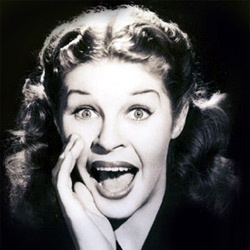 On this day in 1994, comedienne/singer/actress Martha Raye died after a lengthy illness at age 78. The big-mouthed comic appeared with Al Jolson on radio, and had her own weekly TV series 1954-56. Thereafter she was a frequent guest on numerous TV variety shows.
On this day in 1995, African-American jazz trumpeter Don Cherry (not to be confused with the singer/pro golfer or hockey commentator) died of liver failure at age 58.
Also in 1995, Nirvana were at No.1 on the US album chart with 'The Muddy Banks Of The Wishkah.'
Still in 1995, during a North American tour Oasis appeared live on the David Letterman TV show.
On this day in 1997, guitarist Glen Buxton died from pneumonia at age 49. Member of the Alice Cooper Band, he co-wrote their hits 'School's Out' and 'Elected.'
Also in 1997, Vince Gill honored the late John Denver at the Grand Ole Opry by singing his "Take Me Home, Country Roads," a week after Denver had died in a plane crash.
On this day in 2003, Ludacris was atop the Billboard album chart with 'Chicken and Beer,' the rapper's first No.1.
On this day in 2005, a UK survey concluded that the average person spent around £21,000 (US $35,000) on music during their lives.  The figure included the amount spent on Hi-Fi equipment, concerts and CDs.
On this day in 2006, actress Phyllis Kirk died of an aneurism at age 79, at her home in Woodland Hills, California.Among her many roles, Kirk played opposite Peter Lawford in TV's The Thin Man (1957-1959), for which she was nominated for an Emmy.
On this day in 2007, Alice Cooper received the Rock Immortal honor at the Scream Awards (Spike TV's celebration of horror, sci-fi, comics and fantasy) which were broadcast four days later. Rolling Stones guitarist Keith Richards nabbed the Best Cameo Award for Pirates Of The Caribbean: At World's End.
On this day in 2009, a clump of hair believed to have been trimmed from Elvis Presley's head when he joined the Army in 1958 sold for $15,000 at an auction in Chicago. Other items sold belonging to Elvis included a shirt which sold for $52,000, a set of concert-used handkerchiefs, $732, while photos from the reception of Presley's 1967 wedding to Priscilla, sold for nearly $6,000.
On this day in 2010, actor Tom Bosley lost his battle with lung cancer at age 83.  Bosley is best remembered as the father, Howard Cunningham on the hit ABC TV sitcom 'Happy Days.'  Late in his career he played the title role in 'Father Dowling Mysteries.'
On this day in 2011, Maroon 5 frontman and Snowflake Adam Levine went on Twitter to demand that Fox News stop playing his group's music. "Dear Fox News, don't play our music on your evil f***ing channel ever again."
On this day in 2012, Green Day songs were featured in an episode of the CBS-TV crime drama, CSI: NY. "Stop When The Red Lights Flash," "Amy," "Night Life," "Kill The DJ" and "The Forgotten" were the soundtrack for action sequences with no dialogue.
On this day in 2013, UK singer and actor Noel Harrison, the son of Rex Harrison, who in 1968 recorded 'The Windmills of your Mind' which became a Top Ten UK hit the following year, and in the 1970's became a TV host for the CBC in Halifax, died after a heart attack at age 79, hours after completing a performance.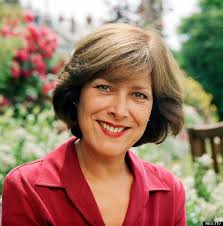 On this day in 2014,  Montreal-born UK actress Lynda Bellingham lost her battle with colon cancer at age 66.  She is best remembered in North America as the second Mrs. James Herriott in the late-80's UK family TV drama 'All Creatures Great & Small.'
Also in 2014, Chattanooga radio legend  Luther Masingill passed away after a short illness at age 92.  With a career that spanned an incredible 74 years, Luther had been at the morning mic at WDEF radio for both Pearl Harbour (1941) and 9/11 (2001).  He had also appeared on the WDEF-TV noon news every weekday since the station signed on in 1954.
Still in 2014, Raphael 'Raf' Ravenscroft, the UK sax player who played the riff on Gerry Rafferty's classic 'Baker Street,' passed away at age 60 of a suspected heart attack.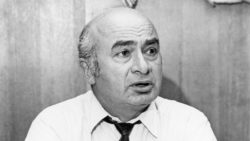 On this day in 2016, Phil Chess, who co-founded Chess Records with his brother Leonard and helped make Chicago the epicenter of the blues, died at age 95. The label (and the producer brothers) furthered the careers of the likes of  Willie Dixon, Muddy Waters, Howlin' Wolf, Bo Diddley, Chuck Berry, Sonny Boy Williamson, Etta James, John Lee Hooker, and Buddy Guy.
On this day in 2018, Iron Maiden's Bruce Dickinson was highly critical of the Rock and Roll Hall of Fame in an Australian interview during his spoken-word tour. After noting that his band, Judas Priest and Motorhead, were not in the Hall, Dickinson added, "it's run by a bunch of sanctimonious bloody Americans who wouldn't know Rock and Roll if it hit them in the face. They need to stop taking Prozac and start drinking f*cking beer."
Today's Birthdays
Actor Tony LoBianco (Love of Life, Police Story) is 87.
Toronto-born singer/songwriter Tommy Ambrose (Cross-Canada Hit Parade, While We're Young, Tommy Ambrose Show, Celebration) is 84.
Actor John Lithgow (Trial & Error, The Crown, 3rd Rock From the Sun, Dexter, Once Upon a Time in Wonderland) is 78.
Singer Jeannie C. Riley (Harper Valley PTA) is 78.
Singer Patrick Simmons of The Doobie Brothers is 75.
Actress Annie Golden (Orange is the New Black) is 72.
Nashville talk show host Charlie Chase (Crook & Chase) is 71.
Actress Pat Klous (The Love Boat, Flying High) is 68.
Actor William O'Leary (Home Improvement, Kamen Rider: Dragon Knight) is 66.
Rock singer-musician Karl Wallinger (World Party) is 66.
MSNBC political analyst Michael Steele is 65.
Singer/actress Jennifer Holliday (Ally McBeal) is 63.
TV host Ty Pennington (Extreme Makeover: Home Edition) is 59.
Actress/TV sushi chef Tracy Griffith (The Monroes, DIY Network) is 58.
Rock singer-musician Todd Park Mohr (Big Head Todd and the Monsters) is 58.
Actor Jon Favreau (Ain't it Cool News, Friends) is 57.
Actress Amy Linker (Square Pegs) is 57.
Writer/actor Rodney Carrington (Rodney) is 55.
Actor Roger R. Cross (Continuum, Motive, The Strain, Arrow) is 54.
Actress Vanessa Marshall (The Grim Adventures of Billy & Mandy) is 54.
Actress Anna Galvin (Mr. Young) is 54.
"South Park" co-creator Trey Parker is 54.
Actor Andy Comeau (Huff) is 53.
Comedian/actor/writer Chris Kattan (The Middle, Sat. Night Live) is 53.
Actress/TV host Tava Smiley (General Hospital, Clean Sweep) is 52.
Rock singer Pras Michel (The Fugees) is 51.
Actor Omar Gooding (Hangin' With Mr. Cooper, One on One) is 47.
Actor Desmond Harrington (Dexter) is 47.
Country singer Cyndi Thomson is 47.
Montreal-born producer/director Jason Reitman (Casual) is 46.
Actor Thom Bishops (Dangerous Liasons) is 45.
Sports reporter/TV host Angela Sun (American Ninja Warrior) is 44.
Actress Katja Herbers (Manhattan) is 43.
Actor Benjamin Salisbury (The Nanny) is 43.
Actress Gillian Jacobs (Community) is 41.
Actress Rebecca Ferguson (The White Queen) is 40.
Singer Zac Barnett of American Authors is 37.
Ontario-born actress Samantha Munro (Degrassi: The Next Generation) is 33. 
Actress Ciara Renee (Legends of Tomorrow 2016) is 33.
Actor Christopher Gerse (Days of Our Lives, Westworld) is 32.
Toronto-born actor Kevin Alves (Degrassi: the Next Generation) is 32. 
Actress Samantha Robinson (The 3-Minute Update) is 32.
Actress Hunter King (The Young and the Restless, Life in Pieces, Hollywood Heights) is 30.
Actor Ty Parker (Jimmy Kimmel Live) is 25.
Actor Art Parkinson (Game of Thrones) is 22.
Chart Toppers – Oct. 19
1947 I Wish I Didn't Love You So – Vaughn Monroe Feudin' and Fightin' – Dorothy Shay Near You – The Francis Craig Orchestra (vocal: Bob Lamm) Smoke! Smoke! Smoke! (That Cigarette) – Tex Williams
1956 Honky Tonk (Parts 1 & 2) – Bill Doggett Just Walking in the Rain – Johnnie Ray Love Me Tender – Elvis Presley Don't Be Cruel /Hound Dog – Elvis Presley
1965 Yesterday – The Beatles Treat Her Right – Roy Head A Lover's Concerto – The Toys Behind the Tear – Sonny James
1974 Nothing from Nothing – Billy Preston Then Came You – Dionne Warwicke & Spinners You Haven't Done Nothin – Stevie Wonder I See the Want To in Your Eyes – Conway Twitty
1983 Total Eclipse of the Heart – Bonnie Tyler Making Love Out of Nothing at All – Air Supply Islands in the Stream – Kenny Rogers & Dolly Parton Paradise Tonight – Charly McClain & Mickey Gilley
1992 End of the Road – Boyz II Men Sometimes Love Just Ain't Enough – Patty Smyth with Don Henley She's Playing Hard to Get – Hi-Five If I Didn't Have You – Randy Travis
2001 Fallin' – Alicia Keys Gone – 'N Sync I'm Real – Jennifer Lopez Where I Come From – Alan Jackson
2010 Just the Way You Are – Bruno Mars Like A G6 – Far East Movement featuring Cataracs & Dev Teenage Dream – Katy Perry The Boys of Fall – Kenny Chesney[/color]
Today in Broadcast History compiled by Ron Robinson