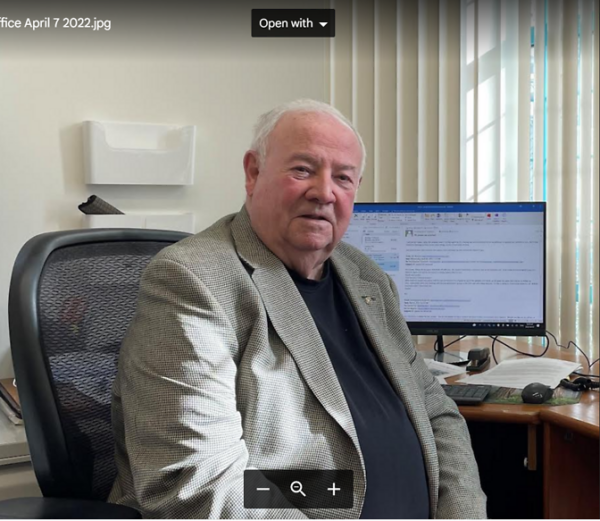 James Watson – March 20, 1942 – November 17, 2022
article by John Gattens
December 11, 2022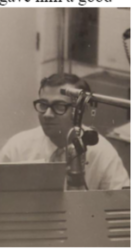 As I left school and moved forward in my career that happened to be in broadcast communications business, my travels took me to many communities throughout Canada. As a budding disc jockey, newsman, sportscaster, copy writer and radio sales person, working at the local radio station CFAR, The Voice of the North gave me good education to move forward. My next radio station was FSL/CJSL in Weyburn and Estevan.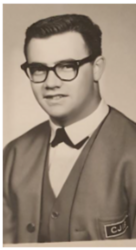 After leaving Winnipeg, I was off to join one of our company's sister radio stations in Victoria, CJVI. Along the way, I stopped off in Vernon, BC in the sunny Okanagan. As I drove out of Winnipeg in March, I recall that it was one of
the coldest days in history. It was about 45 degrees below
zero and who knows what the wind-chill factor was. I do
know that I owned a new Mercury Comet car at that time and
driving out of Winnipeg to Portage La Prairie, the car 'froze-
up' literally. The spark plugs were so cold, the engine quit,
and I had to put it into the Ford/Mercury dealership in Portage
La Prairie overnight to 'thaw-out.' I started out the next day and drove right through to Calgary who happened to be experiencing one of their famous 'chinooks' so it wasn't too cold. The next day I drove through to Vernon to spend a day or two
visiting friends of mine at their local radio station, CJIB.
My visit there changed my direction. I was informed by the
station manager that he didn't think I would enjoy working in
Victoria as it was a very 'old city' and the station still played
classical music during the day. I was leaving a 'rock-station' in
Winnipeg CKRC so he didn't think I would fit in well in
Victoria. He convinced me to stay in Vernon
and do the mid-morning show on the Vernon
station. Within a short period of time, his
production manager left, so I was promoted
to be the station production manager. I
stayed there for a couple of years and
thoroughly enjoyed my work. I had also
moved my wife out to Vernon and seemed to be setting down some roots.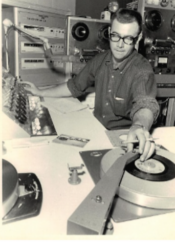 We moved a few miles to the south to Kelowna, BC. and I spent
many years working with CKOV/CJOV FM in various roles.
I also will never forget one regatta I was working at both at the
local radio station CKOV and with the Kinsmen Regatta
Midway – at that time I also owned a small restaurant in town
that had two very large windows in the front.
That year the U.S. Blue Angels Acrobatic Team put on a show
and one of the jets came in too low over Okanagan Lake and
broke the sound barrier – and of course shattered every window
in every business in Kelowna, including mine…..it cost the government millions,
My restaurant had its windows boarded up with plywood for over a month, while they searched for enough class to help everyone out in the city. At the time, I was also
broadcasting in the CKOV Mobile Trailer
I moved yet again, and took on a new job with a national
broadcasting firm located in Vancouver known as "All Canada
Radio & Television" that represented radio and television
stations across Canada and the U.S.A.
Once settled in the Lower Mainland I bought a house in Port
Coquitlam, BC then moved my family into our home.
I worked with the All Canada Radio & Television for over 10
years. I then branched out with my radio voice, knowledge of
videography, sales, and media contacts to run a fantastic number
of Capital Campaigns for so many not for profit groups. I credit
my abilities and passion to the Kinsmen Clubs that I was apart
of for over 55 years.
I went on to become the Chair of the Rick Hansen Man
in Motion World Tour as Rick was wheeling around
the world, had the opportunity to start the Kin Canada
Foundation, and work on the Kinsmen Foundation of BC.
In 2018 Jim was awarded the Sovereign's Medal for volunteers by Julie Payette the Governor General .
He most certainly will be missed in the community and in the broadcast business