April 2, 2022
Dr. Sport: Few have contributed more to a sport than Glen Todd did for thoroughbred horse racing.
As if the thoroughbred horse racing industry in British Columbia isn't facing enough problems trying to survive, it was hit with another crushing blow last weekend with news of Glen Todd's passing.
Todd, 75, meant so much to so many at Hastings Racecourse in what is passionately referred to as the Sport of Kings.
There was nothing the man wouldn't do to keep the racing industry alive in Vancouver.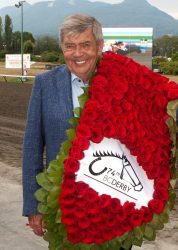 He was a breeder, owner, trainer and, midway through last season, a financier with his $1 million interest-free loan to fund purses when pleas to the provincial government for emergency funding fell upon deaf ears.
Without Todd's stunning financial gesture, Vancouver's longest continuously active professional sports facility would have shut down in mid-August, 2021.
Read More HERE