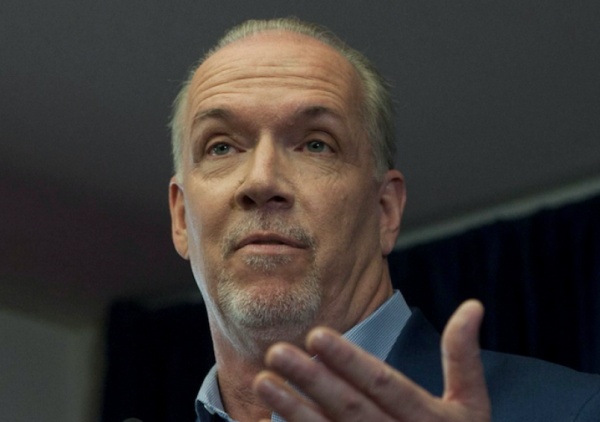 by Harvey Oberfeld
April 25, 2021
Premier John Horgan was quite clear last Monday: his NDP government would use the Public Emergency Act to temporarily restrict people's travel outside their own Public Health Region, except for essential reasons.
"This will be conducted through random audits, not unlike roadside checks or CounterAttack during the Christmas season," Horgan explained, as reported on the Global News website.
"Everybody will be asked where they're going and where they came from. It's not heavy-handed in my mind. It's random and it will be done at a particular place at a particular time."
Yes, the Premier had explained his plan very well.
But if implemented as Horgan said … disallowing any "non-essential" travel between health regions … it would indeed have prevented anyone from Vancouver to travel into Burnaby, New Westminster, Surrey etc … and vice versa…. because they're in two different Health Regions.
The story hit the fan: the "people" were very unhappy; Civil Liberties experts raised serious concerns; municipal and police officials expressed doubts how/whether they could/should enforce it; and, social media (including this Blog) lit up with questions, concerns, condemnations.
You can review my rant about Horgan's announcement here: http://harveyoberfeld.ca/blog/bc-imposes-collective-punishment-while-covid-scofflaws-go-free-uncharged/.
Tuesday, the government began backing down from Horgan's announcement. Yes, BACKING DOWN! With little snippets here and there …. Public Safety Minister Mike Farnworth leading the retreat.
Vancouver Sun columnist was on to it: https://vancouversun.com/opinion/columnists/vaughn-palmer-this-time-its-farnworth-who-explains-what-the-premier-meant-to-say
Of course, governments don't like to be seen backing down (especially within hours) from any plan they've announced … particularly when it came direct from the mouth of the Premier!
So the "spin" began.
CTV Vancouver Island journalist Brendan Strain pushed for the true story of what was happening, and then reported:  "We kept getting passed around to different ministries and were told more clarification will be coming later in the week."
"Clarification" ????
Ahh! Yes … "clarification". LOL!
"Clarification" is a SPIN word … used by politicians and bureaucrats who say, announce, do something really stupid, impractical and unenforceable and then, after it gets a terrible reaction … realize they have to get their foot (or sometimes both feet) out of their mouths.
But instead of admitting they made a gaffe … they "clarify".
Spin! Spin! Spin!
And it worked. (CAPS below in each case are mine.)
"The latest CLARIFICATIONS on the upcoming Covid 19 travel restrictions in BC are good news for Lower Mainlanders. The government says Metro Vancouver drivers will not have to worry about travel checkpoints," Global TV's Newshour told their viewers Wednesday.
A double bonus! Not only "clarify", but turn it into "good news"! LOL!!
It went on and on …
"The National Police Federation, representing thousands of officers, is slamming the plan for checkstops to ban people from traveling outside their region and it comes as the province is CLARIFYING where you can and cannot go," explained CTV News at Six.
" Farnworth provided a piece of further CLARITY on Wednesday for two neighbouring health authorities: The minister said Vancouver Coastal Health and Fraser Health will be considered a single region under the new orders.," the CBC reported.
"Province CLARIFIES rules on travel restrictions, checkpoints" headlined Kamloops This Week.
"B.C. CLARIFIES COVID-19 travel restrictions, Lower Mainland a single zone," headlined the Abbotsford News.
"Public Safety Minister Mike Farnworth CLARIFIED Tuesday, saying the province is examining the use of periodic roadblocks only set up at places like BC Ferries or on Highway 1 leaving the Lower Mainland, to discourage recreational travel, and not conducting random individual stops," Global News' website reported.
Sad to see so many BC media gave the story, in my view, the kinder, gentler "CLARIFICATION" spin instead of telling their readers, listeners and viewers the TRUTH: the government had backed away, abandoned Horgan's dumb, ill-thought-out, impractical announced plan. Period!
That's the way the story should have been reported: TRUTHFULLY.
Words matter.
Was it a coincidence that so many media used versions of "clarify" to explain the government's backdown? Or did the NDP's spin doctors just do their job wonderfully?
I suspect the latter.
Former BC Premiers must look on in wonder at how Horgan could be responsible for such a public blunder, witness the resulting confusion, hear the negative reactions and then have his government do a massive retraction … and, yet, face no questioning about how, why the Premier himself messed up so badly… and made no apology.
Where ARE BC's "political" reporters? Where ARE their News Directors/Managers?
How can there be NO questions from the media DIRECT to the Premier about what happened, why and how HE held a press conference to announce there would be " random audits, not unlike roadside checks or CounterAttack during the Christmas season" … causing days of province-wide confusion, concerns, anger, defiance … and then it is all dropped, canceled within days … as if it was an April Fool's joke … three weeks late!
No one was laughing.
BC's media have to do a better job telling stories as they really are … and asking TOUGH questions when the Premier makes a mess, adding to an already difficult situation, and then his government has to back down!
Friday, Farnworth announced a ban on non-essential travel BETWEEN Health Region zones until May 25 … BUT Vancouver Coastal and Fraser Health Regions, along with Northern and Interior Health Regions will be regarded as single regions for the purposes of travel.
And NO roadside checks within/between municipalities. Period!!!
There could be ferry/highway checks to prevent non-essential provincial travel between the large health zones, with $575 tickets handed out to violators. But the government hasn't even agreed yet with the RCMP if/how/where that will be tried.
All in all, an intriguing/confusing/controversial week in BC: and readers of this Blog had a great opportunity to see/experience how "spin" actually works.
Hopefully we can all spot it better from now on … even if BC's media cannot, or will not.