ON THIS DAY in 1889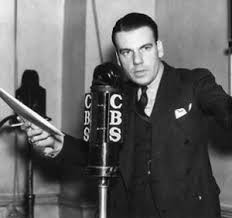 actor Ned Wever was born in New York City.  Throughout the 1930's and '40's he was a busy East Coast radio actor, from playing lead roles  in Bulldog Drummond, Dick Tracy, Young Widder Brown and Under Arrest, to recurring roles on The Adventures of Superman, The Shadow, Show Boat and Big Sister, among many others.   In early TV he appeared in Perry Mason, Arthur Hitchcock Presents, Bonanza, The Millionaire and Get Smart.   Wever died May 6 1984 at age 95.
In 1900, cartoonist & animator Walter Lantz, the creator of Woody Woodpecker, was born in New Rochelle New York.  He died of heart failure March 22 1994 at age 93.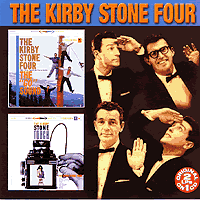 In 1918, jazz combo leader Kirby Stone was born in New York City. Originally an instrumental quintet, hiis group became a vocal foursome (Kirby Stone Four) before making a name for themselves in nightclubs and local television, as well as The Ed Sullivan Show. Signed to Columbia Records they had a Top 30 Hit in 1958 with Baubles Bangles & Beads.
In 1927, radio station KIRO Seattle first began broadcasting as 50-watt KPCB at 521 meters (580 khz.) The initials stood for the Pacific Coast Biscuit Co.  Moved to its 77 year home at 710 khz in 1934, and became KIRO in '35.
In 1932, deejay Casey Kasem (below) was born in Detroit.   As well as his disc jockey work Kasem was a music historian, actor and voice actor, known for being the host of several music radio countdown programs, most notably American Top 40, from 1970 until his retirement in 2009, and for providing the voice of "Shaggy" Rogers in the Scooby-Doo franchise from 1969 to 1997, and again from 2002 until 2009. Suffering from Parkinson's disease and Lewy body dementia, Casey died June 15th 2014 at age 82.                                                                                      
In 1933, Karl Jansky reported receiving cosmic radio signals in Washington, D.C. It became widely known through a report in The New York Times 10 days later.
In 1938, Tommy Dorsey and his orchestra recorded 'I Hadn't Anyone 'til You' for Victor Records. Jack Leonard was featured as vocalist. .
In 1956, Capitol Records signed singer Gene Vincent, whom they hoped would become the next Elvis Presley.
In 1957, in a rare appearance outside the US, Elvis Presley performed at Maple Leaf Gardens in Toronto, where he wore his full gold lamé suit for the last time.
In 1958, on CBS-TV's Ed Sullivan Show, the Everly Brothers sang their new release and soon-to-be #1 hit "All I Have to Do is Dream."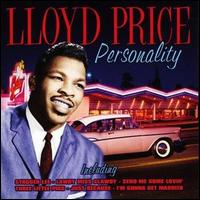 In 1959, Lloyd Price's soon-to-be-smash-hit, Personality, was released. Price had 10 songs that made it onto America's pop music charts in the 1950s through early '60s.
Also in 1959, NBC TV's "Today" show went abroad for the 1st time .. to Paris France.
In 1963, "I Will Follow Him" by Little Peggy March started a three week run at No.1 on the Billboard singles chart. At 15 years, 1 month and 13 days old, Little Peggy became theyoungest female singer in North America to have a No.1 record.
In 1964, The Beatles' "Love Me Do" was released in the US, some 18 months after it went on sale in the UK.
In 1965, actor Alan Bunce, who was Albert in the longrunning "Ethel & Albert" radio show (later named "The Couple Next Door"), & also costarred in the TV version, died at age 64.

Also in 1965, the legendary CBS journalist & news executive (and chain smoker) Edward R Murrow, succumbed to lung cancer at age 57.
In 1968, Simon & Garfunkel's soon-to-be smash hit "Mrs. Robinson" was released on Columbia Records.
In 1969, Glen Campbell and Dionne Warwick were guests on Jose Feliciano's NBC TV special. Meantime, on CBS, Joe Cocker made his debut appearance on "The Ed SullivanShow."
In 1971, the final episode of "Green Acres" aired on CBS-TV.
In 1972, rocker Phil King of the Blue Oyster Cult, was shot in the head & died at age 24 while gambling.
In 1973, the country music theme park Opryland opened in Nashville, TN.

In 1976, Maxine Nightingale was certified for a Gold Record for the single, "Right Back Where We Started From." Nightingale was in the Broadway productions of Hair, Jesus Christ Superstar, Godspell and Savages in the early '70s. Right Back Where We Started From was a number two hit for two weeks in '76.
Also in 1976, the LP "Come on Over" by Olivia Newton-John was certified as a Gold Record.
In 1979, in a surprise appearance at a Duke Ellington tribute concert at UCLA, Stevie Wonder sang his own hit tribute song "Sir Duke," as well as Ellington's "C-Jam Blues."

In 1982, actor Tom Tully, who co-starred in CBS TV's answer to Dragnet, The Line-up, succumbed to cancer at age 73.
In 1984, Vancouver-based singer Lorraine McAllister died, just two weeks after her 62nd birthday.  She was best remembered as vocalist with the Dal Richards Orchestra (she was also Mrs. Richards) heard weekly for more than 20 years on CBC Radio, and as star of her own early CBC TV show, 'Here's Lorraine.'
In 1985, USA For Africa started a three-week run at No.1 on the Billboard chart with 'We Are The World'.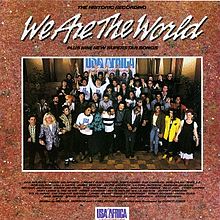 The US artists' answer to Band Aid had an all-star cast including Stevie Wonder, Tina Turner, Bruce Springsteen, Diana Ross, Bob Dylan, Daryl Hall, Huey Lewis, Cyndi Lauper, Kim Carnes, Ray Charles, Billy Joel and Paul Simon, plus the composers of the track, Michael Jackson and Lionel Richie.
In 1986, electronic engineer John R. MacDougall, also known as Captain Midnight, jammed HBO's satellite signal to broadcast a message protesting their rates for satellite dish owners.
Also in 1986, the No. 1 Billboard Pop Hit was "Addicted to Love" by Robert Palmer. This was Palmer's first No. 1 single.
In 1990, David Bowie began the U-S leg of his "Sound and Vision" world tour. He said the tour would mark the last time he performed his old hits.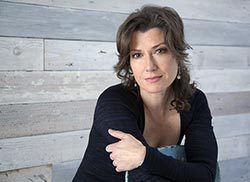 Also in 1991, Christian singer Amy Grant started a two week run at No.1 on the Billboard singles chart with 'Baby Baby.'
In 1994, Chicago scored their third Billboard No.1 album with 'Chicago VII'.
Also in 1994, the historic Fillmore Auditorium reopened in San Francisco. The first show featured the Smashing Pumpkins, Ry Cooder & David Lindley and American Music Club.
In 1996, actress Joan Sterndale Bennett, who played Elizabeth on TV's Dark Shadows, died at age 86.
In 1998, "Big John" Bassett, founder of CFTO-TV Toronto, died after a short illness at age 82.
In 1999, A-list film composers Philip Glass ("The Truman Show") and James Horner ("Deep Impact," "The Mask of Zorro") were among those honored at ASCAP's 14th annual Film and Television Awards gala in Los Angeles.

Also in 1999, R.E.M. made its television series debut on FOX's "Party Of Five."  The episode featured Claudia (Lacey Shabert) and her boyfriend Cody (Chad Todhunter) at a concert by the band.
Still in 1999, trumpeter & bandleader Al Hirt, aged 67, died in New Orleans of liver failure. Hirt began his career with Benny Goodman and Jimmy & Tommy Dorsey and was frequently partnered with clarinetist Pete Fountain; he then became a successful Dixieland bandleader and a ubiquitous TV performer during the 1960s.
In 2000, singer Vicki Sue Robinson died of cancer, just weeks short of her 46th birthday. She had the 1976 disco hit 'Turn The Beat Around', and sang back-up vocals on Irene Cara's Top Ten hit single 'Fame.'
In 2001, the cable network A&E aired "Live By Request" in which the BeeGees performed many of their hit songs.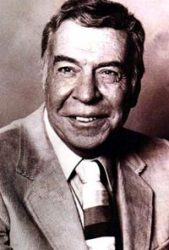 In 2002, Jack Cullen, the loveable 'bad boy' of Vancouver radio for over 50 years (CKWX, CKMO, CKNW, CFUN, CKST) passed away at St. Mary's Hospital in New Westminster, at the age of 80.
In 2003, American Idol winner Kelly Clarkson was at No.1 on the Billboard album chart with 'Thankful.'
In 2004, Elton John publicly slammed the audience of Fox TV's 'American Idol' as 'incredibly racist', after call-in voters failed to keep the talented Jennifer Hudson on the show.
In 2006 in Fiji, Keith Richards was admitted to hospital in Fiji for treatment of a head injury reportedly suffered when he fell out of a palm tree.
In 2007, John Mellencamp (below) entertained wounded military personnel at the Walter Reed Army Medical Center in Washington, D.C. The performance was televised live on HDNet. "You can support the troops and not support the war," said Mellencamp, a vocal critic of the Iraq invasion.

In 2008, The Sunday Times of London's annual Rich List, a tally of Britain's wealthiest music figures, had Paul McCartney at #2 with an estimated $995 million fortune. That put the ex-Beatle ahead of Elton John and Mick Jagger. Record exec Clive Calder was #1.
In 2009, Aerosmith was to hold a free concert in Hawaii to placate angry fans who brought a legal case against them. Fans filed a class action case, which claimed the band had cancelled a sold-out show in Maui two years earlier, leaving hundreds of fans out of pocket in favour of a bigger gig in Chicago.
Also in 2009, Pearl Jam bassist Jeff Ament was the victim of a robbery outside Southern Tracks Recording studios in Atlanta, where the band's rented Jeep was broken into by three masked thugs. The robbers grabbed a BlackBerry and Ament's passport and stole $3,000 in cash and $4,320 worth of goods.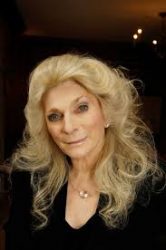 In 2010, the U.S. Internal Revenue Service filed a $116,000 tax lien against singer Judy Collins.
Also in 2010, Melissa Etheridge released her tenth album, "Fearless Love."
In 2011, musical comedy actress Marian Mercer, who played Nancy on ABC-TV's 1980s sitcom "It's a Living," died at age 75 from complications of Alzheimer's disease.
In 2012, Motley Crue singer Vince Neil appeared on the season finale of "Ghost Adventures," the cable TV paranormal series on The Travel Channel. Vince teamed up with the show's paranormal investigators.
In 2013, Slash appeared in a PSA style video calling attention to the crisis facing sharks. "Recent data shows that over 100 million sharks are being killed a year," he stated. "That's three sharks every second. That's unsustainable and it's not cool. We need sharks to have a healthy ocean."
In 2015,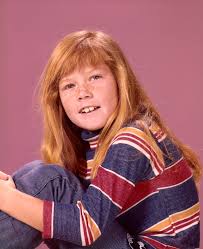 former child actress Suzanne Crough, who played Tracy the youngest member of ABC-TV's The Partridge Family, died of a rare heart ailment at age 52.
In 2016, Canadian businessman Philip Kives, who invented and developed the infomercial, and who wrote and directed the K-Tel TV spots that made him his first fortune, died at age 87.
In 2018, former NBC 'Nightly News' anchor Tom Brokaw fought back against Linda Vester, one of three women accusing him of unwanted sexual advances, claiming she was an angry former colleague with a grudge against NBC News.
In 2019, while entrepreneurs appear on ABC's "Shark Tank" to prowl for attention and cash, the Wall Street Journal reported they also could end up being prey—for copycats selling knockoffs of ideas pitched on the reality TV show.
In 2020, Calgary sportscaster Russ Peake lost his lengthy battle with cancer at age 80.
Former CBS newsman Phil Jones is 84.
Newfoundland-born drummer Jerry Mercer (April Wine, Mashmakhan) is 82.
Singer Ann Peebles is 74.
Singer Kate Pierson of The B-52's is 73.
Singer Herbie Murrell of The Stylistics is 72.
Actor Douglas Sheehan (Clueless, Day by Day, Knots Landing) is 72.
Guitarist Ace Frehley (Kiss) is 70.
Actor Kevin McNally (TURN: Washington's Spies, Downton Abbey) is 65.
Singer/actress Sheena Easton (Miami Vice) is 62.
Actor James Le Gros (Mercy, Ally McBeal, Sleeper Cell) is 59.
Ontario-born actor Michael Mahonen (Avonlea, Road to Avonlea) is 57.
Actress Lisa Wilcox (General Hospital) is 57.
Actress Anna Chancellor (The Hour, MI-5) is 56.
Bassist Rob Squires of Big Head Todd and the Monsters is 56.
Toronto-born actress Ingrid Rogers (Titans of Justice, All My Children) is 53.
Actor Paulino Nunes (Slasher, Shadowhunters: The Mortal Instruments) is 53.
Singer Mica Paris is 52.
Actress Kylie Travis (C.P.W., Gia) is 51.
Actor David Lascher (Sabrina the Teenage Witch, Clueless, Blossom) is 49.
Actress Maura West (As The World Turns, General Hospital) is 49.
Actor Andre Bower (Mr. President, Valerie, The Young & the Restless) is 48.
Actress Jillian Bach (Two Guys A Girl & a Pizza Place, Courting Alex, The Mentalist) is 48.
Toronto-born actress Elle Downs (The Grid, Sorority Surrogate, Road to Bountiful) is 48.
Actor Cristian Solimeno (Guilt) is 46.
Actress Sally Hawkins (Little Britain) is 45.
Actor Ian Michael Giatti (Falcon Crest) is 44.
Singer Jim James of My Morning Jacket is 43.
Drummer Patrick Hallahan of My Morning Jacket is 43.
Actress Janelle Marra (N.Y.P.D.M.) is 42.
Actress Christine Bottomley (Heartbeat) is 42.
Singer-guitarist Travis Meeks of Days of the New is 42.
Bassist Joseph Pope the Third of Nathaniel Rateliff and the Night Sweats is 42.
Actress Katrina Johnson (All That) is 39.
Guitarist John Osborne of Brothers Osborne is 39.
Actor Francis Capra (Veronica Mars) is 38.
TV personality Corey Harrison (Pawn Stars) is 38.
Actress Ari Graynor (Mrs. America, I'm Dying Up Here, Bad Teacher, Fringe) is 38.
Actress Meg Cionni (The Mobile Oval) is 37.
Singer-guitarist Patrick Stump of Fall Out Boy is 37.
Actress Sheila Vand (24: Legacy, State of Affairs, Prom Queen) is 36.
UK actress Jenna Coleman (Victoria, Dr. Who, Dancing on the Edge) is 35.
Singer Nick Noonan of Karmin is 35.
Actress Laura Ortiz (Fish Hooks, Holliston, The Real Housewives of Horror) is 34.
Actor William Moseley (The Royals) is 34.
Actress Emily Rios (The Bridge, Breaking Bad, Men of a Certain Age) is 32.
Actress Rebecca Ryan (Shameless UK, State of Play) is 30.
Cranbrook BC-born child actress Brooklynn Proulx (Dear Santa, Man in the Mirror: The Michael Jackson Story, Touch the Top of the World) is 22. 
.
Chart Toppers – April 27
1948
Now is the Hour – Bing Crosby
The Dickey Bird Song – The Freddy Martin Orchestra vocal: Glenn Hughes)
Manana – Peggy Lee
Anytime – Eddy Arnold
1957
Little Darlin' – The Diamonds
All Shook Up – Elvis Presley
Mama Look at Bubu – Harry Belafonte
Gone – Ferlin Husky
1966
(You're My) Soul and Inspiration – The Righteous Brothers
(Bang Bang) My Baby Shot Me Down – Cher
Secret Agent Man – Johnny Rivers
I Want to Go with You – Eddy Arnold
1975
(Hey Won't You Play) Another Somebody Done Somebody Wrong Song – B.J. Thomas
He Don't Love You (Like I Love You) – Tony Orlando & Dawn
Supernatural Thing – Ben E. King
Blanket on the Ground – Billie Jo Spears
1984
Against All Odds (Take a Look at Me Now) – Phil Collins
Hello – Lionel Richie
Hold Me Now – The Thompson Twins
The Yellow Rose – Johnny Lee with Lane Brody
1993
Informer – Snow
Love Is – Vanessa Williams & Brian McKnight
I'm So Into You – SWV
She Don't Know She's Beautiful – Sammy Kershaw
2002
Don't Let Me Get Me – Pink
Blurry – Puddle Of Mudd
Escape- Enrique Iglesias
My List – Toby Keith
2011
E.T. – Katy Perry featuring Kanye West
S&M – Rihanna
Just Can't Get Enough – The Black Eyed Peas
Colder Weather – Zac Brown Band
Today in Broadcast History compiled by Ron Robinson