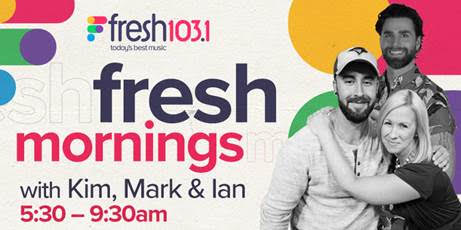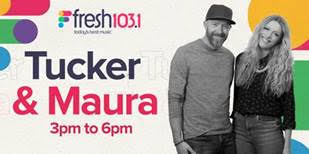 For Immediate Release
LONDON, Ont., January 7, 2021 – 103.1 Fresh Radio (CFHK-FM), London's home for Today's Best Music, today announced an exciting new on-air lineup and look for the new year. Alongside revamped branding and station imaging, Fresh evening host Ian, will join longtime morning pair Kim and Mark for a new morning program, Fresh Mornings with Kim, Mark & Ian (5:30 a.m. – 9:30 a.m.). Additionally, hit radio duo Tucker & Maura (3 p.m. – 6 p.m.) will expand their show to familiar Southwestern Ontario airwaves. Both shows air every weekday starting Monday, January 11.
Fresh's new shows each come with significant history in the local market. Kim, Mark and Ian are all current hosts with the station, while Tucker spent a very successful spell on-air in London, winning Canadian Music Week's 'On Air Talent of The Year – Secondary Market' twice during that period.
"We're thrilled to reenergize the station with a new lineup that delivers great personalities and great music all day," said Brad Gibb, Regional Program Director, Corus Radio. "Ian is a perfect addition to what's already one of the top-rated morning shows in the market, and we're very pleased to have Tucker return to air in London through his fantastic show with Maura."
103.1 Fresh Radio's programming lineup is rounded out by popular station personalities Liz Gogol (11 a.m. – 3 p.m.) and Toni Ross (6 p.m. – 10 p.m.) shifting to the midday and evening slots respectively.
103.1 Fresh Radio's full on-air lineup is as follows:
Fresh Mornings with Kim, Mark & Ian – 5:30 a.m. to 9:30 a.m.
103 Minutes of Fresh Music – 9:30 a.m. to 11 a.m.
Liz Gogol – 11 a.m. to 3 p.m.
Tucker & Maura – 3 p.m. to 6 p.m.
Toni Ross – 6 p.m. to 10 p.m.
For more information or to listen to 103.1 Fresh Radio online visit 1031freshradio.ca.
– 30 –