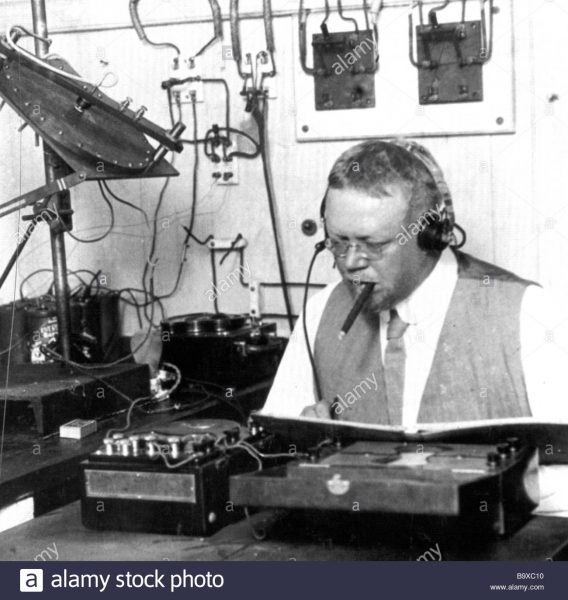 By Dean LaBerge
December 24, 2020
Canadian Physicist And inventor Reginald Aubrey Fessenden was responsible for laying the groundwork to usher in the age of radio. His voice was the first to be broadcast by amplitude modulation (AM) radio wave on December 23, 1900. In fact, Fessenden himself developed the principle behind this form of communication. Six years later, he broadcast the first-ever radio program on Christmas Eve in 1906.
Reginald Fessenden was born on October 6, 1866, in East Bolton, Quebec. After attending Trinity College School in Port Hope, Ontario, he studied at Bishop's College in Lennoxville, where he taught mathematics to younger students while pursuing his own studies. In 1884, at the age of 18, he left Bishop's College before completing his degree to accept a job as the principal and only teacher at the Whitney Institute in Bermuda. While in Bermuda, Fessenden met his wife-to-be, Helen Trott. After developing an interest in science, he resigned from his teaching post to move to New York City in 1886.
In New York, Fessenden started working as an assistant tester at the Edison Machine Works. With the opportunity to prove his worth, he received a rapid series of promotions and worked directly for Thomas Edison as a junior technician at the famous inventor's new laboratory in West Orange, New Jersey, by the end of the year. Fessenden rose to the rank of chief chemist at the Edison Electrical Company in 1890. Soon after this achievement, George Westinghouse lured him away with a senior position at the Westinghouse Electric Corporation.
Fessenden accepted a position as a professor of electrical engineering at Purdue University in West Lafayette, Indiana, in 1892, where he studied and experimented with the development of sound vibration and the transmission of sound without wires. At the end of the school year, he left Purdue to turn his time and energy to creating his own inventions.
Fessenden and his family settled in Pittsburgh at the invitation of George Westinghouse. Fessenden became the electrical engineering department chair at the Western University of Pennsylvania (now the University of Pittsburgh). He received funding from the Westinghouse Corporation while in this position and was able to put more time and focus into the problem of wireless communication. Fessenden also developed and patented several inventions during this time.
Read More HERE