GLOBAL CALGARY ANNOUNCES LINDA OLSEN, JOEL SENICK AND PAUL DUNPHY AS OFFICIAL NEWS TEAM FOR GLOBAL NEWS HOUR AT 6
Additional Lineup Changes Made to Global News Morning, Global News at Noon and Global News at 11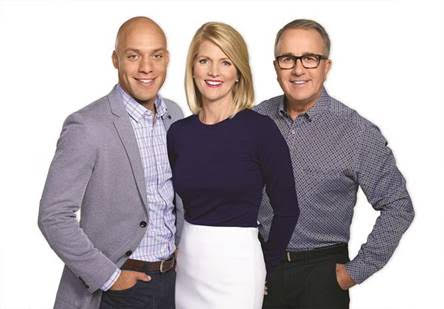 Effective today, Joel Senick officially joins Linda Olsen as the permanent co-anchor on Global News Hour at 6, working alongside Weather Specialist Paul Dunphy.
For Immediate Release
CALGARY, September 10, 2020 – Global Calgary announced today that Joel Senick is officially joining Linda Olsen as co-anchor of Global News Hour at 6, with Weather Specialist Paul Dunphy rounding out the award-winning team. Over the last year, Senick anchored Global News at 11 and also made frequent appearances on Global News Hour at 6. Senick previously worked as both a reporter and co-anchor on Global News Morning Weekend when joining the station in 2017.
As a born and raised Calgarian, Linda Olsen will continue in her role as the trusted voice of Global News at 5 and Global News Hour at 6. Olsen is a leading advocate for local news and community initiatives, and she will continue to share important stories with audiences each night on the flagship broadcasts in Calgary. Olsen recently celebrated an impressive 25 years with Global Calgary on September 4. Paul Dunphy will continue to provide trusted weather and forecast information as the weather specialist.
Other changes to the Global Calgary lineup include the addition of Bindu Suri to Global News Morning with Dallas Flexhaug. Suri will also continue to co-host Global News at Noon with Joel Senick. Blake Lough will now anchor Global News at 11.
"Linda, Joel and Paul are a very strong team with a shared passion for local news, and we are looking forward to viewers becoming accustomed to this great group every weekday night at 6 p.m." said Carmela Gentile, Global Calgary, News Director and Station Manager. "We are also excited to see Bindu expand her on-air presence to include Global News Morning. She has worked as a valued member of our newsroom for over a decade and has been a strong advocate for diversity in our community."
Stream free 24/7 local and national Global News content exclusively on the new Global TV App, available now on iOS, Android, Chromecast and at watch.globaltv.com. Global News programming is also available through all major TV distributors, including: Shaw, Shaw Direct, Rogers, Bell, Videotron, Telus, Cogeco, Eastlink, and SaskTel and the new STACKTV, streaming on Amazon Prime Video Channels.
– 30 –