ON THIS DAY in 1900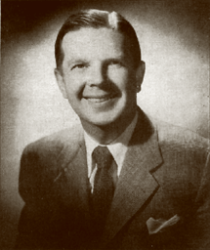 the man who was, for 27 years the announcer for Bing Crosby, Ken Carpenter was born in Avon Illinois. He became a staff announcer at KFI Los Angeles, and called USC & UCLA football games in the early 1930's, and the Rose Bowl game in 1935.  In 1936 he began his career-long association with Crosby.  He also announced for Al Jolson and Edgar Bergen, The Life of Riley, Great Gildersleeve,  The Halls of Ivy, from 1952-55 Lux Radio Theatre, followed by Lux Video Theatre (1953-57.)  He died following a brief illness Oct. 16 1984 at age 84.
In 1904, (William Allen) Count Basie was born at Red Bank, New Jersey. Widely regarded as one of the most important jazz pianists & bandleaders of his time, Basie led his popular Count Basie Orchestra for almost 50 years.  He composed the big band standards One O'Clock Jump, and Jumpin' at the Woodside.  He died of pancreatic cancer April 26 1984 at age 79.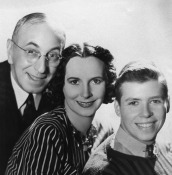 In 1919, actor/writer Bill Idelson was born in suburban Chicago.  He would go on to help make a unique humour-filled daily network quarter-hour, Vic & Sade, one of the most beloved icons of Old Time Radio.  He was featured in the Paul Rhymer scripts as Rush, Vic & Sade's adopted son.  On TV he is best remembered as Herman Glimscher on The Dick Van Dyke Show, for which he wrote scripts, as well as MASH, Andy Griffith, Happy Days, The Flintstones & others. He died Dec. 31 2007 at age 88.
In 1923, one of early TV's most prolific sportscasters Chris Schenkel was born in Biuppus Ind.  Although he did playbyplay for ABC TV on college football, Major League Baseball, NBA basketball, golf and tennis tournaments, boxing, auto racing, and the Summer and Winter Olympic Games, he is best remembered today as the TV voice of Professional Bowling for more than 35 years. He died of emphysema Sept. 11 2005 at age 82.
In 1924, sportscaster Jack Buck was born in Holyoke Mass. His deep gravelly voice is best remembered for his baseball playbyplay of the St. Louis Cardinals over more than 40 years.  He also did NFL football on TV, plus World Series Baseball and (for 20 years) Monday Night Football for CBS radio. He died of lung cancer June 18 2002 at age 77.
In 1935, the Benny Goodman Orchestra played a concert that's considered to be the beginning of the Swing Era. The band's exhuberant performance was at the Palomar Ballroom in Los Angeles, and was heard by millions coast-to-coast on radio.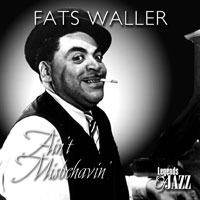 In 1938, the legendary Fats Waller recorded his soon-to-be classic hit Ain't Misbehavin'.
In 1945, singer Smilin' Jack Smith began a nightly quarter hour of music that ran for 7 years on CBS Radio.
In 1954, in Gladewater, TX, Elvis Presley performed his first show outside Tennessee.
In 1958, Ricky Nelson recorded "Lonesome Town," his followup to his first #1 single, "Poor Little Fool." It peaked at #7.
In 1960, The Four Preps and the Lionel Hampton Orch. were the musical guests on CBS-TV's Ed Sullivan Show, along with comedian Dewey Markham, a ventriloquist, an animal act and some puppets.
In 1961, Elvis Presley started a three-week run at No.1 on the US album chart with 'Something For Everybody,' his sixth US No.1 album.


Also in 1961, Bobby Lewis made it seven weeks in a row at #1 on the Billboard singles chart with "Tossin' and Turnin'".
Still in 1961, Patsy Cline recorded the Willie Nelson song, 'Crazy,' her third big hit which would peak at #2 on the Billboard Hot 100. Patsy was still on crutches after going through a car windshield in a head-on collision two months earlier.
Again in 1961, The Marvelettes released their first single "Please, Mr. Postman," which quickly became Motown's first #1 on the Billboard Hot 100.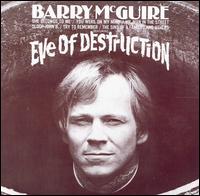 In 1965, Barry McGuire's "Eve Of Destruction" was released, and would soon become his one-and-only hit.
Also in 1965, The Lovin' Spoonful released their first single, "Do You Believe In Magic."
In 1966, the Beatles appeared during a heavy rainstorm at the Busch Memorial Stadium, St Louis, where tickets cost $5.00. This was their second gig of the day, and allegedly helped convince Paul McCartney that the Beatles should stop performing live.
In 1967, The Doors started recording their second album 'Strange Days,' at Sunset Sound Studios in Hollywood.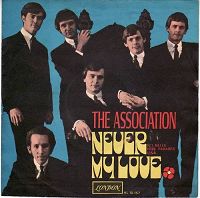 Also in 1967, The Association released what would soon be their third Cash Box #1 single "Never My Love".
In 1968, "People Got to Be Free" by the Rascals topped the US charts and stayed there for 5 weeks.
Also in 1968, after a 5 year break the evil Soviet empire resumed jamming the Voice of America radio. The iron curtain once again slams down hard on Eastern Europe at the height of the Cold War.
In 1971, the Bee Gees had their biggest hit to date as "How Can You Mend a Broken Heart" remained #1 for a third week.
Also in 1971, Tapestry by Carole King was the top album for the 10th week in a row.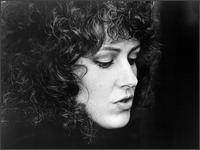 In 1972, Grace Slick was sprayed with mace and Paul Kantner was slammed to the floor by police following a chaotic show by Jefferson Airplane in Akron, Ohio. A bomb threat had been phoned in, fans threw rocks at police cars and officers responded with tear gas.
In 1975, The Eagles were in concert at the Paramount Theatre in Seattle. The 'One of These Nights' tour would play Portland the following night.
In 1976, RCA Victor announced that sales of their Elvis Presley records had passed the 400 million mark.
In 1983, Ramones guitarist Johnny Ramone underwent emergency brain surgery in New York that went on for four hours. He had been found unconscious after a street fight with another musician.
In 1984, film & TV actor Clint Eastwood was given a star on the Hollywood Walk of Fame.
Also in 1984, Tina Turner's comeback album, "Private Dancer," was certified Platinum, while the single from it, "What's Love Got To Do With It," was certified as a Gold Record.
In 1992, NBC News fired their Canadian-born TV reporter Arthur Kent, nicknamed 'the scud stud' for his reporting during the first Iraq war. Two weeks before, he had refused an assignment to war-torn Croatia.
In 1993, the soundtrack from Sleepless in Seattle hit number one on the Billboard LP chart. Other hit albums were #2 Black Sunday (Cypress Hill), #3 Janet. (Janet Jackson), #4 Zooropa (U2), and #5 Core (Stone Temple Pilots).
In 1994, comic actress Danitra Vance of Saturday Night Live lost her battle with lung cancer at age 40.

Also in 1994, John Denver was charged with drunk driving after crashing his car into a tree in Aspen Colorado. It was his second DUI charge in two years.
In 1995, the CRTC approved the sale of CKDA and CFMS-FM Victoria. Ten years after the death of founder David M. Armstrong his widow sold CKDA to O.K. Radio Group, who already owned CKKQ-FM. CFMS was sold to Rogers, which already owned CJVI-AM.
Also in 1995, Seal's single "Kiss From A Rose" topped the Billboard Hot 100. The "Batman Forever" tune was the second Batman movie single to top the charts. In 1989 Prince went all the way with "Batdance" from the film "Batman".
In 1997, actress Cicely Tyson was on hand to help unveil her new star on the Hollywood Walk of Fame.
Also in 1997, Oasis' third album 'Be Here Now', became one of the fastest selling albums ever, moving more than a million copies on the first day of release.
In 2003, longtime voice of the Boston Red Sox Ken Coleman died of bacterial meningitis at age 78.  Early in his career in Cleveland he called every touchdown scored by football great Jim Brown.
Also in 2003, Johnny Cash had his final recording session at the Cash Cabin Studio in Hendersonville, Tennessee, just three weeks before his death. His last song was "Engine One-Forty-Three," a 75-year old Carter Family song about a train wreck.
In 2005, the inventor of the Moog Synthesizer, Robert Moog passed away at age 71, four months after being diagnosed with brain cancer.  Dr. Moog built his first electronic instrument, a theremin , at the age of 14 and made the MiniMoog, "the first compact, easy-to-use synthesiser" in 1970.
Also in 2005, Staind were at No.1 on the Billboard album chart with 'Chapter V.'
In 2006, a man surfing the Internet in the US foiled three men who broke into a Liverpool shop in England. The man who had logged onto a site streaming live footage of Mathew Street and a forthcoming Beatles festival, saw the men smash a shop's window and climb inside. He phoned police who arrested the no-goods.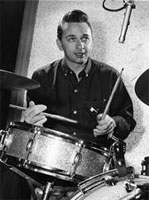 In 2008, Nashville session drummer Buddy Harman died of congestive heart failure, aged 79. He worked with Elvis Presley ('Little Sister'), Patsy Cline ('Crazy'), Roy Orbison ('Pretty Woman'), Johnny Cash ('Ring Of Fire'), & Tammy Wynette ('Stand By Your Man').  He can be heard on more than 18,000 recordings.
In 2010, CBS newsman Harold Dow, a longtime correspondent on the weekly '48 Hours,' died from complications of asthma at age 62.
Also in 2010, Toronto-born actress/singer Nancy Dolman, for 30 years the wife of Canadian-born comic actor Martin Short, and who played Annie on TV's quirky 'Soap,' succumbed to ovarian cancer at age 58.
In 2011, Kings Of Leon's documentary 'Talihina Sky' made its television premiere on US cable channel Showtime. The film, directed by Stephen C. Mitchell, included home video recordings as well as behind the scenes footage of the band.

In 2012, "Last Of A Dying Breed," Lynyrd Skynyrd's first studio album since '09's "Gods & Guns" was released. "We kind of went back old school this time," said guitarist Gary Rossington.
In 2013, former New York TV news anchor Lew Wood, who succeeded Frank Blair as newsman on NBC-TV's Today Show and covered the US civil rights movement and John F. Kennedy's presidency, died of kidney falure at age 84.
In 2015, Bon Jovi released "Burning Bridges," their 13th studio album and the first without guitarist Richie Sambora.
In 2017, Pink Floyd's "Dark Side Of The Moon," a '73 release, saw a 160-percent sales increase leading up to this date's solar eclipse in North America.
In 2018, Imagine Dragons scored a #1 on Billboard's Hot Rock Songs chart with "Natural."
On this day in Singer Kenny Rogers died at 82.
Today's birthdays
Actor/filmmaker Melvin van Peebles (Sonny Spoon) is 88.
Guitarist James Burton (with Elvis Presley) is 81.
Actor Clarence Williams the Third (The Mod Squad) is 81.
Singer Harold Reid of the Statler Brothers is 81.
British singer Jackie DeShannon is 79.
Actress Patty McCormack (The Sopranos, The Ropers, Playhouse 90) is 75.
Singer Carl Giammarese of The Buckinghams is 73.
Actress/voicist Loretta Devine (The Carmichael Show, Doc McStuffins, Boston Public, Grey's Anatomy, Eli Stone) is 71.
TV newsman/host Harry Smith (A & E, CBS, NBC) is 69.
Singer Glenn Hughes (Deep Purple, Black Sabbath) is 68.
Guitarist Nick Kane (The Mavericks) is 66.
BC-raised actress Kim Cattrall (Sex and the City, Sensitive Skin) is 64.
Actor Mitchell Anderson (Doogie Howser M.D., Party of Five) is 59.
Actress Cleo King (Mike & Molly, Deadwood, Boston Public) is 58.
Actor Richmond Arquette (Dirt) is 57.
Actor Michael Bendetti (21 Jump Street) is 53.
Singer Serj Tankian of System Of A Down is 53.
Vancouver-born actress Carrie-Anne Moss (FX: The Series, Models Inc, Matrix) is 53.
Spokane-born actress Barbara Ann Moore (Entertainment Weekly Guide: Guilty Pleasures) is 52.
Actor Marc Evan Jackson (Suit Up) is 50.
Actor Greg Cromer (Love, Inc.) is 49.
Musician Liam Howlett of Prodigy is 49.
Kelowna-born actress Kristi Angus (XIII: The Series, Laughter on the 23rd Floor, numerous supporting roles) is 49.
Playboy Playmate/actress Tina Jordan (Beach Heat Miami) is 48.
Montreal-born actor Jeff Roop (Vampire High, 11 Cameras, Heartland) is 49.
Actress Alicia Witt (Cybill, Justified, Orange is the New Black) is 46.
Entertanment journalist Catt Sadler (E! News, E! Live from the Red Carpet) is 38.
Actress Joanne Froggatt (Downton Abbey) is 42.
Singer Kelis is 42.
Actress Erin Kelly (Feed) is 40.
Actor Ross Thomas (Game Changers, Beyond the Break) is 40.
TV personality Brody Jenner (The Hills, The Princes of Malibu) is 38.
Actor Preston Jones (Sing It, Broken Bones) is 38.
Pro wrestler/actress Eve Torres (WWE Raw, WWE Smackdown, Matador) is 37.
Singer Melissa Schuman (Dream) is 37.
Actress Laura Haddock (DaVinci's Demons, Upstairs Downstairs) is 36.
Actress Ashley Schneider (Palisades Pool Party) is 36.
Actor-comedian Brooks Wheelan (Saturday Night Live) is 35.
Actor Carlos Pratts (The Bridge) is 35.
Actor Cody Kasch (Desperate Housewives) is 34.
Actress Kelsey Mulrooney (The Boys are Back) is 34.
Actress/TV host/reporter Carly Steel (Entertainment Tonight, The Insider) is 34.
Country music singer/songwriter Kacey Musgraves is 33.
Actress Hayden Panettiere (Nashville, Heroes) is 32.
Actress Annet Mahendru (The Americans) is 32.
Actor RJ Mitte (Breaking Bad) is 29.
Actress/voicist  Jamia Simone Nash (The Young & the Restless, The Backyardigans) is 25.
Actor Maxim Knight (Falling Skies) is 22.
Chart Toppers – Aug. 21
1948
A Tree in the Meadow – Margaret Whiting
My Happiness – Jon & Sandra Steele
It's Magic – Doris Day
Bouquet of Roses – Eddy Arnold
1956
My Prayer – The Platters
Hound Dog/Don't Be Cruel – Elvis Presley
Canadian Sunset – Hugo Winterhalter & Eddie Haywood
I Walk the Line – Johnny Cash
1964
Everybody Loves Somebody – Dean Martin
Where Did Our Love Go – The Supremes
Rag Doll – The 4 Seasons
Dang Me – Roger Miller
1972
Alone Again (Naturally) – Gilbert O'Sullivan
Brandy (You're a Fine Girl) – Looking Glass
Long Cool Woman (In a Black Dress) – The Hollies
Bless Your Heart – Freddie Hart & The Heartbeats
1980
Magic – Olivia Newton-John
Sailing – Christopher Cross
Take Your Time (Do It Right) – The S.O.S. Band
Tennessee River – Alabama
1988
Roll with It – Steve Winwood
Monkey – George Michael
1-2-3 – Gloria Estefan & Miami Sound Machine
Bluest Eyes in Texas – Restless Heart
1996
Macarena (Bayside Boys Mix) – Los Del Rio
Twisted – Keith Sweat
C'Mon N' Ride It (The Train) – Quad City DJ's
Carried Away – George Strait
2005
Don't Cha – Pussycat Dolls featuring Busta Rhymes
We Belong Together – Mariah Carey
Pon De Replay – Rihanna
As Good As I Once Was – Toby Keith
Today in Broadcast History compiled by Ron Robinson