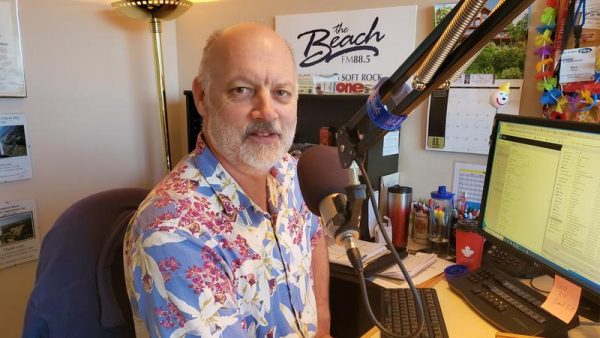 By Alex Rawnsley
August 6, 2020
PARKSVILLE — Dave Graham may be leaving local airwaves, but he has no intention of saying goodbye to a community he's called home for nearly 20 years.
Graham signed off from 88.5 FM The Beach on Friday morning, delivering a four minute farewell address detailing his career, his love for radio and the Oceanside area.
Graham started in radio as a high school student in 1977. He made stops in Ontario, Saskatchewan, Terrace and Courtenay before being drafted to 88.5 FM The Beach in 2003.
The driving motivator over the last 43 years has been connection with the community, something he took special pride in doing in Parksville.
"You get out what you put in and for me the great joy is being able to connect with the movers and shakers of this area, the people that make this community hum. Just to be a part of that, in even an assistant kind of way…that is a great joy."
Either willingly or as an unaware accomplis, Graham has played a role in key moments for countless people over the years.
Read More and Watch Video HERE