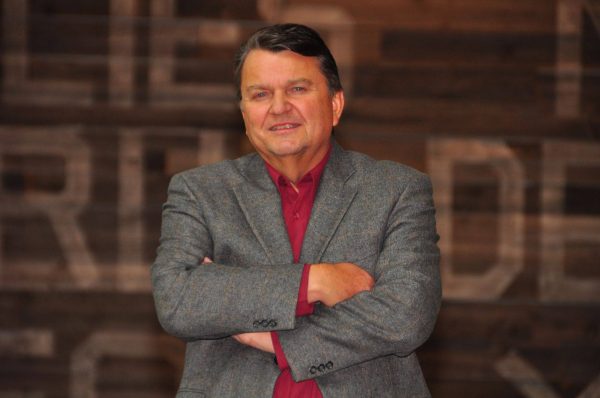 PSR is saddened to report long time Edmonton broadcaster Tim Dancy died over the weekend. He had been battling with cancer. He was 68.
Tim posted on his facebook page, he has 45 years under his belt, in TV and Radio production of Sports, News, Lifestyles, History, the Arts etc.
Tim Dancy – Sports CJGX Yorkton, Saskatchewan 1974; Regina, Saskatchewan; CKRD Red Deer; CBX-AM Edmonton; Sports Director & Oilers play-by-play CITV-TV Edmonton; Sports & play-by-play Saskatchewan Roughriders CKRM Regina, Saskatchewan; Sports Shaw TV Edmonton 2003-current; Amateur Sports writer Prospect magazine current. Born in Edmonton. (Courtesy of Edmonton Broadcasters)
Heartfelt condolences to Joanne and family
…
Courtesy of All Access
Former EDMONTON OILERS and SASKATCHEWAN ROUGHRIDERS and EDMONTON ESKIMOS play-by-play voice and CHED-A/EDMONTON personality TIM DANCY passed away after a battle with cancer at 68, reports GLOBAL NEWS.
Most recently a sportscaster for SHAW CABLE in EDMONTON since 1986, DANCY began his career as a sportscaster at CJGX-A/YORKTON, SK, moving on to serve as Sports Dir. at CKRD-A/RED DEER, AB and calling the CFL's ROUGHRIDERS road games at CKCK-A/REGINA, SK, then, after a brief stint at the CBC's CBX-A/EDMONTON, joined then-independent CITV (TV)/EDMONTON in 1978 as Sports Dir., where he called OILERS and ESKIMOS games. He moved on to CKRM-A/REGINA, SK to call the ROUGHRIDERS games again in 1983-86 before returning to EDMONTON at cable's QCTV in 1987.