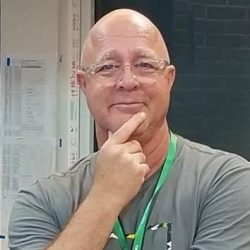 From Richard's facebook profile page…
I am pleased to announce that I will be officially retiring on July 31st after almost 18 years of fun and excitement as Sales & Operations Manager at 97.3 The Eagle C/O The Jim Pattison Broadcast Group.
I have had a great run with over 40 years in the media business and now it is time to move aside for the new wave and to move forward into an exciting new phase of life. Thank you to all the great staff and management, the great customers, and to the great communities – Comox, Cumberland, Courtenay, Campbell River and all points in between, the community events and organizations which I have been associated with over these many years. It has been a privilege and a pleasure.
PS Special thanks to Big Steve Rossner , The ravishing Rick Yurkewich and his wife Jenny Robinson Yurkewich for taking me out the other night and to the Eagle staff for the nice card and vino.
…
A long and winding road of Richard's radio career
Operations Manager – 97.3 The Eagle/Courtenay/Comox
The Jim Pattison Broadcast Group
1977-78 McLean Hunter – CKWX 1130, Vancouver, BC – Part time Promotions Assistant & PT Sports Reporter, 1978-1980 Central Interior Radio Network – CIVH, Vanderhoof, BC – Station Manager, On-Air, Advertising Sales, Copywriter, Production, News & Sports Reporter, Station Promotions, 1980-1982 CI Radio Network – CFBV, Smithers, BC Account Executive, 1982 – 1988 CI Radio Network – CJCI/CIRX-FM Prince George, BC Account Executive, 1988-1990 Rogers Broadcasting – CKWX 1130 / 97 KISS FM, Vancouver, BC Account Executive, 1990 – 1992 Cariboo Radio Network GM/GSM – Quesnel, Williams Lake & 100 Mile House, 1992 – 1994 Monarch Broadcasting – CKPG-TV, Prince George, BC Account Executive, 1996-2003 Black Press – The Prince George Free Press, Prince George, BC – Account Executive & Advertising Manager
LinkedIn page