Diageo, Starbucks and Levi's pull spending despite new policies announced by Zuckerberg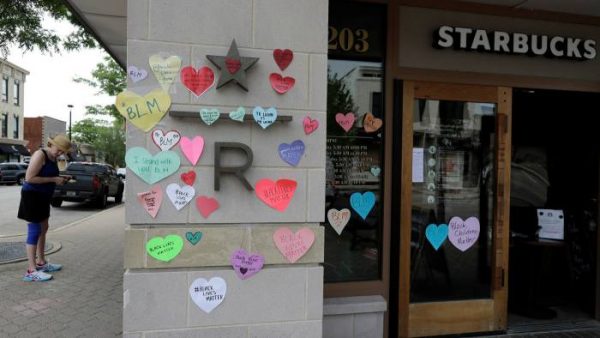 Messages posted in support of the Black Lives Matter movement on a Starbucks store. The coffee company is the latest to say it will pause social media ads 
by Hannah Murphy in San Francisco for The Financial Times  June 28 2020
Facebook's efforts to stem a growing client boycott by introducing new policies failed over the weekend, with big brands including Diageo, Starbucks and Levi's pulling spending.
Facebook will head into July with dozens of brands including Unilever, Verizon and Coca-Cola cancelling advertising for between a month and six months — despite last-ditch attempts by the social media network to stop the boycott gathering steam.
Mark Zuckerberg, Facebook's chief executive, on Friday announced plans on a live stream to prohibit hate speech in ads and better protect groups such as immigrants from attacks. He also said the group would label posts that violate its policies but would remain published because the platform deemed it "in the public interest", citing certain speech by politicians as an example.
The last-minute changes came just hours after Unilever, among Facebook's larger blue-chip clients, said it would pause spending on the platform — as well as on Twitter — in the US, citing concerns about the proliferation of divisive content in the run-up to the 2020 presidential election.
Facebook's shares fell more than 10 per cent over the course of the week, to $212.50 in after-hours trading on Sunday, while Twitter was down by about 14 per cent over the same period.
Despite Mr Zuckerberg's concessions, other companies have joined the list with pledges to pull back spending across social media more widely, which could also deal a blow to smaller groups such as Snap, Twitter and newer entrant TikTok.
In a statement on Sunday, Starbucks said it would "pause advertising on all social media platforms while we continue discussions internally, with our media partners and with civil rights organisations in the effort to stop the spread of hate speech".
Read more  HERE.