ON THIS DAY in 1886,
nineteen-year-old Arturo Toscanini, who would eventually become the world's most famous conductor as leader of the NBC Symphony, moved from the cello section to the conductor's stand of the Rio de Janeiro Orchestra. The maestro conducted Aida this day.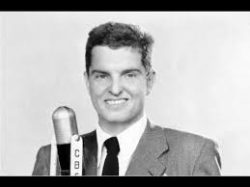 In 1915, actor & broadcast host Peter Lind Hayes was born Joseph Conrad Lind in San Francisco.  A vaudeville entertainer and occasional movie supporting actor, he served with valor as a fighter pilot in WWII. He became a TV host in 1950, co-starring in several CBS series with his singing wife Mary Healey, and substituting for some years for Arthur Godfrey on his daytime simulcast.   Peter & Mary provided the vocals on the original jingle `See the USA in your Chevrolet.` He died from a vascular disease Apr 21, 1998 at age 82.
In 1938, Vancouver radio station CKWX moved UP the dial from AM 1010 to AM 950, and increased  power to 1000 watts.
In 1951, CBS transmitted the first commercial color TV broadcast, an hour-long special hosted by Arthur Godfrey, from New York to 4 other cities on the US East Coast .. Philadelphia, Boston, Baltimore & Washington DC.  But outside of 3 dozen sets owned by CBS, nobody saw the color .. As yet there were no color TV`s among the general public.
In 1955, "The Imogene Coca Show," aired for the last time on NBC-TV.
In 1956, Anthony Bourdain was born in New York City.  He became a celebrity chef, author, travel documentarian, and television personality, latterly for CNN, who starred in programs focusing on the exploration of international culture, cuisine, and the human condition. He was considered one of the most influential chefs in the world, but was afflicted with depression.  He died as a suicide by hanging on June 8 2018 at age 61.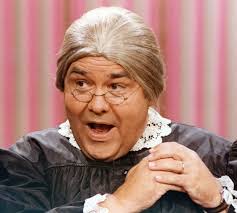 In 1957, "The Jonathan Winters Show" was seen for the final time on NBC-TV.
In 1961, Pat Boone spent this day at number one for one last time with Moody River. Boone, a teen heart-throb in the 1950s, had previously walked his way up the music charts, wearing white buck shoes, of course, with these other hits: Ain't That a Shame, I Almost Lost My Mind, Don't Forbid Me, Love Letters in the Sand and April Love.
in 1961, Elvis Presley was in Nashville to record "Kiss Me Quick," which was released in Europe that December, six months before North America.

In 1964, The Beatles reached the #1 spot on the music charts, as their hit single, I Want to Hold Your Hand, grabbed the top position in Cash Box magazine, as well as on the list of hits on scores of North American radio stations. It was the first #1 hit for the Beatles.
In 1965, Eddy Arnold was in Nashville to record his country #1 crossover hit "Make The World Go Away."
In 1966, "Paperback Writer" by the Beatles topped the charts and stayed there for 2 weeks.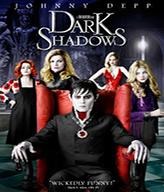 Also in 1966, the gothic horror daytime serial "Dark Shadows" debuted in the post-school afternoon on ABC-TV.  It would continue for 1,225 episodes.
Still in 1966, The Beach Boys, The Byrds, Love, Captain Beefheart, The Lovin Spoonful, Chad & Jeremy and Percy Sledge all appeared in concert at The Hollywood Bowl in California.
Again in 1966, Jackie Wilson was arrested for inciting a riot and refusing to obey a police order at a nightclub in Port Arthur, Texas. Wilson had a crowd of between 200 and 400 whipped into a frenzy and refused to stop singing when requested to do so by police. He was later convicted of drunkeness and fined $30.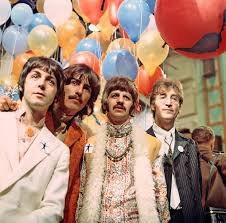 In 1967, 400 million people around the world watched the Beatles' 
"Our World"
, the first TV special distributed internationally via satellite. The 'Fab Four,' backed by members of the Rolling Stones, Eric Clapton, Marianne Faithfull, Keith Moon and Graham Nash, performed "All You Need Is Love."
.
Also in 1967,  CBS-TV's Ed Sullivan Show featured Connie Francis singing "Born Free," "Winchester Cathedral" and an Italian medley. Ronnie Dove and the Swingle Singers did an imitation of Johnnie Ray singing "Cry," while Henny Youngman, Flip Wilson, and Ben Stiller's parents Jerry Stiller & Anne Mearasupplied the comedy.
Still in 1967, The Jimi Hendrix Experience gave a free afternoon concert in San Francisco's Golden Gate Park. They also played another two shows that evening at the Fillmore West Auditorium.
In 1968, popular British TV & radio comedian Tony Hancock died at age 44 in Australia.  A heavy drinker beset with personal demons, he committed suicide by overdose.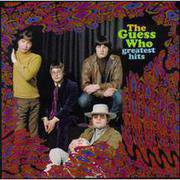 In 1969, the Canadian rock group The Guess Who were in New York to receive a gold record for their hit single, These Eyes.
Also in 1969, The Hollies began recording "He Ain't Heavy, He's My Brother," with Elton John playing piano.  The track was completed Aug. 7.
Still in 1969, guitarist Mick Taylor made his performance debut with the Rolling Stones in Rome. He replaced Brian Jones, who later drowned on July 3. Taylor left the group in 1975 and was replaced by Ron Wood.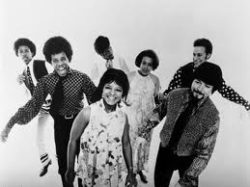 Again in 1969, Sly and the Family Stone recorded their future #2 pop single "Hot Fun In The Summertime."
In 1970, the U.S. Federal Communications Commission handed down legislative ruling 35 FR 7732, making it illegal for radio stations to put telephone calls on the air without the permission of the person they had called.
Also in 1970, the band Whole Oats, a duo consisting of Philadelphians Daryl Hall and John Oates, recorded their first demo tracks.
In 1975, singer and former member of The Supremes, Florence Ballard, gave a lively performance at the Ford Auditorium in Detroit, drawing critical praise and renewed interest in her career. But she died 8 months later.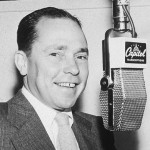 In 1976, songwriter/singer & broadcast personality Johnny Mercer, who wrote the lyrics to more than 1,000 songs, including That old Black Magic, Swinging on a Star, Accentuate the Positive, Hooray for Hollywood, and Days of Wine & Roses,  who had 19 Academy Award nominations, died asa result of brain cancer surgery at age 66.  In 1942 he had become a co-founder of Capitol Records.
In 1977, Marvin Gaye went to No.1 on the Billboard singles chart with 'Got To Give It Up', his third No.1 song.
In 1980, Billy Joel became the first rock act to appear before a total of 100,000 people at Madison Square Garden in New York.
In 1983, the soundtrack to the movie 'Flashdance' started a two-week run at No.1 on the Billboard album chart.
Also in 1983, for the first time ever, there were more performers from offshore than there were American artists in the Billboard top 100.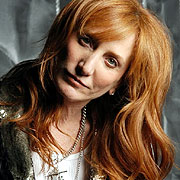 In 1984, his future wife Patti Scialfa joined Bruce Springsteen's E Street Band as a backup singer.
Also in 1984, the soundtrack album of Prince's "Purple Rain" was released five weeks ahead of the film. Rolling Stone magazine later ranked it the second-best album of the 1980s.
In 1985, ABC-TV revealed that its new announcing crew for "Monday Night Football" that fall would be Frank Gifford, Joe Namath and O.J. Simpson.  No more Don Meredith, whose work had suffered after the departure of Howard Cosell the year previous.
In 1987, songwriter/Country Music Hall of Famer Boudleaux Bryant succumbed to cancer at age 67. With his wife Felice he wrote Rocky Top, Love Hurts, Raining In My Heart, and the Everly Brothers hits Take A Message To Mary, Devoted To You, Bird Dog, All I Have To Do Is Dream, Wake Up Little Susie, Bye Bye Love, & many more.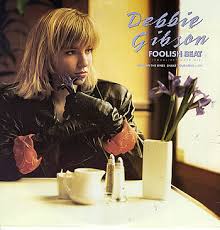 In 1988, 
Debbie Gibson
 went to No.1 on the Billboard singles chart with 'Foolish Beat', making Debbie (aged 17), the youngest female to write, produce and record a No.1 single.
Also in 1988, Van Halen started a four-week run at No.1 on the Billboard album chart with 'OU812'.
In 1989, the sitcom "Day By Day," a sort of spinoff from "Family Ties," completed its year-and-a-half-run on NBC-TV.
In 1990, "The Dave Thomas Comedy Show" starring the Ontario-born SCTV alumnus, was seen for the last time on CBS-TV.

In 1993, Bruce Springsteen was a surprise guest on the final "Late Night with David Letterman." After more than 11 years at NBC, Letterman began a similar show (Late Show with David Letterman) on CBS two months later. (Springsteen played "Glory Days," and Letterman seemed genuinely touched by the performance.)
In 1994, the Stone Temple Pilots album, Purple, hit #1 in the U.S. where it stayed for three weeks. Do you remember Meatplow, Vasoline, Lounge Fly, Interstate Love Song, Still Remains, Pretty Penny, Silvergun Superman, Big Empty, Unglued, Army Ants and Kitchenware & Candybars?
In 1995, following the 5:00 p.m. News, Abbotsford's CFVR-AM changed call letters to CKMA with an oldies music format as "85 Radio Max." The station had originally signed on August 20, 1962 at 1240 KHz, with just five hours of local programming each weekday; the rest had been simulcast from CHWK-1270 Chilliwack.
Also in 1995, Pink Floyd were at No.1 on the Billboard album chart with 'Pulse' the bands fifth No.1.
Still in 1995, Pearl Jam cancelled the last 7 dates of their current tour, citing their ongoing war with Ticketmaster, and Eddie Vedder coming down with the flu.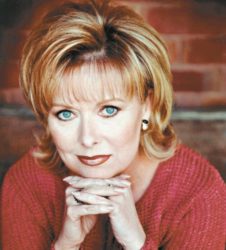 In 2002, former CBC & CTV host Pamela Wallin became Consul General in New York City.
In 2003, the Recording Industry Association of America disclosed its plans to fight Internet piracy. The plan was to sue hundreds of individual computer users who illegally share music files online. The process was planned to begin the next day.
In 2004, Eric Clapton raised about $7.5 million for a drug addiction center he set up in the Caribbean. The items that were sold were the "Blackie" Stratocaster that Clapton played from 1970-185 for $1 million, a 1964 cherry-red Gibson for $847,000 and a 1939 Martin accoustic that Clapton played on his "Unplugged" album went for $800,000. All three sales were records for a guitar sale, a Gibson guitar and a Martin guitar respectively.
Also in 2004, we learned that Elton John had booked his first-ever China concert. The show was planned for the September.
Still in 2004, rapper DMX was arrested on charges that he and another man tried to steal a car from New York's Kennedy airport. DMX – real name is Earl Simmons – and Jackie Hudgins were held after the city's Port Authority police interrupted a dispute. A spokesman said Simmons tried to avoid arrest by claiming to be a federal agent.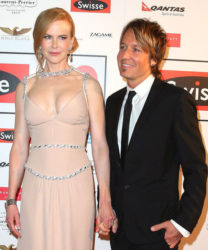 In 2006, Nicole Kidman married Keith Urban in Sydney, Australia. It was his first marriage, her second.
In 2008, in London, Elton John was a guest at a 90th birthday party for Nelson Mandela. John sang "Happy Birthday To You" and his own "Border Song" for the ex-South African president.
In 2009, controversial music superstar Michael Jackson died at age 50, after suffering heart failure at his home in Beverly Hills. Jackson is credited with transforming the music video into an art form and a promotional tool. Four of his solo albums are among the world's best-selling records: Off the Wall (1979), Bad (1987), Dangerous (1991) and HIStory (1995), while his 1982 Thriller is the world's best-selling record of all time with sales of over 50 million. Guinness World Records list's him as one of the "Most Successful Entertainer of All Time", with 13 Grammy Awards and 13 number one singles.
Also in 2009, actress Farrah Fawcett succumbed after a lengthy battle with anal cancer at age 62.  She is best remembered for her co-starring role in TV's original version of Charlies' Angels.
Still in 2009, a Sgt Pepper souvenir poster bearing the signatures of all four Beatles sold for $52,500 at a pop memorabilia auction in New York City. Other musical items that went under the hammer were a set of Bob Dylan's handwritten lyrics, which made $25,000 and a bass guitar owned by Kurt Cobain sold for $43,750.
 
In 2010, the Canadian band Rush received a star on the Hollywood Walk of Fame. Guitarist Alex Lifeson and bassist Geddy Lee were on hand to accept the honor.
In 2011, CNN's first sportscaster Nick Charles succumbed to his 4th stage bladder cancer, five days short of his 65th birthday.  He had remained with CNN for 17 years, and ended his career as boxing specialist with both Showtime and HBO.
In 2012, at a news conference in Moscow, the Russian Ministry of Health's chief alcohol and drug abuse specialist claimed it was The Beatles who had been responsible for a worldwide increase in drug use. "After The Beatles went to expand their consciousness in Indian ashrams, they introduced that idea – the changing of one's psychic state of mind using drugs – to the population."
In 2013, the band Rush pledged to donate $1 for every ticket sold at five Canadian shows to the Unison Benevolent Fund, a non-profit charity that takes care of music industry professionals who run into hardship.
 Also in 2013, The Eagles' catalog, a long-time holdout, finally became available on four streaming platforms – Spotify, Rhapsody, Rdio and Deezer.
In 2015, UK actor Patrick Macnee, star of early TV's hit superspy series 'The Avengers' (1961-69), died at age 93.
In 2016, an electric guitar owned by Prince and a lock of David Bowie's hair were sold at Heritage Auctions in Beverly Hills. Prince's Yellow Cloud guitar was bought for $137,500 by the owner of the Indianapolis Colts. Bowie's hair, which sold for $18,750, came from a former employee of Madame Tussauds in London.
In 2017, child actor Skip Homeier (he started at age 6!!), who played frequently on OTR radio's Let's Pretend, Portia Faces Life and scores of guest roles, and had the lead in the shortlved NBC TV police drama Dan Raven (1960), died at age 86 of spinal myelopathy.
Also in 2017, social networking giant Facebook Inc. was reportedly moving its ambitions in TV-quality video to the front burner, taking meetings and making deals with an eye toward launching a slate of original programming by the end of summer.  Facebook had indicated a willingness to commit to production budgets as high as $3 million per episode.
In 2018,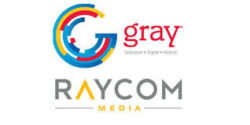 Gray Television agreed to buy Raycom Media and its 65 television and two radio stations in a $3.65 billion deal that would create a company that reaches nearly a quarter of U.S. TV households.
In 2019, real estate baron Ken Behring, the controversial second owner of the Seattle Seahawks who guided the team through a turbulent period that included his attempt to move the NFL franchise to southern California, died of undisclosed causes at age 91.
Today's Birthdays:
Actress June Lockhart (Lassie, Lost in Space) is 95.
R & B singer Eddie Floyd is 83.
Actress Barbara Montgomery (Married People, Amen, Evergreen) is 81.
Actress Mary Beth Peil (The Good Wife, Dawson's Creek) is 80.
Canadian filmmaker Denys Arcand is 79.
Actress Kris Harmon (Adventures of Ozzie & Harriet) is 75.
Singer Carly Simon is 75.
Rock Musician Allen Lanier (Blue Oyster Cult) is 74.
Rock Musician Ian McDonald (Foreigner, King Crimson) is 74.
Comedian/actor Jimmie Walker (Good Times) is 73.
TV director Michael Lembeck (Friends, Major Dad) is 72.
Actor/voicist Kene Holiday (Matlock, G.I. Joe, Carter Country) is 71.
TV personality Phyllis George (NFL Today, New Candid Camera) is 71.
Rock singer Tim Finn (Split Enz, Crowded House) is 68.
Rock musician David Paich (Toto) is 66.
Actor Michael Sabatino (Venice the Series, Days of Our Lives, Knots Landing) is 65.
Actor Michael McShane (Spawn, Brotherly Love) is 65.
Actress Chloe Webb (Shameless, China Beach) is 64.
Actress Eve Gordon (Don't Trust the B….. in Apt. 23, The Good Life, The Powers that Be) is 60.
Actor/writer Ricky Gervais (BBC's The Office, Extras, Derek) is 59.
Actor John Benjamin Hickey (The Good Wife, Manhattan, The Big C, It's All Relative) is 57.
Actress Jackie Swanson (Cheers) is 57.
Actress Erica Gimpel (The Young & the Restless, ER, Profiler, Fame) is 56.
Rapper Richie Rich is 53.
Rapper Candyman is 52.
Actress Kelly Collins Lintz (One Tree Hill, Surface) is 50.
Rock musician Sean Kelly (Sixpence None the Richer) is 49.
Actor Jason Lewis (Midnight Texas, Brothers & Sisters, Sex and The City) is 49.
Actress Angela Kinsey (The Office) is 49.
Rocker Mike Kroeger (Nickelback) is 48.
Actor/TV personality Jeff Cohen (Body Language) is 46.
Rock musician Mario Calire (Wallflowers) is 46.
Acrtress Linda Cardellini (Dead to Me, Bloodline, Gravity Falls, ER, Freaks & Geeks) is 45.
Actor Josh Braaten (The Ex List, Modern Men, Less than Perfect, Married to the Kellys) is 43.
Actress Busy Philipps (Cougar Town, ER, Dawson's Creek) is 41.
Actress Brandi Burkhardt (Hart of Dixie, Passions) is 41.
Actress La La Anthony (Charm School with Ricki Lake) is 41.
Actress Shannon Lucio (True Blood, Prison Break, The OC) is 40.
Actress Indigo (Weeds, Common Law, Underground, Bloodline) is 36.
Actress Annaleigh Ashford (Masters of Sex) is 35.
Actor Scott Terra (The Sons of Mistletoe, Motocrossed, Going Home) is 33.
Actress Blaine Saunders (The Middle) is 27.
Actress Mckenna Grace (Designated Survivor, Crash & Bernstein, The Young & the Restless) is 14.
Chart Toppers – June 25
1948
Nature Boy – Nat King Cole
Toolie Oolie Doolie – The Andrews Sisters
You Can't Be True, Dear – The Ken Griffin Orchestra (vocal: Jerry Wayne)
Texarkana Baby – Eddy Arnold
1957
Love Letters in the Sand – Pat Boone
Teddy Bear – Elvis Presley
I Like Your Kind of Love – Andy Williams
Four Walls – Jim Reeves
1966
Paperback Writer – The Beatles
Strangers in the Night – Frank Sinatra
Red Rubber Ball – The Cyrkle
Take Good Care of Her – Sonny James
1975
Love Will Keep Us Together – The Captain & Tennille
When Will I Be Loved – Linda Ronstadt
Wildfire – Michael Murphey
You're My Best Friend – Don Williams
1984
The Reflex – Duran Duran
Dancing in the Dark – Bruce Springsteen
Self Control – Laura Branigan
When We Make Love – Alabama
1993
That's the Way Love Goes – Janet Jackson
Weak – SWV (Sisters With Voices)
Have I Told You Lately – Rod Stewart
Blame It on Your Heart – Patty Loveless
2002
A Thousand Miles – Vanessa Carlton
I Need A Girl (Part One) – P. Diddy featuring Usher & Loon
Hella Good – No Doubt
Living and Living Well – George Strait
2011
Rolling in the Deep – Adele
Give Me Everything (Tonight) – Pitbull featuring Ne-Yo, AfroJack & Nayer
Party Rock Anthem – LMFAO featuring Lauren Bennett & GoonRock
Honey Bee – Blake Shelton`