by Zi-Ann Lum for Yahoo! News            June 15, 2020
OTTAWA — Independent MP Jody Wilson-Raybould continued a national conversation about systemic racism Monday, inviting the federal heritage minister to respond to concerns being raised inside the walls of the CBC.
During the House of Commons special committee meeting on the COVID-19 pandemic, Wilson-Raybould said she was "very troubled" to hear a CBC Radio host in the Yukon felt compelled to quit her job last week "because she could not speak her truth."
Wilson-Raybould referenced that under federal law, the Canadian broadcasting system should reflect the "linguistic duality and multicultural and multiracial nature of Canadian society" and recognize the special place of Indigenous peoples within it.
"It would seem there are some challenges," the former Liberal justice minister said. She asked H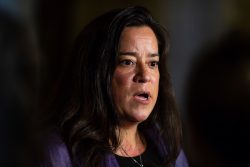 eritage Minister Steven Guilbeault if he shares concerns raised by some journalists that problems of systemic racism still exist within the public broadcaster.
Read more  HERE.