Healthcare Workers Encouraged to Call Studio with Song Requests and to Share Stories from the Frontlines at 604.290.1011. 
For Immediate Release       April 21 2020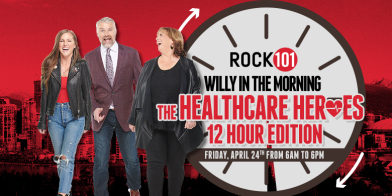 .
VANCOUVER, April 22, 2020 – Running from 6 a.m. to 6 p.m., Willy in the Morning on Rock 101 Vancouver is putting in a 12-hour shift on Friday, April 24 in honour of all healthcare heroes working long hours to protect those in need. Broadcasting live for the full duration of a typical hospital shift, the morning show trio of Willy, Kim and Alece are encouraging healthcare workers to request songs and share their stories on the show.
If you have a song request or a story to share as a frontline worker, listeners are encouraged to call the studio between the hours of 6 a.m. to 6 p.m. at 604.290.1011. Friends and family members of healthcare workers are also welcome to dedicate songs of support for their loved ones.
Derringer in the Morning on sister station Q107 Toronto will similarly broadcast a live, 12-hour, request-filled show in support of healthcare heroes from 6.a.m. to 6 p.m. ET on Friday, April 24. Listeners in the Toronto area can call 416.870.ROCK (416.870.7625) to submit songs and show their support. In Ottawa, boom 99.7 will also broadcast a show with hosts Tim and Colleen on Monday, April 27.