Local stations have cut down on D.J.s coming to the studio, but playlists and personalities are holding strong as small stations get a chance to build bigger audiences.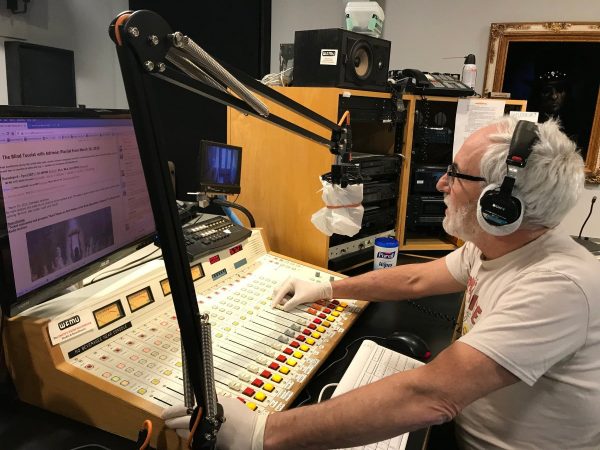 By Brett Sokol for The New York Times       March 29, 2020
."Greetings, virus people!"
The on-air patter was hardly what you would expect from a radio D.J. addressing his listeners during a pandemic last week. But Ken Freedman, the station manager and program director at Jersey City's WFMU 91.1 and 91.9 FM — broadcasting to the greater New York City area, "Your station from the epicenter!" — sounded practically chipper.
Like the rest of the country's noncommercial, community radio programmers, Freedman has been forced into hastily improvising a response to the growing spread of Covid-19. Staffed largely by volunteer D.J.s taking time away from paying jobs as teachers, bartenders and everything in between, these scrappy local stations have had little in the way of either precedent or outside resources to fall back on. Operating independently of both National Public Radio's networked affiliates, as well as the rigidly formatted music stations owned by corporate chains like iHeartMedia, they've been left to figure out the changed media landscape for themselves. Some have adopted a "keep calm and carry on" philosophy. Others have taken a decidedly different tack.
Indeed, Freedman's jarring salutation was only a warm-up. He soon segued into disturbing aural collages, no less lyrically foreboding songs from John Cale and Big Blood and tongue-in-cheek announcements ("Tomorrow in Bushwick, the Millennial Bodily Fluids Festival has been canceled!"). For three hours, it was anything but sonic comfort food.
"That's the nature of WFMU as a New Jersey institution," Freedman explained over the phone last week. "We do have a real gallows sense of humor, an irreverence." Which isn't to say he hasn't been taking the coronavirus seriously.
After one D.J. with symptoms self-quarantined while others seemed too cavalier about the risks of infection, Freedman felt forced to create a makeshift lockdown. Of the station's weekly rotation of 60 D.J.s, a self-described skeleton crew of nine, several of whom already live together (and all of whom are pictured on the 
station's website
 as, yes, skeletons running the radio equipment) are now the only ones allowed inside WFMU's studios, with no more than three ever in the building together. A few more are broadcasting from remote locations, others are pre-recording their shows at home and archival programming fills out the rest of the schedule.
.
READ MORE 
HERE 
AT THE NEW YORK TIMES WEBSITE