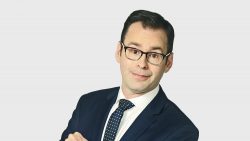 In the current COVID-19 emergency, iHeartmedia Canada and the Bell Talk Radio Network have made a change in their overnight programming.
Instead of the US-based 'Coast-to Coast AM with George Noory', listeners will now get a show originating with Toronto's Newstalk 1010 (CFRB.)   'The Late Shift with Jason Agnew' (that's him above) runs from 1 to 4 am EDT, and most stations, especially in the West, will rerun a part of the show as needed until the local morning programs kick in.
iHeart management obviously felt a Canadian perspective in the current unprecedented emergency was preferable for its Canadian listenership.
Following is the corporate News Release issued Tuesday:
TORONTO (March 24, 2020) – iHeartRadio Canada's NEWSTALK 1010 keeps the conversation going with the launch of THE LATE SHIFT WITH JASON AGNEW, an overnight talk show where Canadians can connect on the topics that matter to them, broadcast live in Toronto on NEWSTALK 1010 from 1-4 a.m. ET, the show is now syndicated nationally, with participating stations listed on iHeartRadio.ca.
Hosted by radio personality and comedian Jason Agnew, the early morning show invites listeners to call in, share their stories, and stay informed during these unprecedented times. "It's so important to stay connected as a country, now more then ever," said Agnew. "I'm happy to stay up with Canadians and provide a platform where they can share their stories."
"Jason is the perfect person to keep listeners entertained and informed during this time of global uncertainty," said Mike Bendixen, Brand Director, NEWSTALK 1010. "Listeners will appreciate having a familiar voice and up-to-date content during this late-night time slot."
In addition to THE LATE SHIFT WITH JASON AGNEW, Agnew also hosts NEWSTALK 1010's SUNDAY MORNING TRIVIA SHOW and TSN Radio's SUNDAY NIGHT'S MAIN EVENT, available on iHeartRadio.ca and on the iHeartRadio app.
Known as Canada's "Game Show Guru," Agnew previously hosted E!'s POPQ and Travel Channel's DOOR TO DOOR.  Listeners across the country can call in to THE LATE SHIFT WITH JASON AGNEW by dialing 1.877.518.5151 or texting 7.10.10.
Listen anytime on the iHeartRadio app or visit iHeartRadio.ca for more information and local broadcast times.