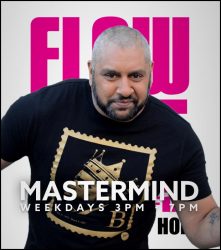 Paul Parhar, who is known by his morning listeners as Mastermind, has parted ways with Toronto's CFXJ-FM (Flow 93.5).  He also served as Assistant Program Director with the station.
Meantime the announcement has been made that effective next Monday, the US syndicated show The Breakfast Club will fill the vacated morning hours.
Earlier in his career Parhar was on-air at Calgary's CIBK (Vibe 98.5), which is where he began a continuing friendship with Drake, just as the rapper was becoming famous.  Mastermind has also been an influential figure with Toronto's hip-hop artists.