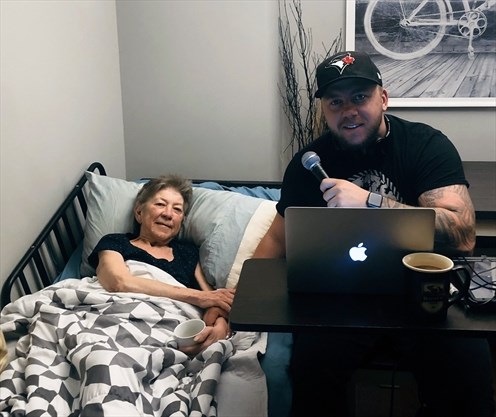 CJAY92 morning show host Jesse Modz broadcasts from grandmother Anne Bradbury's Georgetown living room to be at her side as she becomes palliative. – Jesse Modz photo
For those listening to Jesse Modz on his Calgary-based radio show, it seems like another typical day.
But behind the scenes, the CJAY92 morning show host is actually broadcasting live from his grandmother's living room in Georgetown, interviewing the likes of Bob Saget in the very spot he grew up watching "Full House."
"With technology, I've been able to make this happen," he told the Independent.
Modz recently flew home to be near his grandmother, Anne Bradbury, as she battles stage-four lung cancer that's spread to her brain.
To facilitate continuing his show, the radio station outfitted him with all of the necessary gear. Modz is also able to tap into the servers back in Calgary via an app.
"In radio, you never think you'll be able to broadcast from home, but technology is advancing so fast," he said. "I've had so many radio people asking me, 'How are you doing this?'"
Modz joins a growing number of people taking advantage of telecommuting — an opportunity that many employees are now looking for.
According to information from employment search engine giant Indeed, those hunting for jobs offering the ability to work remotely (or from home) grew by almost 20 per cent between 2017 and 2018 in Canada.
Indeed also conducted a survey that found 36 per cent of employees would consider a pay cut in order to have the option to telecommute. A whopping 50 per cent would consider looking for a new job if their company were to eliminate the option to work remotely.
READ MORE  HERE.