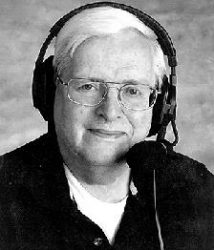 Carl H. Lambert passed away on Sunday, February the 23rd, 2020 at the age of 86 in Sumner, Washington.  He leaves behind his wife Mary Jane Lambert and his five children. A service is planned for Tuesday March 17 in Kent Washington.
Carl was the longtime play by play announcer for high school football games on the radio for the South Puget Sound League, SPL. This was a position he held for some 40 plus years. He also had the privilege of broadcasting the UPS and PLU college football games on cable television for a number of years. Along with this, he was a high school teacher for the Sumner, Washington School District (retired).
Carl worked for many years at KAYE (KUPY, KJUN) 1450 AM, Puyallup and on 1180 KLAY Tacoma.
We are indebted to Jason Remington of Puget Sound Media for drawing our attention to this story.