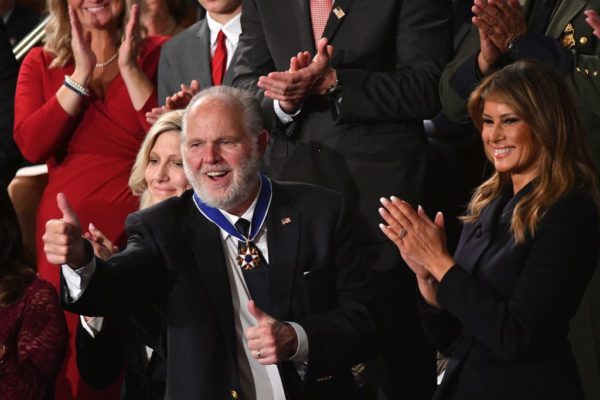 Radio personality Rush Limbaugh pumps thumb after being awarded the Medal of Freedom by First Lady Melania Trump after being acknowledged by US President Donald Trump as he delivers the State of the Union address at the US Capitol in Washington, DC, on February 4, 2020. (Photo by MANDEL NGAN / AFP) (Photo by MANDEL NGAN/AFP via Getty Images)
.
During his televised State of the Union address Tuesday night, President Donald Trump announced he was awarding the Medal of Freedom to Rush Limbaugh, one day after the prominent political radio host announced he has advanced lung cancer.
"Here tonight is a special man, someone beloved by millions of Americans who just received a Stage 4 advanced cancer diagnosis. This is not good news, but what is good news is that he is the greatest fighter and winner that you will ever meet," the President said during his speech, thanking the radio host for his "decades of tireless devotion to our country."
.
Trump, in announcing the award, highlighted Limbaugh's charity work.
.
In an unprecedented move, the president asked the First Lady Melania to present the Medal to Limbaugh, who was seated next to her in the gallery.  Limbaugh appeared to be very surprised and more than slightly overcome with positive emotion.
Reports say Limbaugh arrived at the Capitol in a wheelchair.