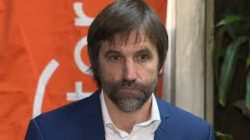 .
Liberal Heritage Minister Steven Guilbeault has made an announcement walking back previous comments regarding the licensing and regulation of Canadian media.
In an interview with the CTV aired yesterday, Guilbeault said, "If you're a distributor of content in Canada and obviously if you're a very small media organization the requirement probably wouldn't be the same if you're Facebook, or Google. There would have to be some proportionality embedded into this."
"We would ask that they have a licence, yes," Guilbeault continued.
Guilbeault walked back the comments on Monday, stating that the government had "no intention to impose licensing requirements on news organizations," nor will the government "regulate news content."
"… Our focus will be and always has been that Canadians have diversity to high-quality news sources," said Guilbeault to reporters in Ottawa.
This announcement comes after deep criticism of a previous announcement by the Liberal government, where they said they would force news organizations to apply for a licence.
Guilbeault's announcement faced intense scrutiny from across the political spectrum with some commentators suggesting that it would be a dangerous attack on the freedom of the press.
Read more HERE.